16th Worldwide Compassionate Friends Worldwide Candle Lighting
 Where: Kiosk area of the Church of the Risen Lord,
 Laurel Avenue, UP Campus, QC
 Map : Check this google map:http://goo.gl/maps/fXzmQ
 When Date: Sunday , December 9, 2012
Time: 5:00 to 8:00 PM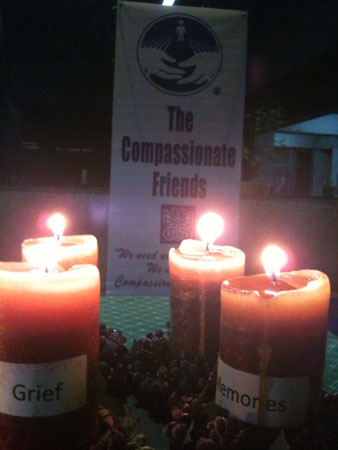 Holidays are a season of cheer and happiness for many of us. For others it serves as a constant reminder of their loved ones who are no longer with them.

On the second Sunday of December, parents worldwide join together and light candles for their dead children.

For 12 years, parents gathered on the second Sunday in December in homes, churches, parks and gyms. Sunday night, families all around the world lighted candles at 7 p.m. in remembrance of their beloved children. It has been 4 years for the Compassionate Friends Philippines.

"You wish you could be naive again, go back to your life the way it was," said Kristy Mueller, who organized the South Bay candle-lighting ceremony in Palos Verdes Estates in the USA.

"But you can't," she said. "You don't get over it. . . . And this is a hard time of the year. When you can't help but think about what you're missing."

For many of bereaved parents, this is a difficult month. Holiday traditions bring families together, but they also spotlight grief and amplify loss.

The company of other parents is part of what made Sunday's candle-lighting so special.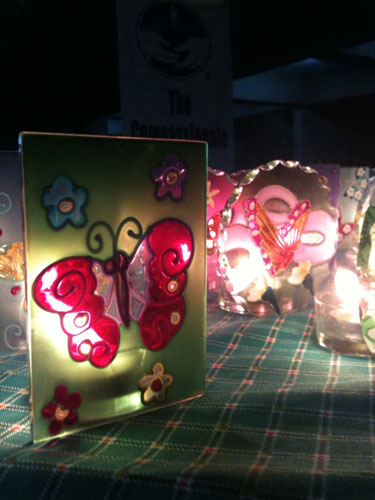 Our candle lighting ceremony is usually simple with traditional Christmas music being played softly, candlelight videos, poems read , stories of our children shared, candles lit — but it was packed with meaning.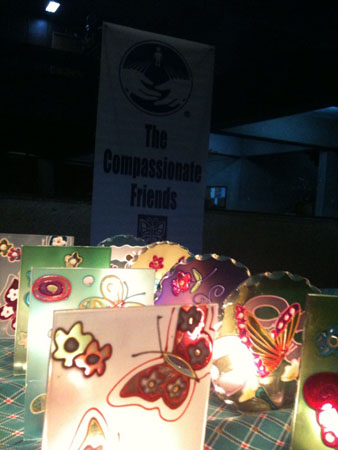 A fellow parent wrote this poignant poem in Tagalog.

Sa Bawat Hakbang
by Vilma Dee

Sisinghap singhap ako'y nagsikap
Upang sa kalaliman ng dagat ako'y umahon
Tila ba sabik sa salubong mong yakap
Tulad ng hamog sa sariwang dahon

Unti-unti mula sa kawalang hanggan
Lagusan ng kamalayan aking narating
Tila ba sabik sa salubong mong yakap
Tulad ng maog sa sariwang dahon

Ano't nasilaw sa bagong mundo
Sa dating payapa ngayo'y magulo
Tila ba lahat sabik ako'y masdan
Tulad sa hamog ng sariwang dahon

Di malimot unang haplos na iyon
Maipadamang pagmamahal tanging layon
Tula ba lahat sabik ako'y masdan
Tulad ng hamog sa sariwang dahon

Sa unang hakbang kamay mo'y kaagapay
Lahat ng gawin nais mo tayo'y sabay
Tula ba sabik na ako sa iyo'y matulad
Tulad ng paruparo mula sa kanlungan

Kay ganda din pala buhay sa lupa
Nguni't di singganda ng tahanan ng MANGHUHULMA
Tila ba nagising sa mahabang paghimlay
Tulad ng paruoparo mula sa kanlungan

Sa piling mo nadama ko kaibang pagsinta
Nguni't di singtulad ng pagibig ng MANLILIKHA
Tila ba nagising sa mahabang paghimlay
Tulad ng paruparo mula sa kanlungan

Iglap lang pala tayo'y magkakasama
Salamat AMA sa maikling magsasadula
Tila ba napagod sa pagsamantalang laya
Ngayo'y bumalik sa IYO puno ng sigla

AKING AMA, ako'y narito na
Dala ang masayang kwento sa lupa
Mula sa pansamantalang laya
ANAK mong ito'y muli kang bibigyang saya

A short video of our beloved children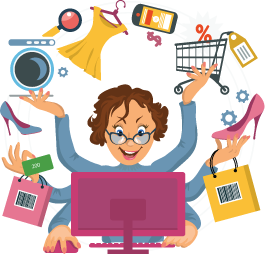 Shop here for Home and Living at Lazada.