I hate him, my daughter lashed out.
That surprised me since it was over a year since they broke off. Surely by now, all the anger should have been released. I was more worried about the inner angst and her mental health so I quietly advised "Forgive your ex. Treat your ex as a gift." I was also worried she'd get sick from so much hate.
I just hate him, she ranted on.

I didn't prod anymore on the reasons. I didn't like the guy myself when they first dated. Okay, that was the old controlling me in 2004 where I totally disapproved of their relationship. Of course, despite my disapproval, they continued to see each other behind my back. But…I went over my dislike (moms have this gut feel) and let their relationship go on. No, I didn't want their relationship to die. Far from it. All I want from my children is genuine happiness and a healthy relationship.
You know, even if my daughters don't want to listen to me, I still give my unsolicited advice for what it is worth. There was a gift in your past relationship. Sometimes the gift is a behavior you learned to acquire or could have triggered healing from issues of the past or an issue you are facing today. Or it might have taught YOU to love yourself or someone else. But trust me, there was a lesson and a gift there. Talk to him again to clear the air.
Then I let her be.
Maybe it was a few weeks after when I learned that she finally confronted her ex.
I was so happy for her.
She wrote:
Maybe it's because my ex angst is getting old and I'm tired of being angry at him. Maybe it's because it's almost Christmas, and at Christmas you tell the truth….

Time can only tell if we'll be real friends or if we'll only acknowledge the other's existence with a wave or a nod. Whatever happens from this point onwards doesn't really matter much. The important thing is that I can finally put the last three years of my life back in its rightful resting place, without having to worry about revenants when the karmic cycle of life makes random things random happenly.
When a family member or someone you care about hurts you, you can hold on to anger, resentment and thoughts of revenge or embrace forgiveness and move forward. Choose forgiveness. Forgiveness is a decision to let go of resentments and thoughts of revenge.
In Forgiveness: How to let go of grudges and bitterness, evidence is mounting that holding on to grudges and bitterness results in long-term health problems. Forgiveness offers a lot of benefits:
* Lower blood pressure
* Stress reduction
* Less hostility
* Better anger management skills
* Lower heart rate
* Lower risk of alcohol or substance abuse
* Fewer depression symptoms
* Fewer anxiety symptoms
* Reduction in chronic pain
* More friendships
* Healthier relationships
* Greater religious or spiritual well-being
* Improved psychological well-being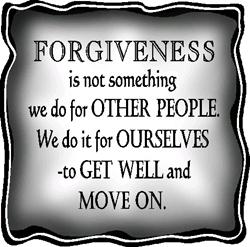 When we hold on to pain, old grudges, bitterness and even hatred, many aspects of our lives suffer. When we're unforgiving, we pay the price over and over. The anger and bitterness may be brought into every relationship and new experience. Our lives may be so wrapped up in the wrong that we can't enjoy the present.
Getting the other person to change their actions, behavior or words is not the goal of forgiveness. The other person may never even change or apologize for the hurts and wrongs. Forgiveness is more about how it can change your life — by bringing you more peace, happiness, and emotional and spiritual healing. Forgiveness takes away the power the other person continues to wield in your life. Through forgiveness, you choose to no longer define yourself as a victim.
Forgiveness is done primarily for yourself, and less so for the person who wronged you.
Oh yes, I forgive you even if you don't.
Is it difficult for you to forgive someone who hurt you?