""Don't focus on having a great blog. Focus on producing a blog that's great for your readers." Brian Clark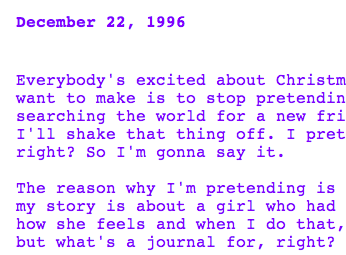 15 years ago, on December 22, 1996, Lauren wrote her first journal entry. The word blog was non-existent then. It was called a journal but as we know it, online media is emerging media. Blog came from the word web blog and the journal is the same format of the blog. Lauren's original entry does not show in worldkids.net anymore but if you're a geek, you can probably figure a way to read the full entry.
Lauren was 10 years old. These days, kids as young as 5 years old have their own blogs. The difference back then was one had to build your own site before blogging so that was quite the challenge. Together , we learned basic HTML, file transfer protocol (FTP) so she could upload her journal entry.

How could I not resist Lauren, my daughter's question in early 1996? One day while I was busy with my emails, she walked up to my desk begging to create a web page using HTML. The question seemed so natural like she was asking for candy, but running inside my head was ""what is that monster… HTML ?" The Internet was such a novelty during those days that parents were both afraid and excited about its benefits for the kids. I took the risk and introduced my children to the World Wide Web.

I was often questioned why I allowed them to go online. Questions often raised were: Am I not afraid of pedophiles? Am I not wary of the pornography? What if the online friend is really some serial killer? Relatives and friends frowned on the Internet. I felt like I was a parent from outer space. Even my daughter's homeroom teacher chastised her for talking about the Internet. I believe the teacher was just ignorant or intimidated about it. After all, in 1996, there were less than 12,000 Internet users in the Philippines. It wasn't cool for a kid to be online during those days.

There were no hard and fast rules. One thing was clear though: I am a parent first. In the real world, one aspect of responsible parenting is never having to allow children to wander aimlessly and alone into unknown territories. So, too, in the vast cyberspace called the Internet. Responsibility towards my child's offline behavior is the same responsibility for my child's online activities. Parents can empower themselves and establish Web safety awareness in their homes. Start them young. The best defense is for parents to make exploring the online world a family affair.

I drafted my own Internet safety guidelines for parents, teachers and children to read in World Kids Network where I was their Internet Safety Head from 1996 to 1999. The guidelines are basically the same even in the age of connected technology (gaming centers, cellphones), digital devices and social media sites. My Internet safety guidelines inspired by my own parenting experience and my children's internet experience is still applicable 14 years later:

1. Your child should only log on with your approval. Sit down together with your child and read the guidelines contained in their favorite kid's site. Assess which may or may not apply to you and your child. If you have to, you can plan and formulate your own safety guidelines together.

2. Since the online experience should be a family affair, the computer should be easily accessible to family members. This makes online activities an enriching experience.

3. The computer should be located in a room where there is adult supervision.

4. Be clear on the length of time spent in the computer or other connected technology.

5. Let your child post your family's e-mail address even if he/she has her own.

6. As you go on together with your online experiences, your child will soon be better equipped to deal with various online situations even if you choose to leave them on their own as I did when the girls left for their college dormitories.

The negative feedback and suspicions toward online activities often made me wonder how the Internet molded my children's perspective in life. I found the answers now that my children are in their early twenties. I believe my kids got exposed to global thinking , varied ethnicities, cultures and religion, things they might not have learned in the classroom. The biggest surprise is that I gained so much more in the process. My children taught me a lot about being a mother in this technology-driven world. Is it any wonder that 14 years later, I am a 54-year-old tech-savvy mom blogger?

Today , Lauren moved on from a personal blog to a fashion and beauty blog at iambourgeois.com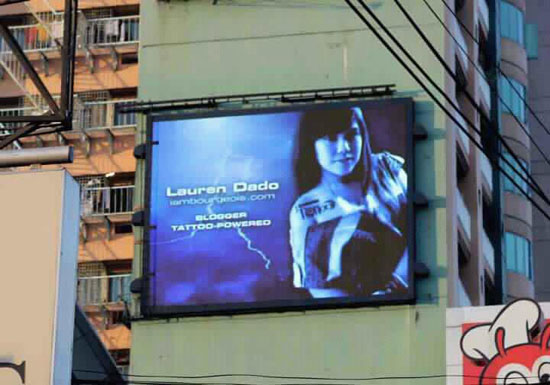 ""As I have repeatedly written in one form or other, blogging is not about writing posts. Heck, that's the least of your challenges. No, blogging is about cultivating a mutually beneficial relationships with an ever-growing online readership, and that's hard work." (Alister Cameron)