April 20, 2012- I first wrote about sex education in the Philippines in July 21, 2006. This blog post shows how interested online readers are on sex education. Read the comments
News Update (March 11, 2008)- Bishop, prolife group to challenge QC sex education ordinance in Supreme Court
What is happening to our sex education?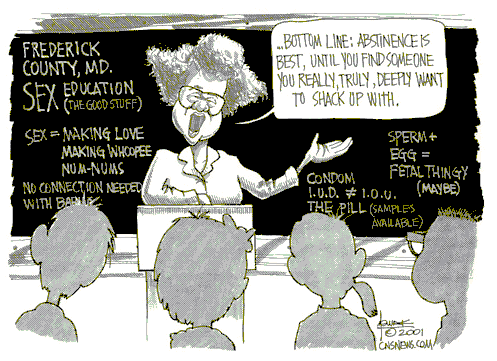 Is this a power struggle between the Catholic Church and our government? I will not talk about the political aspect of sex education in our country . Let's look at this statement from Dr. Angelita Aguirre, head of Human Life International. (CBCP: Scrap sex lessons)
"The module should be scrapped. It does not have the emotional, psychological and spiritual dimensions of human sexuality. This is very important,"

"The code of morality is high. We are not pagans. We would like to pressure everybody indulging in a conjugal act to get married first," she said.

Aguirre pointed out that the modules did not mention that a person had to get married before having sex.
As a concerned parent of two girls, I took an active role in teaching the basics of sex education. The high school that my daughter attended did not include sex education in their curriculum.Much as I want my 2 girls to get married first before having sex, this kind of sex education strategy (get married before having sex) does not make sense to teens these days. First of all, some Catholic schools instill fear of committing sin even on sexual feelings. Why can't they explain about raging hormones instead of judging their feelings? It's a confusing time for teenagers. Most often, these high school girls turn to their girl classmates for relationships. How many girl-girl relationships are occuring in all girl schools? Often, the school turns a blind eye because these relationships won't induce pregnancy. Secondly, our teens are exposed to sexual images in magazines, TV, movies and the internet.
The issue of morality can be taught separately from sex education. Morality is taught in the Christian Living Education or its equivalent like Values Education.
God has a strong view of any kind of immorality, so we should try to err on the side of purity. For example, the apostle Paul said that the Church will be presented to Christ as a pure virgin bride:

"I am jealous for you with a godly jealousy. I promised you to one husband, to Christ, so that I might present you as a pure virgin to him." (2 Corinthians 11:2)
My mother discussed sex openly with me when I was 15 years old. I knew the morality issue already and formed my own beliefs at that age. Mom didn't have to go through the graphic details but what struck me was the responsibility of the sexual act. In the same manner, I discussed sex education with the 2 girls as "are you ready to have children?"
When they blurted "NO WAY", I added "Then you should abstain until you are ready". My own definition of "readiness" is when one is married but I didn't want to explicitly state that fact yet.
I continued "Don't even believe your boyfriend when he says he has protection".
They giggled. I gave a clear example of a family friend who got pregnant at the age of 18 because she thought she wouldn't get pregnant at that age. Besides it was her first time.
Then I continued "just one tiny drop contains millions of sperm to impregnate you. It takes only 1 sperm cell, mind you!"
Then I proceeded to explain how the second daughter and Luijoe were conceived …and…
"ewww. I dont want to listen now"
I explained condoms, birth control etc are not fool proof methods of birth control.
We need to teach them responsible parenthood in consonance with the sex education. We don't need to teach everything but at least give them the basic facts. Along the way, the children can do some more research on their own.
Phillipine Catholic Bishops Oppose Sex-Ed in Schools, Say it Should be Left to Parents is true if all parents know how to discuss sex with their children. We can't assume parents know how to discuss sex openly. Some might be uneducated to understand the anatomy of reproduction and thus fail to grasp natural birth control methods.
The schools together with the parents can bridge the gap of sex education.
Visit the Pinoy Travel Booking Engine and take that romantic vacation to the Islands of the Philippines. Book your airplane tickets here.