Written by Edel Cayetano , as originally posted at Philippine Online Chronicles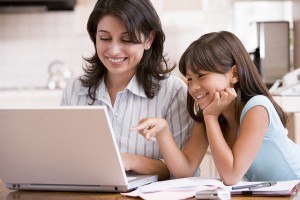 After realizing the benefits of being a working mom, you have now decided that working part-time or full-time is the best option for you and your family. Now here are mommyversal survival tips from Parents Online and other web sources to get you through your challenging but rewarding decision:
Let go of the guilt
Working mom's guilt is practically an epidemic, but rather than dwelling on how you're not with your child, think about how your role in the company is benefitting your family. Accept that there will be good and bad days, know that you are not alone and discuss your feelings with your partner or a support group.
About Parenting also suggests that you: 1) write down your motivations; 2) stay away from people who make you feel guilty; 3) considering the source of anti-working mom comment; 3) taking a day off just to spend with your child; 4) remembering that all moms have challenges; 5) accepting that trade-offs are inevitable and; 6) bear in mind that life changes.
Also check out Margie Warrell's letter to working mothers: stop feeling so guilty on Forbes.
Find quality childcare
Accept the fact that you can't do it all and accept help from your extended family. In Pinoy culture, supportive grandparents are more than happy to care for their apos during a portion of the day. You may also ask your network of friends and family for references to nannies, babysitters and daycare centers.
Don't dilute your presence with distraction.
"We can be with our kids 24/7 and yet never be fully present to them," says Margie Warrell of the Forbes. 'Turning off' from work and other distractions may be easier said than done, but it's crucial to be intentional about being fully present to your children whenever you are with them by minimizing the multi-tasking as much as humanly possible. As Jessy Lane of Baby Center shares, "I've learned it's not about the quantity of time I spend with my family, it's the quality."
Being disciplined and setting time limits on things you can do while the kids are sleeping (checking email, making phone calls) and avoiding wasting time at the office are just some ways to limits distractions.
Anticipate tasks and get organized.
Jessie Lane, wife to Rusell and mother of five year-old Rylee, reveals her secrets on being a successful working, fulltime mom by detailing her daily schedule. In it, she shares getting organized and completing mundane tasks the night before. She also works in tandem with her husband and they "help each other out in sweet little ways to keep it all running smoothly."
Create and organize a family calendar.
Figure out your family's priorities. Mark your calendar with dates when bills are due, a chore chart for the kids, a list of school and family events, extracurricular activities, birthdays and more. Bottom line: be on top of scheduling challenges.
Communicate with your employer.
Before talking to your employer or HR representative, crate a written plan detailing what you need. Research on whether other employees have flexible arrangements and use this information to your advantage by tailoring your proposal to the terms that your employer has already embraced with your coworkers. Try to be as open and honest as possible, but also be prepared to present alternative solutions, like a trial period of your projected work schedule so you can show how the arrangement won't restrict productivity.
Stay connected during the day.
You can still stay connected with your kids even when you're not together physically. Parents online suggests recording yourself talking or singing on a video or recording your voice reading along to a children's book for moms with younger kids, and giving an older child something special in the morning – a personal note or a good luck charm – to remind her of you during the day. Hang pictures of yourself and your partner so the kids can see your faces and call your child during your breaks at work to help you get through a rough day and let her know you're near.
Create special family activities.
Family time is paramount, and since there will never be enough of it, it should be cherished and enjoyed. Make time for your kids during the week and on the weekends to nurture your family dynamic and allow everyone to bond. Serena Norr of Parents Online suggests creating activities that regularly fit in your schedule so everyone knows what to expect and what to look forward to. And when you do have family outings, avoid talking about work or checking your phone. Instead, focus on your kids' interests such as friends, classes and hobbies.
Spend time with your partner.
It is important to nurture your relationship with your partner since he will be the number one person by your side. Try to have monthly date nights to get closer, feel rejuvenated and enjoy each other's company. "Often, if you're busy with work and home, your partner is the first to get neglected. Fostering this relationship will bring back some excitement to the marriage or partnership and help you "check in" with each other."
10. Create moments for yourself.
Manage your time wisely and fit in valuable "me" time regularly. You need to take a breather and recharge while also taking care of your personal needs. "Because your time is divided between your home and your career, make sure to manage your energy well. You can't be an effective spouse or parent if you're cranky, so take time to care for yourself to feel relaxed and effective," says Wiss through Parents. Do simple things for yourself like reading your favorite book before bedtime, fitting in time for exercise or treating yourself to a spa day. And of course, eat well and get enough rest.
Being a mother is wonderful, hilarious, messy, exhausting, frustrating, rewarding and beautiful all at the same time. Embrace it and keep in mind that in order to create a happy and healthy home for your family, you need to feel happy, healthy and fulfilled too. Raising kids and keeping a career at the same time is hard, but it is possible. With determination, a clear set of motivations and a lot of help from your partner and your families, you will get by.
*"Woman and young girl in kitchen with laptop and paperwork smiling" by GSCSNJ, "mother and son practice pilates for pregnancy" by sean dreilinger, "My Husband and I" by Spenser. All photos c/o Flickr, published under CC license.