Sorry Annamanila for the delay of this meme. Reason is that this meme is similar to my talk on Personal Blogging Experience which I gave at Digital Filipino's Blogging and Social Networking Forum last January. And I didn't feel like blogging about a similar topic just yet.
I started this blog almost a year ago and Blogging has brought me so much, more than I ever imagined it to be. I feel that writing about it might look like bragging . Yet I believed I just had to share it so you will continue to blog. Who knows what blogging can give you?
The Good things
1. It became a platform for my advocacy
-It inspired bereaved family members to start a blog , a memorial site or read The Compassionate Friends website
-It also inspired women or mothers to start blogging ( I was told)
2. Expanded social and business network.
My main purpose for the blog is my advocacy and not to plug my webhosting business. I mention my business in passing at my ABOUT ME page. Somehow, readers discover and order hosting plans. Business is quite good that I had to close down a fast selling plan. Because of blogging, my social network now encompass new bloggers/friends that share my love for the internet, technology information and blogging. I have very few "offline" friends (save for my siblings) that share my passion for the internet.
3. It brought an Award (I've never received an award before) and Magazine , Radio Newspaper and TV interviews.
Thanks to Google and my search engine optimized titles, my blog is often ranked high for certain keywords. Somehow I 'm contacted for resources on recovery, health, grief, internet related topics.
4. Pride that even if I am not a creative writer, I continue to hone my writing skills through blogging.
Writing is a work in progress for me. I am still learning.
5. It started my [tag]problogging[/tag] career.
Based on the criteria of this blog entry on Top Pinoy Probloggers, I am listed in the Top 10. (and 3rd as an independent blogger)
What is Professional Blogging or problogging? Read this on how one can earn a living out of blogs. This blog is also monetized by Google Adsense and text link-ads but I place them discreetly. The income I earn from this blog goes to the funding of my advocacy.
One of the first blogs I read was Yugatech. I love techie stuff. A link in one of Yuga's entry I'm a Six Figure Blogger opened my eyes. Whoa! Oh my God. I knew about monetizing blogs in 2003 but at that time, Google did not consider blogs for their [tag]Google Adsense[/tag] Program. After reading that entry, I immediately optimized and monetized my blogs. All I can tell you that it is possible to earn quite well from blogs. How much? Hmmm…. Just keep reading Abe and Darren Rowse. Learn , learn and experiment.
I used to have a food category in this blog but I transferrred them to my Food Photo Blog on July 2006. After checking the income, I discovered that it practically paid for my restaurant bills . Cool huh? To think I started out with a 10 peso Kakanin which is my top post in my Food Blog and continues to give me google adsense income.
To join Google Adsense, click the bottom graphic on the right sidebar.
To join Text-link ads, click the graphic below.

Watch out for the iblog summit 3 on April 13 and 14 which will be held at the UP Campus. It will be your chance to learn more about blogging techniques and problogging.
6. Reconnecting with Old friends who found me through my blog.
Hi Bing (New York), Betty (now based in Singapore), Ruben (in Switzerland) and Annamanila, ( my editor at my old workplace) and others I might have missed out.
7. Freebies
I have simple joys. A few freebies such as Krispy Kreme, Free Wifi from Globe Innove for 1 year, Microsoft shirt, Iblog 2 summit shirt , Starbucks gift checks because of my blog-related talks in some event or conference.
Now what about the "bad things" that blogging brought about?
I can say ahhhh….Stalker callers
This is a indirect result of blogging. See, an ABS CBN staff contacted me through my blog to appear as a resource person for Salamat Doc.
Ugh after my cellphone was flashed at Salamat Doc, a particular stalker caller texts me more than 25 times in a day and or calls 4 times a day. These text messages are either blank or contain garbage words. Mind you, that show was last December 24, 2006.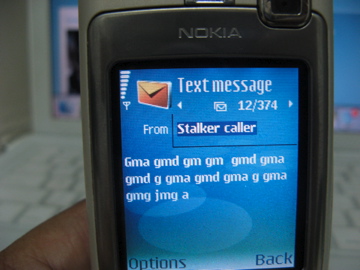 I've already called Globe to inquire on how to stop this. Changing my cellphone number is out of the question because I have had this number since 1999. Globe said that I needed to contact the National Telecommunications Commission (NTC) so they can block that number. I've kept all of the text messages as evidence. I have yet to contact NTC as their landline is always ringing or busy.
I don't want to be rude and show some of the weirdest text messages ever. All I can say is there are a lot of sick people out there who have no idea how to help themselves. Much as I love to help people, I can only do so much.
So there, more good things happened because of blogging. Hope you continue blogging and receive blessings because of it.
Connie sent me a text message the other day "We're happy bloggers". Yes!