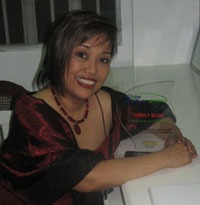 My feet are killing me! For 2 hours, I walked the Carlos P. Romulo Auditorium lobby to cajole guests to eat cocktails and be merry. Well, what a day! I got a surprise! I received a special award from Globe Broadband : the Family Blog Award which is meant to honor family-oriented blogging. It's indeed an honor to receive the Family Blog Award as it helps promote my blog's advocacy. Of course, I never imagined myself to be a recipient of any award for tonight's [tag]Philippine Blog Awards[/tag] since I chaired the Venue and Food Committee. I learned that Globe Broadband/Innove guys thought of this idea and selected their winners based on their own criteria. What an innovative way to promote brand name recall and recognition to a very special niche. It's a good thing that my Globelines Broadband Internet is working well so far or else I would not have been happy to receive this award.
Other awards given out by Globe Broadband were
1. Blog Achievement Award" The Mommy Journals
2. Pinoy Ako Blog Award: ederic@cyberspace
3. Blogirl Award: Well Whatever
4. Deliblog Award: Dessert Comes First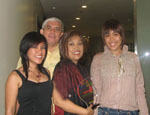 The best thing about receiving the Family Blog award is that my whole family attended the Awards Night with me. They enjoyed the food (thanks Josiah's Catering), the bloggers and just being there with me. All my family members maintain a blog except that Butch and M chose to keep a private url. So it was quite an exciting adventure for them to see/meet the person behind the blog that they have been reading for ages.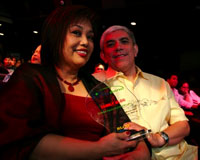 (Photo courtesy of Anton)
The night flew so fast…In just one hour and half, winners were announced.
The winners of the 16 categories are:
Read More »Family Blog Award and The Philippine Blog Awards Night