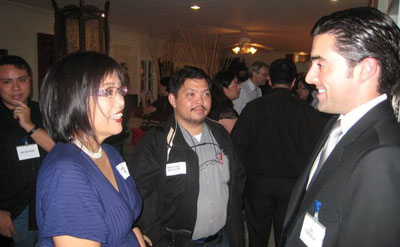 Photo from Jane Uymatiao. Me and Assistant Cultural Affairs, Joe Tordella with Jay de Jesus on far left and Juned Sonido at the center.
The government inviting bloggers is slowly catching on. The Singapore Tourism Board brought me to their Singapore Food Festival 2009 and also Singapore Food Festival 2010. Our own Philippines' Department of Tourism invited a few bloggers to the Black Eyed Peas Concert and Meet Apl de Ap in Singapore. It was a matter of time that the embassies in the Philippines would invite bloggers to their reception or events.
The Embassy of the United States in Manila is not far behind. Jay de Jesus, the Emerging Media Specialist for Public Affairs of the US Embassy recommended a few bloggers to a reception hosted by Counselor for Public Affairs, Richard W. Nelson to welcome their new and current Cultural Affairs Attache, Alan R. Holst, and Assistant Cultural Affairs Attache, Joseph Tordella.
Read More »Embassy of the United States in Manila invites bloggers