The death of someone we know always reminds us that we are still alive – perhaps for some purpose which we ought to re-examine. Mignon McLaughlin, The Neurotic's Notebook, 1960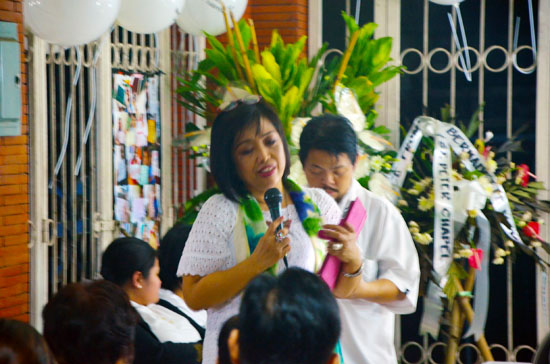 I am big on the idea of a eulogy, a place to commemorate and celebrate life. I know because of the five deaths in my family . Each tribute about my loved one touched me so much that it gave comfort to know my loved one touched others. I vowed to share this experience to those who lose their loved ones. Sometimes, the family cannot really think of all of these preparations if there is no funeral coordinator. I also know because when I suggested the same to the father of Apple Book, the four year old girl who died in the Willie Revillame show ULTRA tragedy, he loved the idea. SInce then, I often ask the bereaved family about their plans for eulogy. The brother of AJ loved the idea and so bloggers and friends organized AJ's memorial.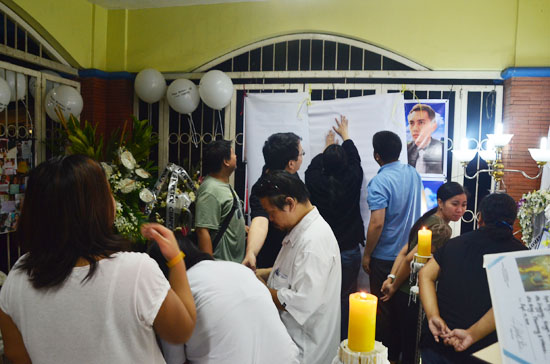 A eulogy is quite simple. You tell a story about a fond memory, character attributes or something you want to share that is poetic or meaningful. It could also be a song. AJ's tribute included podcast clips from his FabCast friends and Juned shared AJ's answers to formspring that added a lot of laughter.
Our tribute to AJ was indeed beautiful and poignant. There are facets of a person's life that can be gleaned from a variety of friends, colleagues or family. For instance, AJ's mom had no idea what a blog is.. but she shared an insight about his son only a mother will ever know. A friend delivered his tribute called a Timely Powerful Message, recalling the of the time he saw AJ at the hospital and their podcast days.
Along with his eulogy, he shared soundbites of AJ that came from Fabcasters' podcast.sessions, It reveals the wonderful, unique person that AJ Matela is.

My daughter wrote more about it in "What is death trying to teach me?
I'm sure you're familiar with the old funeral cliche, ""Death is a celebration of life." When the priest said it in his homily, I snorted and wondered if that was supposed to be comforting. I've experienced enough death in my life to know that death is no celebration. How are you supposed to celebrate the past when you have an entire future to face without that person in your life? Yet a ""celebration of life" is probably the best phrase to describe the memorial service that took place later that evening. AJ has been sick for a while and his family has had several months to accept this fact. So with a lot of the grieving behind them, they had enough sanity to pay attention to the highlights of his life. Many bloggers spoke about their favorite memories and how they remembered him as a kind, friendly, very fashionable person who loved life, fought for LGBT rights, and remained one of the greatest friends they've ever had.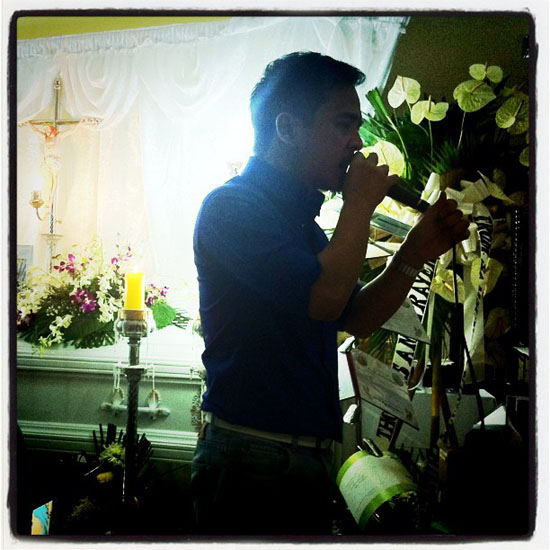 Here is my eulogy for AJ.
Gifts from AJ
I am honored to be here to be part of tonight's memorial to honor and celebrate what AJ gave to us.
I consider myself blessed to have known such a wonderful person. He was also charming, funny, and fun. AJ was charismatic and he could always catch you up in his enthusiasm and love for anything!
I met AJ in 2007 and other bloggers will probably talk about a similar meeting. Yes I am a blogger, who deals with grief support advocacy and participatory media. I too lost a brother when he was 28 years old. I too lost my precious son. A total of 5 deaths in my immediate family.
What I would want to share to his family and loved ones are two legacies AJ left behind for me to remember him by. They are all related to my blog advocacy. These legacy will continue to live on in my heart and in my treasure chest of memories and perhaps in yours.
1. Ernie, the Travel mascot
AJ first introduced me to Ernie during one of our blogger trips in 2008. AJ would let Ernie sit on a chair or on any flat surface and then take a picture. He used to say it is his travel mascot. I found it cute. Looking at AJ with Ernie, an inspiration hit me. Why not have a travel mascot myself? So I copied AJ. No, I didn't copy Ernie. I used Kippy Cat or rather I re-discovered Kippy Cat from the box of toys of my precious son that I had kept throughout the years.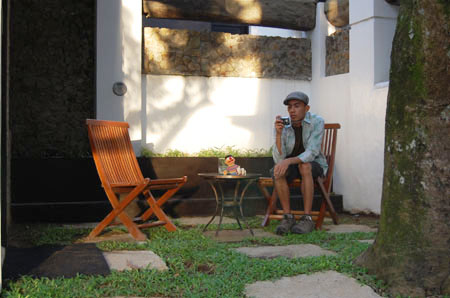 Kippy Cat was Luijoe's comfort toy when I travelled in the past. Kippy Cat never left my son's side while I was away from him. When I returned home after a travel, he rubbed Kippy Cat's nose on to my nose.
Holding Kippy Cat close to my chest, a flood of happy and poignant memories lifted me to high spirits and I felt the comfort of my son's love. That is how Kippy Cat became my mascot. The comfort my son felt before is now my comfort.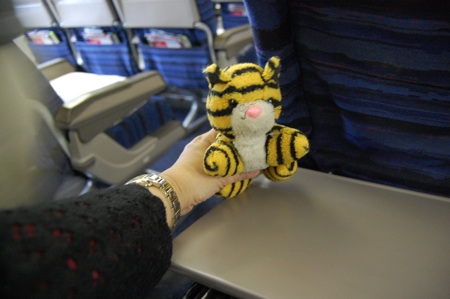 Aj knew this. I dedicated a blog post just for Ernie and Aj in 2008.
He probably never realized it…but he showed me a creative way of handling grief triggers.
This legacy will always be part of my advocacy and to others who want to use creative ways to deal with their loss.
2. Mobile live streaming
My other role as a blogger is participatory media where social networking tools come handy such as mobile live streaming. Today, you can see live streaming done everywhere in the Senate, the Supreme court, and other government offices. Blog Watch our citizen media site's coverage of the May 2010 campaign period was not complete without live streaming. I first learned about live streaming using mobile phones from AJ during iblog 5 in April 2009. AJ covered most of the proceedings with his Nokia phone until its battery died. I was quite intrigued. I only knew live streaming using my laptop.
He explained to me the various sites that support live stream such as qik.com , ustream.tv and justin.tv with the use of a software that can be downloaded to the phone. I knew all this because I sat beside him all throughout iblog 5, sometimes being his reliever when he had to talk on stage.
I think of him whenever I do my own mobile live streaming.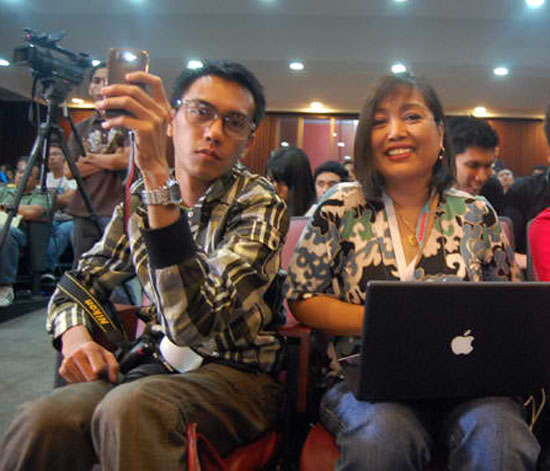 Sadly, this was the last time I ever talked to AJ in person. This is our last photo together (I regret not having a photo with him when I lost 20 pounds lighter from that photo) Yes, I got busy with citizen media and did not attend much blogger events since middle of 2009. I am filled with regrets, with questions of ""why? If only? I should have…why God? " but I am also aware that all these are part of my grief talking .
And though these memories may bring back pain, they bring back memories of joy as well. All these because pain is the price I pay for someone who touched my life.
He also leaves behind the people who loved and cared for him, for truly, it is in us that AJ will live on. How? Because we – the ones who were touched by his grace – will share with the world, the parts of us he was able to influence. This is what a man truly leaves behind when he passes.
Yes, I am comforted with the knowledge that AJ will be forever alive in my heart and in my memories.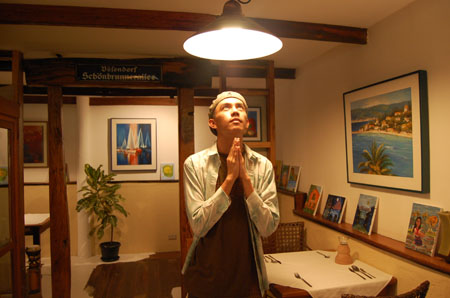 AJ, I love you. You will be forever missed by each and every life you have touched. Until we meet again my friend, your precious legacies will be carried within my heart.
I would like to end with a quote from Thomas Campbell.
To live in hearts we leave behind
Is not to die.
~Thomas Campbell
Death is not the greatest loss in life. The greatest loss is what dies inside us while we live.
~Norman Cousins~
Visit the info page of 1000 Volunteers for AJ Matela on how to help AJ's family.
Other blogposts by AJ's friends who will all miss him: