Video: Thee mommy bloggers savings challenge held last May 16 at the Fort.
sign up and register at the Target One Million website: www.shell.com.ph/targetonemillion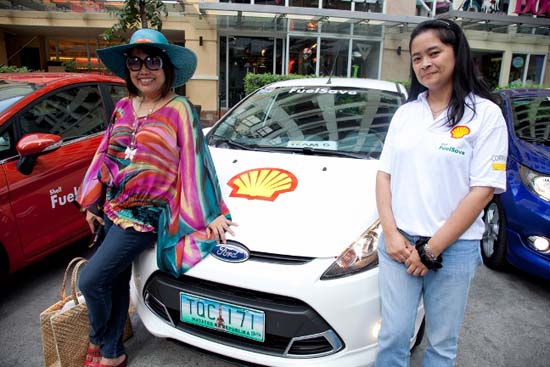 I still recall my first car in 1980. It was a second hand red Mitsubishi Galant 1600 that my father sent over from Cebu to Manila . During those days, there was a fuel crisis. As a struggling employee, I needed to follow fuel saving tips. Some of the tips I learned about driving habits was: Drive smoothly ; Use higher gears and avoid over revving ; Conserve momentum and keep your distance ; Avoid excess idling ; Avoid high speeds ; Use air conditioning sparingly and keep windows closed.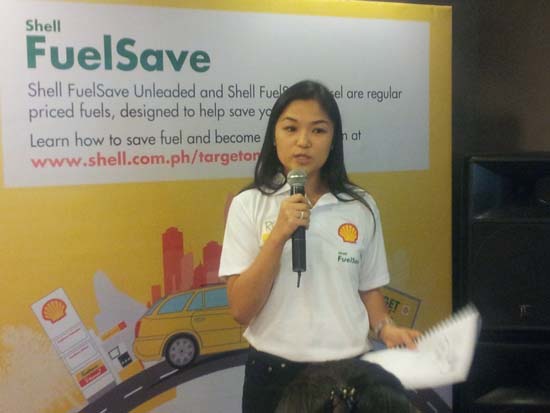 I was pretty excited when Shell invited mom bloggers to participate in the Shell Fuel Save Mommy Savings challenge last May 16. Shell explained other tips to save on fuel such as vehicle maintenance and using the right fuel and lubricant. Fuel economy can be improved through a combination of good driving habits and using the right fuel. When combined with the Shell FuelSave Tips, Shell fuels with Fuel Economy Formula (such as Shell FuelSave) can help reduce consumption and fuel costs by helping you get more out of every tank.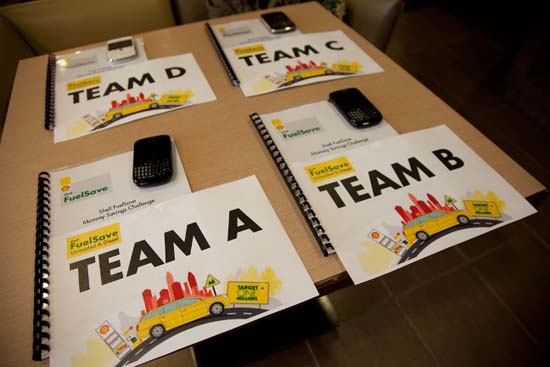 Another fuel saving tip is planning the journey. As moms, we know this all too well. We are school buses to our kids. Shopping or grocery needs are mostly done by mothers. The Mommy Savings Challenge piqued my curiosity. Our task : Each team is tasked to prepare for a birthday party good for 10 kids aged 8 years old. Oh no, the last birthday party I did was over 18 years ago. The last party I did was Lauren's debut party. I was in Team D together with Carrine Emata.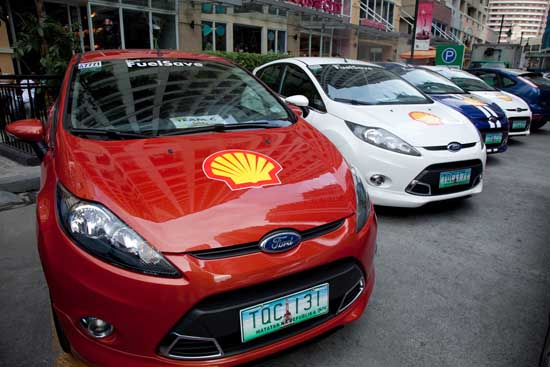 Each team drove a frugal 1.6L A/T Ford Fiesta Sport Hatchback known for its fuel efficiency. Ford recommends a fuel with 93 RON such as Shell FuelSave Unleaded for the Fiesta.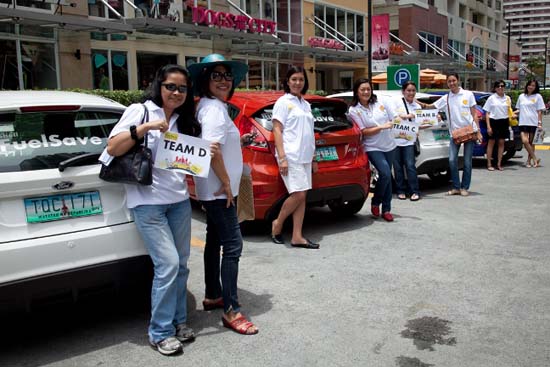 It is important to plan the journey because the winner will be judged on value for money (25%), creativity (25%) , fuel economy (40%) and time (10%). Our shopping list included : party favors and materials for the games decorations, food and birthday cake for a budget of 3,000 pesos. The items must be bought from three pre-identified areas : Bonifacio High Street, Rockwell and Greenbelt. The teams decided where each item will be bought as long as all three locations are covered. I misinterpreted the last instruction. I thought we had to buy all items in all three locations.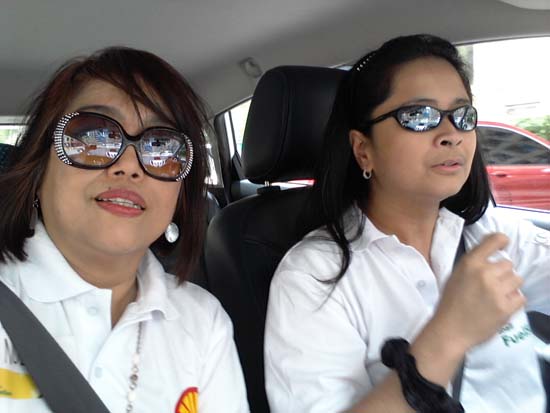 Carrine drove the car while I navigated the road and planned our birthday party. I kept calling my 26 year old daughter on what kind of party to hold. We decided on BFF party all in pink and purple. We also planned on the shortest route possible and places to buy affordable party items. With 3,000 pesos, it could be quite a challenge to buy in high end shopping areas. We bought the birthday cake at Fortune bakeshop at Greenbelt 1 for less than 500 pesos. In National Bookstore in Greenbelt 1, we bought games, and some party favors. For food, it was Jollibee while we bought party supplies at the Powerplant Rustans' supermarket. For our last stop, I told Carrine to wait for me while I bought a game prize at fully booked. I think we spent 2,800 pesos for a birthday party of 10 kids.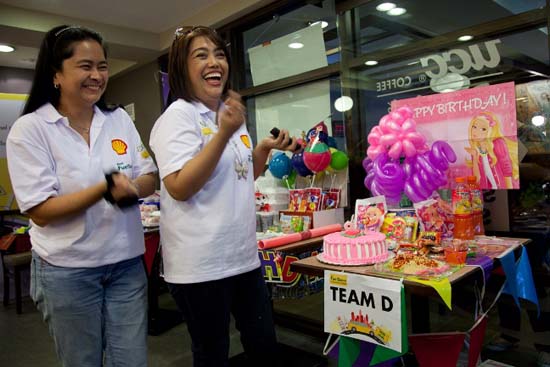 Too bad, our Team D was the last to arrive. Yes, we thought we should buy our stuff in all three shopping areas. Oh well, I presented our party theme, "BFF forever", a sit-down birthday party where the games are all done on the table. Our birthday party theme is pretty in pink and purple. I jokingly said " This is the 8th birthday party of my menopausal baby" which drew laughs from the audience.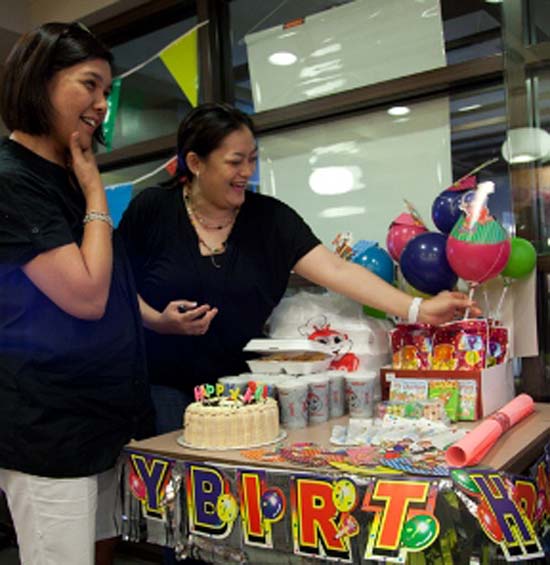 Chats and Cooky came in third.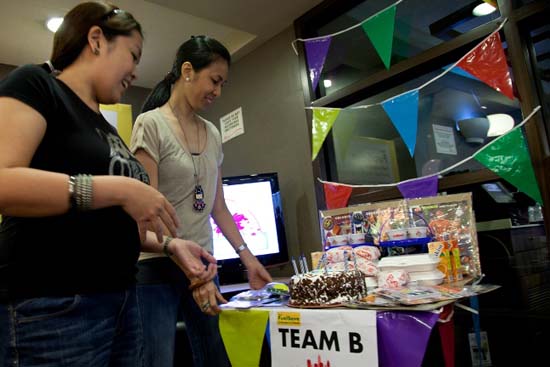 Michelle and Rowena came in second.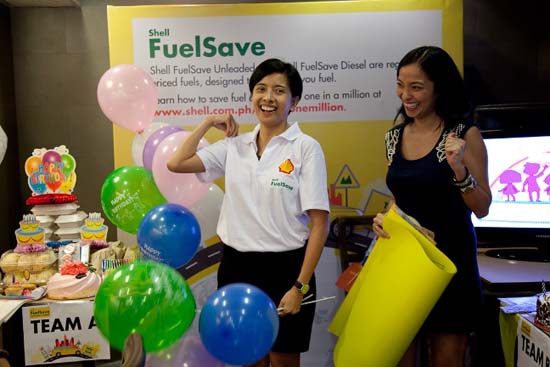 And the young mom bloggers are the winner. Well that's okay. For our effort, I got a full tank as our consolation prize.
Our team got the shortest route but not necessarily fuel efficient since we traversed traffic areas.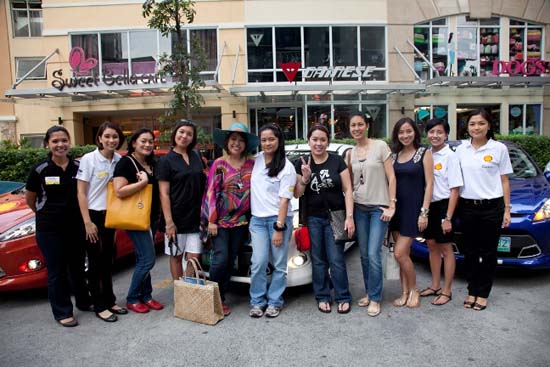 Lessons learned from the "Shell FuelSave Mommy Savings Challenge" is planning the journey:
Plan trips carefully and avoid the rush hour – Cutting down on the time spent in the car is the easiest way to conserve fuel. To reduce driving time, combine all your short trips and errands into a single journey. Plus, if you can travel outside of peak times, you'll spend less time stuck in traffic and consume less fuel as a result.
Avoid carrying excess weight – You may be surprised, but every extra pound or kilogram matters and affects your fuel efficiency. So keep your boot and back seat clear of unnecessary items that just add weight to your vehicle (e.g. golf clubs).
Take the roof rack off – If you're not using your roof rack then remove it. They affect the aerodynamic efficiency of your vehicle and create drag, reducing fuel economy.
Shell launched the Target One Million, a Shell FuelSave campaign to help one million motorists across the globe learn how to save fuel. Please sign up and Target One Million website at www.shell.com.ph/targetonemillion.
More tips: