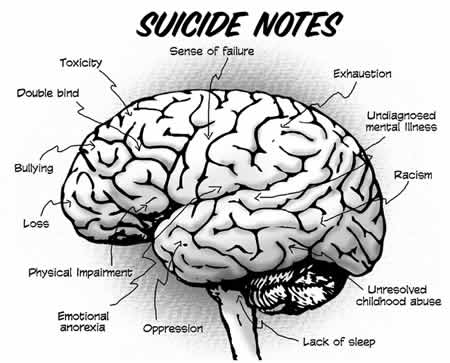 I noticed something strange in my blog referrals. There is an upsurge of suicide image searches in my blog which points to the Suicide Prevention page. Thank you Google. That has been the trend for many months now but in the past two days, there is just way too much reference to it.
I recall the same upsurge when someone surfed on the sensational suicide death in 2008 of 19 year old boy Abraham K. Biggs which was viewed on justin.tv. He took a fatal drug overdose in front of an Internet audience. Although some viewers contacted the web site to notify police, authorities did not reach his house in time.
In this news article, Webcam of son's death appalls dad , Abraham Biggs Sr. said those who watched and the Web site operators share some blame in his 19-year-old son's death.
"I think they are all equally wrong," he said. "It's a person's life that we're talking about. And as a human being, you don't watch someone in trouble and sit back and just watch."
I know for a fact that these kids were taught to report any suicide thoughts of their peers to their teacher or school authorities. For some reason, they did not take him seriously because he had threatened suicide on the site before but this is actually a clue already. Most suicidal people give warning signs in the hope that they will be rescued, because they are intent on stopping their emotional pain, not on dying. But not many know that.
My heart goes out to the father.
"It's a shame I wasn't there to help him. It's a big loss to me. I wish I was there to help him–since nobody else would."
If parents of suicide victims only knew that their children would kill themselves, I am sure they would have done all they can to save their lives. Suicide is a significant cause of death in many western countries, in some cases exceeding deaths by motor vehicle accidents annually.
I have met a few parents who lost their children to suicide and never did they imagine that their child would kill themselves. They often ask themselves " How could I have prevented it? or I didn't know"
If you are a parent, you can read through this Suicide Prevention page.
Typical warning signs which are often exhibited by people who are feeling suicidal include:
– Withdrawing from friends and family.
– Depression, broadly speaking; not necessarily a diagnosable mental illness
such as clinical depression, but indicated by signs such as:
– Loss of interest in usual activities.
– Showing signs of sadness, hopelessness, irritability.
– Changes in appetite, weight, behavior, level of activity or
sleep patterns.
– Loss of energy.
– Making negative comments about self.
– Recurring suicidal thoughts or fantasies.
– Sudden change from extreme depression to being `at peace' (may
indicate that they have decided to attempt suicide).
– Talking, Writing or Hinting about suicide.
– Previous attempts.
– Feelings of hopelessness and helplessness.
– Purposefully putting personal affairs in order:
– Giving away possessions.
– Sudden intense interest in personal wills or life insurance.
– `Clearing the air' over personal incidents from the past.
The presence of one or more of these warning signs is not intended as a guarantee that the person is suicidal: the only way to know for sure is to ask them.
I hope the boy's death is not in vain. The boy's father believes the webcast was a cry for help.
"But rather than get help, he was ignored," Biggs said. "I would not want to see anything like that on the Internet and not try and get help for that young man. I think that's what the average person would do. Any normal person would do. I'm really appalled."
An average person really does not know when a suicide is about to happen. If most of us knew, then there would have been very minimal suicide deaths.
Somehow, I hope my Suicide Prevention page can help save a life in the future.
A final word: if you have a suicidal friend or family member, please don't use the line Kasalanan yan (Thinking about suicide is a sin). The suicidal person needs medical help NOW. NOT a lecture, please.
Suicide prevention is everybody's business. Suicide should no longer be considered a taboo topic, and that through raising awareness and educating the public, we can SAVE lives.
Suicide Prevention Hotline Numbers
USA Suicide Prevention hotline
In an emergency, call the National Suicide Prevention Lifeline 1-800-273-TALK
Philippine Suicide Prevention Hotline
Office Address: 2/F, 48 McKinley Road, North Forbes Park, Makati City, Metro Manila, Philippines
Office Phones: +63 2 8931893 /8106233
Fax: +63 2 8931892
Website: www.in-touch.org
E-mail: [email protected]
Crisis Line: +63 2 8937603 /+63 2 8937606 (24/7)
Mobile Text messaging: type hello crisisline and send to 2333 (Globe) or 211 (Smart)