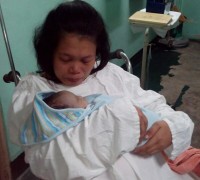 Originally posted at Compassionate justice is allowing #AndreaRosal to bury her child
"Malungkot na malungkot ako. Hindi na nga ako pinayagang makasama sa libing ng anak ko, sobrang iksi pa ng oras para makita ko siya sa burol," – Andrea Rosal
Andrea is heartbroken that she will only be allowed three hours to attend the wake of her beloved daughter Diona Andrea. Her two day old daughter died due to persistent pulmonary hypertension.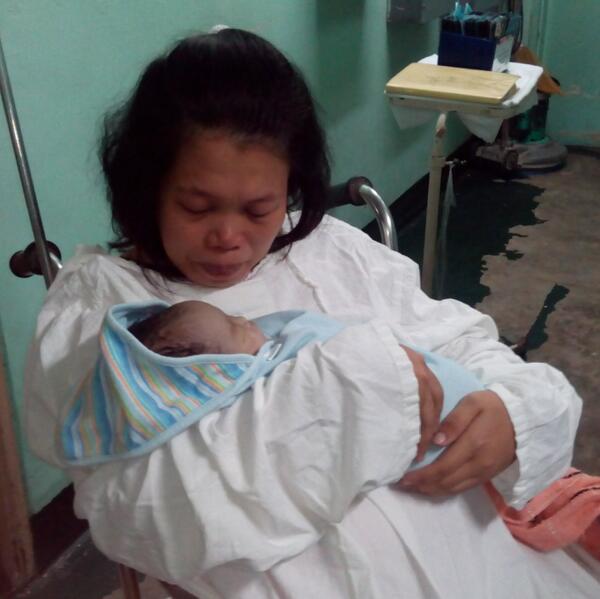 "If my baby were still alive, I would not mind even if I just had a little time with her. I know that once I am free, I would be with her. Three hours is not enough for our last time together."
My heart goes out to Andrea.
The Pasig City Regional Trial Court (RTC) Branch 266 denied the petition of Andrea Rosal to attend the funeral of her newborn daughter. She is only allowed to attend the wake at the Iglesia Filipina Independiente on May 21, 2014, 2 p.m. to 5 p.m. I find it insensitive that the RTC won't allow Andrea to bury her child.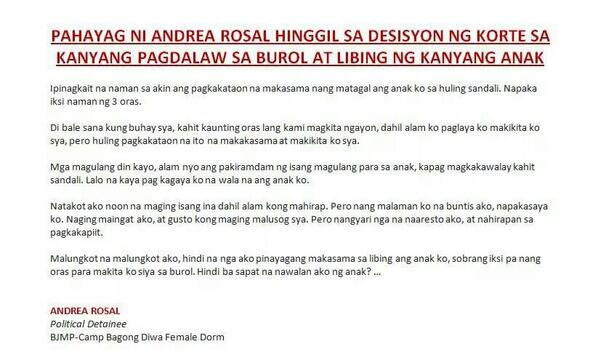 I first saw the reactions to the Court's decision on twitter. @ChiliMedley, a lawyer and a mother herself, asked "What kind of lawyer would oppose a mother's attendance at her child's burial, in the face of all the leniency for Mrs. Napoles?"
I know how it is to lose a child. Do you know what it feels like? It feels like being thrown into a pit of darkness. The death of a child is the most devastating and debilitating pain that anyone will ever know. The news that our child is dead thrusts us into an experience that is horrendous beyond our wildest imagination. The pain is beyond comprehension. "Grief consumes us. It takes us over so completely that we feel we are the epitomy of pain and anguish". There are things one can do to ease the pain. I believe one of the most helpful ways to ease the grief journey is to engage in rituals.
The grief ritual starts with the funeral. Burying one's child is part of this ritual to move forward with the grieving process. Other rituals come along the way like : Lighting a candle at certain, special times of the day or week ; Planting a tree or flowers in your loved one's memory; Making a donation to a charity that your loved one supported; Visiting your loved one's burial site and many more.
I'd like to think that our government is ignorant of these rituals. It is too concerned about the "high risk detainee" category because she is allegedly a top official of the New People's Army (NPA) in Southern Tagalog region. @Chilimedley adds "If they can set up security to move around a woman accused of stealing P10Bn, there is no reason why they cannot do it for"Andrea Rosal. Hazel aka @1nutty_hazel believes that even if Andrea "is so "high-risk", I wouldn't protest to additional security so she can attend her child's burial." Hazel says that with the huge amount of money we spend daily for the detention of Janet Napoles "why not spend a bit more for Andrea Rosal?" Andrea Lim points out that "GMA was allowed to spend her birthday w family in her hometown while #AndreaRosal isn't even allowed an extra few days to bury her daughter."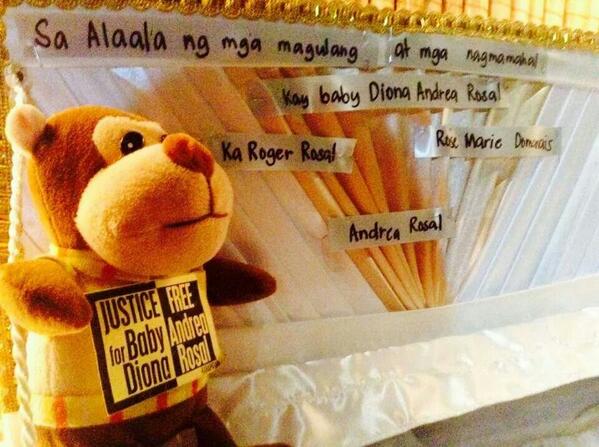 " sobrang iksi pa nang oras para makita ko siya sa burol. Hindi ba sapat na nawalan ako ng anak?"
Andrea Rosal is a mother. There is nothing more devastating than the death of a child. As a mother who lost a precious son 14 years ago, I know the pain Andrea is going through. Let Andrea Rosal bury her child.
This is compassionate justice.
Here are some of the reactions on twitter.
Photo via Renato Reyes and Andrea Lim. Some rights reserved.