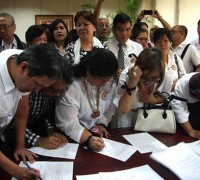 I begged to be excused from my sister and my ten-year old nephew after we watched a stage play "Rak of Aegis" yesterday.
Me: "I have to review the draft of our impeachment complaint".
Nephew: "Who is getting impeached?"
Me: "The President"
Nephew: "Whaatt? You are going to impeach the President? Won't you get jailed for that?"
And so, I dedicate the filing of the impeachment complaint to my nephew and the young ones who will one day become the taxpayers of the Philippines.  "For putting himself above the Supreme Court and the Filipino People, I am attaching my signature to the Impeachment complaint of Benigno Simeon Cojuanco Aquino III as President of the Republic of the Philippines.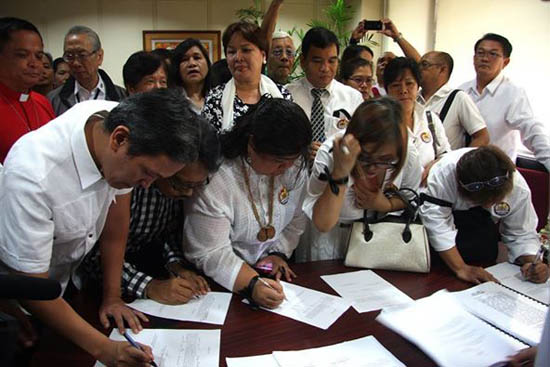 Photo via Kodao Productions
Dear nephew,
Let me attempt to make this simple. I am sure you have read the fairy tale of the "Emperor's New Clothes".  Here is a re-make of the story that my fellow advocates came up with.
We begin with a fairy tale just as we always do when leaders begin their rule. Four years ago, in a place by the river, an Emperor arrived, promising to take his subjects on a straight, righteous path. He waved a hand and asked trusted aides to weave him a magnificent cloak with the emblems of his rule.

And so the aides went to work, spinning invisible threads on looms, to produce the Emperor's new garb. And he was pleased and called it DAP.

The Emperor donned his new clothes and raised both arms to bless cheering subjects lined on the highway. "DAP! DAP!", his courtiers yelled.

No one could see anything but his flesh. "No clothes! No clothes!" The chant went up. But no one among his minions would confess to the fakery and deception lest they fall out of the mighty ruler's grace. And so the Emperor's parade trudged on….

The Disbursement Acceleration Program is the modern-day "Emperor's New Clothes." It took the Supreme Court, ruling unanimously and unequivocally, to expose DAP for what it truly was – an unconstitutional mechanism that President Benigno Simeon Aquino III deliberately and repeatedly used to undermine the separation of powers of the various branches of government, destroy the system of checks and balances of the republic, violate various laws and betray the people's trust.
In the fairy tale, it was a child in the crowd , just like you, "who was too young to understand the desirability of keeping up the pretense, blurts out that the Emperor is wearing nothing at all and the cry is taken up by others. The Emperor cringes, suspecting the assertion is true, but continues the procession."
You are only ten years old and are powerless to stop the procession so I am doing this for you…for the future of our country.
You might ask, "why not wait for 2016? He has only two years left".
It is a matter of principle. it is a matter of seeking accountability. It does not depend on the numbers in congress. Impeachment is the legal way to make a President accountable for "culpable violation of the Constitution, treason, bribery, graft and corruption, other high crimes, or betrayal of public trust."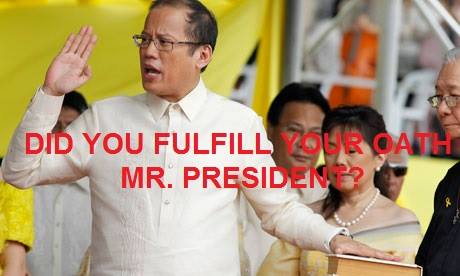 You must have known, that the President took an oath of office where he promised to "preserve and defend its Constitution, execute its laws, do justice to every man, and consecrate myself to the service of the Nation." The President is immune from suit and the only way to hold him accountable is through impeachment – a constitutional process.
We will present evidence that Aquino knowingly and wilfully violated the Constitution through his acts of approving and implementing the Disbursement Acceleration Program (DAP) .
We will prove that from the onset, Aquino had sought to control billions in public funds and treat the same as presidential pork.
We will prove that the DAP is no different from Priority Development Assistance Fund (PDAF) in the sense that both pertain to discretionary lump sum spending. Check this out.

Click to enlarge
The DAP is not just a disbursement policy gone wrong. It is an attempt by the President to grab for himself the powers held by Congress. It is an insidious scheme to build up a gargantuan pork barrel fund for the President that dwarfed the combined PDAF of legislators.

Through the DAP, the President laundered billions of public money to activities that are by and large either corrupt, corruption- prone, favored, or cannot be accounted for.

The impeachment complaint is the only means for seeking accountability, which has long been due, because no one wants to truly come clean about the DAP. Not the President. Not his men. Not the politicians that gained from his illegal and unconstitutional acts.
To answer your question, I won't get jailed for this.
Filing an impeachment complaint by a blogger like myself has been done in the past. It is the right thing to do. Atty. Edwin Lacierda (now Palace Spokesperson), then a blogger in 2008 was part of an impeachment complaint versus Former President Gloria Macapagal-Arroyo: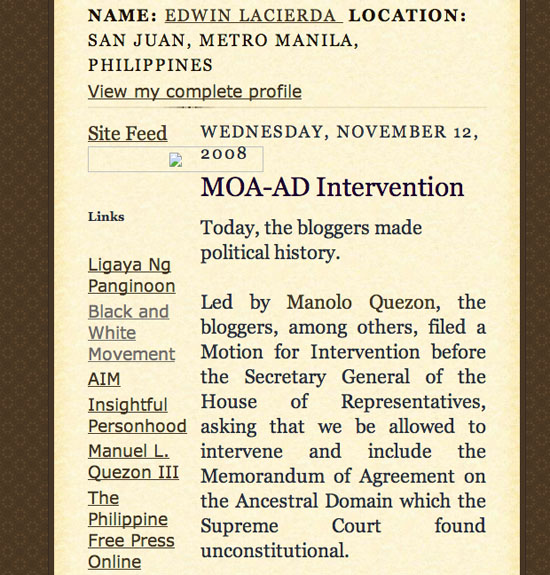 As a blogger, it was an honor to have my signature affixed on this document. Whatever the consequences are, we need to show our country that we have an incumbent president who has failed to honor the "take care" clause in the Constitution, sacrificing the country's interest in favor of her own political ambitions and must of consequence, be held accountable to the ills she has cursed this nation with.
Manolo Quezon (now a Communications UnderSecretary) led the bloggers in this 2008 impeachment .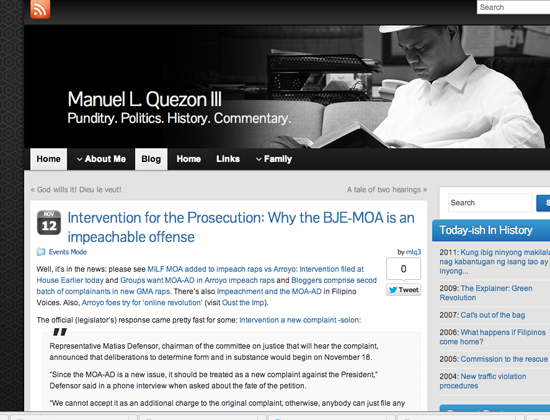 "…The question is not who we will replace the President with, but to find the President guilty or not guilty of the charges pressed against her. Not the least of which is the charge that she deceived the public – and compromised the integrity and sovereignty of the Philippines – through the BJE MOA-AD. If she is, I believe that she should face the fair and just consequences of her actions. I believe that justice is not about personalities, but about doing the right thing."
Marocharim , a political blogger added: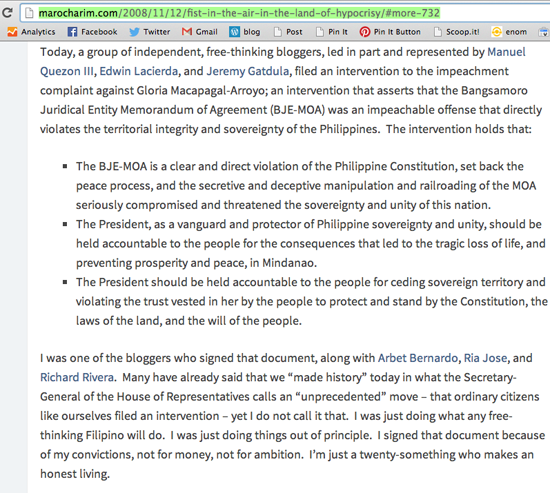 …I was just doing what any free-thinking Filipino will do. I was just doing things out of principle. I signed that document because of my convictions, not for money, not for ambition. I'm just a twenty-something who makes an honest living.
I signed that document because I believe that it is right, and I believe that it is time. Revolution? To some, yes, but to me, it was a simple matter of doing the right thing.
You might be wondering "So you want Vice President Binay" to be President?
See, the impeachment is not about getting Binay to be President, in the same way that People Power 2 in EDSA was not about making Gloria Macapagal-Arroyo, President. Those worried about Binay becoming president are also saying that the impeachment has no chance of getting the numbers in congress. My friend, Mae told me "I always say I will follow the law. … I will not fear the future when all I have is NOW.  And now is the perfect time to IMPEACH. when citizens are alive and vigilant, BINAY is not to be feared! In fact opportunity!"
Some of my friends may doubt my motivation. Deng, another friend gives me comfort " stay as who you are with your conviction and vigilance… and your critics will fail in their attacks of putting labels and colors and doubts in your intents.. because the only agenda you have is rooted for your love of country, fellowmen, family via means of seeking the truth and jurisprudence,… that way, it is easy to convince people the need to participate….". I love you Deng.
I know it won't be easy and it could be a long shot. Who said change was easy anyway? It isn't easy to get out of our comfort zone. Some of us may be jaded or disillusioned because the People Power Revolution failed to bring us to real change and recovery. I continue to hope and hope for the sake of your future, my children's future, and the future of their children.
It's not easy to make a stand but I believe in doing the right thing.
Take care and study well.
Love,
Tita Noemi
PS. Sorry this letter ended up too long but I am sure you understood most of it . Ask your mom for help. If you want to read more about DAP, here are reports from PCIJ
Part 1: DAP: Good and bad, open and opaque
Part 2: Funds freed in a rush, projects yield slow results
Final Impeachment Complaint Against Bs Aquino by Bayan Et. Al.