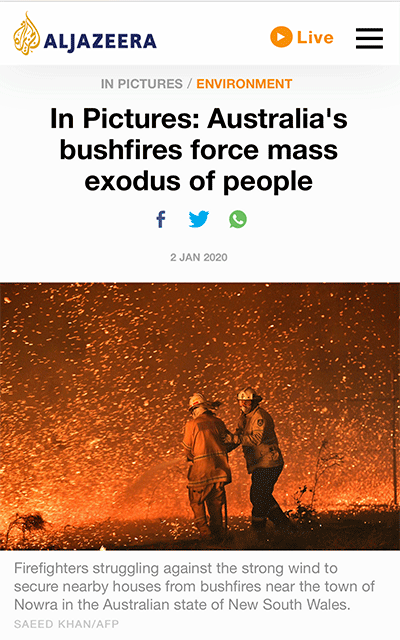 Even if we don't live in Australia, giving money is probably the best thing you can do to help.
The casualties from massive bush fire in Australia is staggering. Let me start off with the appeal of my friend who is now based in Australia. David Ryan in his Facebook post narrates how "the entire country is burning. The closest fires are about 1-2 hours from us and our fire season would have just started. The fires have burnt over 1,000 homes just in my home state of New South Wales, people are dead and some are fighting to survive, half a billion animals burned alive including 8,000 koalas. We are in the middle of the worst bushfires in Australia's history, and the largest peacetime evacuation the country has ever seen. It has burned over 5 million hectares- about the size of the country of Costa Rica."
"Experts fear the devastating Australian wildfires have killed up to a BILLION animals." Australia needs your help now.
There are two ways to help:
Donation – If you want to know how to help, please check these links below provided by Ryan. Make sure your donations are getting where they need to go. Find out how to avoid bushfire charity scams: https://www.accc.gov.au/update/bushfires-and-scams .
ANIMAL WELFARE:
https://www.fnpw.org.au/
RFS (NSW):
Donate- https://www.rfs.nsw.gov.au/volun…/support-your-local-brigade
CFA (Vic):
Donate- https://www.cfa.vic.gov.au/about/supporting-cfa
Volunteer- https://www.cfa.vic.gov.au/volunteer-careers/volunteers
TFS (Tas):
Donate- https://tvfba.org.au/community/tfs-support-fund/
(Supports firies and their families)
QFES (QLD):
Donate- https://givit.worldsecuresystems.com/donate-funds
(Select Queensland Fires 2019 from the drop down menu)
CFS (SA):
Donate- https://cfsfoundation.org.au/donate
Volunteer- https://www.cfs.sa.gov.au/site/volunteer.jsp
Animal Welfare Donation:
Australia-wide:
Rescue Collective- https://mkc.org.au/donations/trcqld
WWF-
https://www.wwf.org.au/get-involved/bushfire-emergency
The Bushfire Foundation- http://animalrelief.gofundraise.com.au
NSW:
RSPCA- https://www.rspcansw.org.au/bushfire-appeal/
Wires- https://www.wires.org.au/donate/emergency-fund
Tas:
Bonorong Wildlife Sanctuary and Rescue- https://www.bonorong.com.au/donate
Koala Rescue- https://www.koalarescueqld.org/donate.html
SA:
SAVEM- https://www.savem.org.au/about-savem/donate
There are several photos of injured kangaroos and koalas being saved by Australians. It is heartbreaking to see photos of charred remains of these beautiful animals at the roadside in Batlow. I want to remember them alive and well. And we all can help.
I remember my visits in 2011. Australia continues to work hard to make sure the Tasmanian devil does not follow the loss of the Tasmanian tiger, last seen in 1936. I have been to two animal sanctuaries in Australia but the Bonorong Wildlife sanctuary gave me the opportunity to be up close with the animals. Even if we don't live in Australia, giving money is probably the best thing you can do. An Australian website explains that "it allows charities to help people affected by fires, or the people themselves, to have the flexibility to use the money in whatever way they need".
2. Continue to pressure your government that Climate Change is real. Ryan concludes his post with the need for a " declaration of climate emergency and to take steps in climate change mitigation." What we need is climate action. CLIMATE CHANGE IS REAL.
Let's continue to keep putting pressure on our government to act on climate change through attending protests and writing letters. The 1 Million Women movement in Australia provided a letter writing guide which "might help you with this – you could use the Australian fires as an example, as well as examples of how climate change is affecting you where you live."