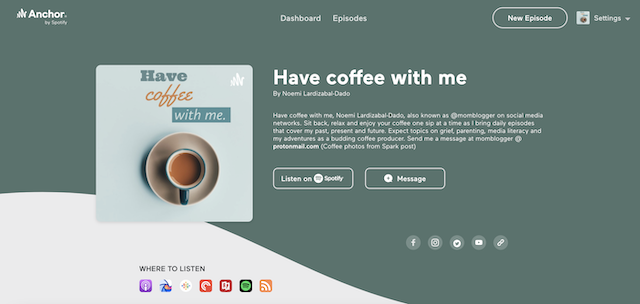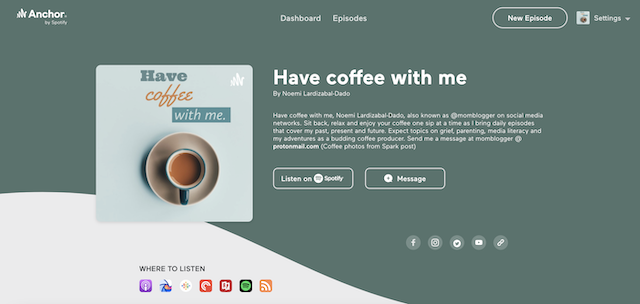 Celebrating my 15 years of blogging by adding a podcast entitled "Have Coffee with me". Check it out at anchor.fm/momblogger, and also distributed at Spotify, Apple podcast, Google Podcast, Breaker, Pocket Cast, RadioPublic and more to follow.
Today, I celebrate 15 years of blogging, but 15 years ago there was nothing to celebrate. I was wallowing in a pit of unspeakable grief. On February 24, 2006, I launched aboutmyrecovery.com and I like to look back at what I wrote on my first post "I chose joy over sadness. It is said that grief is inevitable, but misery is optional. I realized that it did no good to sit in my misery pit. It did no good for the loss of my son to lead to the loss of two. What does do good is doing good. I decided to lead the second part of my life differently and better than I would have imagined …in the name of my son, Luijoe. I know that as I reach out to bereaved parents, the world is changed in some small way for the better, and then the actions taken become my living tribute to my son. And then Luijoe is never entirely gone."
Back in 2006, blogging was what I then called my new normal. From blogger, to @momblogger, and advocate, I have achieved my now normal, a budding coffee producer. So I call my podcast "Have Coffee with me" which you can download in many places.
So why a podcast? Social audio is the future, and I want to deliver content to wherever my audience is. Most importantly, archives on coping with a loss are buried in my earlier posts and it is best to highlight them. You can still read them at certain categories such as grief, recovery tips, and grief education. I am still new in podcasting, so I am bound to encounter technical problems and being more fluent in my recording.
How am I feeling 21 years after the death of my son? I still miss my beloved Luijoe. When I recall those poignant memories with my boy, I feel sad and tear. There is a huge difference, though. The sadness no longer steals the joy away. The awful pain and emptiness diminished over time, as I persisted in enjoying the memories of the moments spent together, not dwelling on the times which will never happen. That pain is giving me courage to focus on my purpose in life. To live a meaningful life as a mom blogger, a citizen advocate, and a budding coffee producer. And to be always touched by an angel. Luijoe is always in my heart and in my memories.
Oh yeah, someone (whose name is too painful to mention) once told me after lecturing me and two friends that we are too old to be activists, "Now you just stay home and blog and criticize…just to be popular"
Excuse me **** , I will stop you right there. I became a blogger because of Luijoe to give hope to mothers who lost a child . . I don't need to be popular. I would rather have Luijoe back than be a blogger.
No one is too old to blog. We all have our reasons for blogging.
Anyway, sit back and relax as I bring topics that cover my past, present and future. Expect topics on grief recovery, parenting, media literacy and coffee. Season 1 will be about grief education and my stories that I posted early in my grief recovery.
Listen to my podcast: