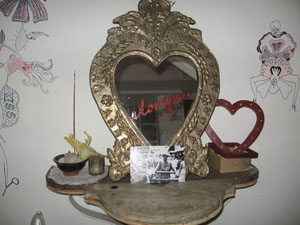 My daughter who is turning nineteen on Tuesday already made plans for a birthday gift. A funky new look from this cool and unique underground basement shop, the "I Love You Store", new wardrobe, a hair dye and new contact lenses. Friday night is horror night in the streets of Makati Avenue. "I Love You Store" is located in 7849 Underground Pilar Place, Makati Avenue and the hairdresser is only available at night. We travelled all the way from UP Diliman for one hour and a half only to be informed by the charming owner that Maribel, the hair stylist would arrive from a styling gig at 9:30 PM. It was 7:30 PM. Knowing that it would take me another hour to drive to our house in Makati because of the horrendous traffic, I opted to wait . Fortunately, the shop had internet wi-fi and while my daughter shopped for clothes, I worked on my online business.
In the one hour and a half wait, I found out so many interesting facts about this shop :
1. The owners are Fine Arts Graduates. No wonder the place reeks of creativity.
2. Each piece of clothing is one of kind. That's why each item of clothing is a labor of love. Hence the label "I love you Store"
3. The haircut is not really their main source of business. The professional fee of the hair stylist is by donation-basis. Pay what you can afford.
4. The owners are obviously having fun while doing their business. You can see it in the glow of their faces.
5. Every piece of item, the walls and every nook in that store is an art piece. check out the "I Love You Store photos I took of almost every corner of the shop.