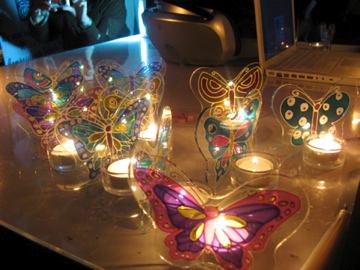 There was a glow at the UP Sunken Garden Sunday evening as friends and family members of the Compassionate Friends Philippines gathered to light candles in memory of our beloved children. Despite the stormy weather, it did not stop the members from going to the event. About 30 people, attended the 10th annual Worldwide Candle Lighting. This is the First Candle ceremony in the Philippines though. In the worldwide ceremony family and friends across the world light a candle at 7 p.m. local time for one hour, starting in New Zealand. As candles burn down in each time zone they are lit in the next to give off 24 hours of continuous light around the globe. The ceremony is held the second Sunday in December. It starts at the International Date Line west of the Hawaiian Islands and works its way eastward, creating a virtual wave of light as it moves from one time zone to the next.

In our Candle Ceremony, Cathy Babao-Guballa read the Memory Candles Poem where she lit 4 candles. One candle represents our GRIEF, one for our COURAGE, one for our MEMORIES and one for our LOVE. Each family that lost a child lit the candle in the butterfly candle holder as their child's name was called from the Powerpoint Presentation. We continued to read Candle Light Poems till the clock struck past 7:00 PM.
Why do we light candles?
Our children, each of them a bright flame to us in life and in death, are not forgotten. It gives parents an opportunity to commemorate and honor their child's memory and offers hope. This isn't a doom-and-gloom thing; this is a very positive event and something our members look forward to, as it gives them a chance to honor their child and help others who might be going through their first Christmas without their child. As my husband lit a candle for my Luijoe, he was moved to tears. It was indeed a touching moment in time.
As I type this entry, the 24 hour candle lighting vigil will commence in a few hours in the USA time zone.