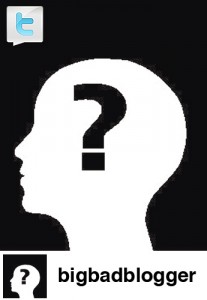 The topic is still a burning issue. The Big Bad Blogger and the evil PR brouhaha is still making waves in the Philippine blogosphere. I am always asked, "who do you think is big bad blogger?" or "is there really a big bad blogger?" I am aware there are a lot of bloggers with various interest, business model and purpose. I may not agree with all the time but I have yet to hear or encounter allegations of "extortion". The accusations are downright unfair. In fact the the Internet and Mobile Marketing Association of the Philippines (IMMAP) issued a statement on
"In the Interest of Philippine Blogosphere"
(This is an industry response to Marguax Salcedo's column dated 23 Jan 2011 in Sunday Inquirer Magazine, where she hinted at unethical behavior by a blogger and a PR agency http://showbizandstyle.inquirer.net/sim/sim/view/20110122-315972/)

Please-Dont-Give-Blogging-a-Bad-Name IMMAP recognizes the value that blog marketing brings to the success of building brands in the digital space. Bloggers themselves are publishers of their own personal websites, and as such are entitled to embrace opportunities to monetize their online presences.

We also recognize the fact that digital PR agencies, which help clients manage their online reputation, often engage bloggers for word-of-mouth promotion.

We understand that blogging as a credible medium can only grow if there is transparency and accountability by all parties — clients, agencies, and writers. It is in the public's best interest to know if a write-up is affected by a potential conflict of interest.

Our biggest concern with Ms. Salcedo's article is that it was essentially a blind item. Speculation (amplified by social media) only casts doubt on all bloggers and all PR agencies, which doesn't help anyone. However, if the insinuations are true, then such behavior — essentially blackmailing a potential client with the threat of a negative review — is unacceptable as a marketing services practice. This is something IMMAP frowns upon as it diminishes the credibility of the medium. We also believe that such behavior is limited to a few black hat practitioners and not representative of the Philippine Blogosphere.

We hope that at some point Ms. Salcedo will clarify the issue and disclose the names of the client, blogger, and PR agency involved so the matter can be brought to the proper light. We at IMMAP are always open if Ms. Salcedo wishes us to mediate between the parties concerned during this discussion.

To help strengthen the credibility of the majority of the Philippine Blogosphere, IMMAP recommends the with the ability to safeguard its practitioners. We would be more than happy to be of assistance in the formation of this organization. In doing so, we can table the interest of the Philippine Blogosphere in the broader digital conversations in the industry.

For our part, IMMAP is currently updating its 2007 Code of Ethics with updated guidelines for digital advertising and social media. We're looking forward to having a dialogue with representatives of the Philippine Blogosphere immediately to assist in the establishment and ratification of relevant ethical standards.
The statement hits it right on the part where doubts have been created if names are not mentioned or brought forth to the right forum. While I do agree with a collective set of ethical standards for bloggers , I am not convinced on the establishment of a national blogging organization. Bloggers are so diverse and may not want to belong to one big group for one reason or another.
Before the establishment of an organization, a set of ethical standards should first be deliberated and agreed upon in a conference or summit, then the rest can follow.
It is good to have guidelines and let's start from there.
Read More »National blogging organization in the Philippines?