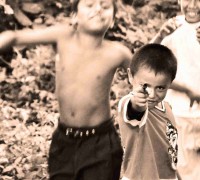 The first thing that comes to mind, when children are bored, is that they have to do something, and that would most certainly involve spending money – buying food, clothes, gaming consoles; or spending time with friends out of town Let us try to take the hard-earned peso out of the equation, because that brings out creativity and imagination. Mothers are best fit for this task, because they operate on a budget, and we shall try our best to seek solutions that best represent their elegant point of view.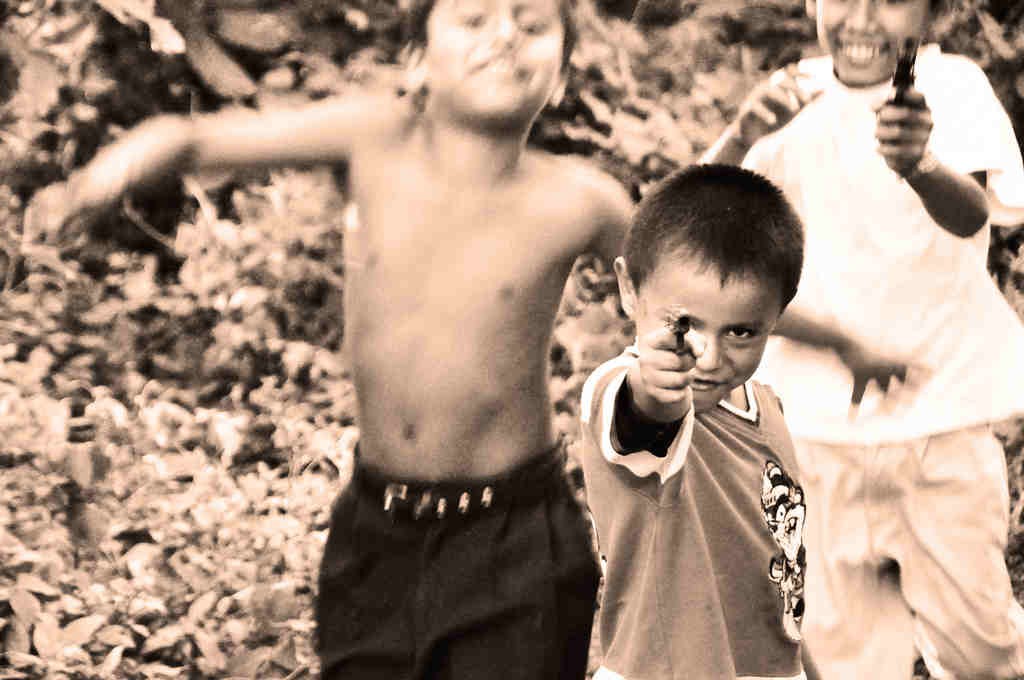 Summer Job
Human dignity wouldn't be expunged by taking on a summer job at the municipal office, a BPO, or the fastfood chain. It will help the children appreciate the real value of money, and that they will learn early on that it comes from hard work (and not as reward from people who owe you favors).
If, as a parent, you don't want them taking on such big responsibility (or abuse. But productive abuse.), they could just go into a summer business for themselves. One husband-and-wife team, according to the Kapuso Mo, Jessica Soho show, turned Php20 to more than a million, just by selling ice candies. It's one thing to have a mini-stand, and another to talk to various sari-sari stores, getting them to agree to a concession. If you can teach your kids, the skill of landing clients, they would breeze through the K-to-12 program, whose think tanks may have taken the 'lifelong learning' clause a bit too seriously.
Woodworking and Scooter Making
A mom friend is skilled in the craft of wood furniture making – tables (and not the sissy ones either – twelve seaters), and shelves. We won't be expecting toddlers who can barely keep their balance while walking to erect a shelf on their own, or teenagers to drive a nail straight home in one hammering (although my friend knows how to construct without need for nails). Simple light apprentice work, like gathering wood shavings for the kids, and teaching the teenagers to shave wood, with the proper precautionary reminders and gear, would do them much good.
Still too much? Back then (after World War II), children made their own toys. With bamboo sticks and plastic bags, plus sewing thread on spools, we can fashion kites. Yes, there was a time when kites weren't bought in the malls. If you go to your province, you still might still get to see this dying culture of Pinoy toys for the Filipino children.
That, and kiddie scooters. Just wood panels, ball bearings, and nails – the reason why woodworking is a requisite in this section. Wood with 1 x 1 dimension gets sculpted into a cylinder, for two stainless ball bearings to fit each side. The ball bearings are the most costly here. The wood, you can get por kilo. You can go to your friendly junk shop, but maybe not such a good idea if you're going to leave your kids unsupervised with a scooter they made on their own.
Another is the wacky wheel. The simplistic version is you get a worn down bicycle wheel rubber, a yardstick, and use the stick to drive the wheel. A more creative one is you get the round flat lid of an infant milk can, a yardstick, one-inch nail, and flatten a bottlecap as guard for when you nail the lid onto one end of your yardstick. The kids made their own toys, they're proud of themselves, they run around the yard, and are asleep faster than you can say Wacky Wheel. The mommy's joy is complete.
Scrapbook
As with crafting the wooden scooter, the scrapbook, unknown to some, is mainly an outdoor activity. Leaves, flowers, weird-shaped stalks, weeds, and pollen stalks plucked from vacant yards and the neighbors' then dried in between newspaper pages for a week are great for designing photo scrapbooks.
A scrapbook can be a journal. It can be as manly and as girly as your children want it to be. Went to a beach and had some cute shells as souvenir? Use that on your scrapbook. Fond of collecting stamps, recycling packaging of your favorite grocery items? Use that on your scrapbook. Nuts and bolts and metal clamps and the rocker wallet chain and padlocks for a manly feel? Right on.
Door-to-door Selling
Into baking? Love merienda after siesta? Not satisfied with the usual halo-halo? Setup a table in front of the gate, and sell your own. Take your kids along when you talk to the neighbors, or other sari-sari stores for business opportunities. In approval and denial, discuss with them what you have learned, and why what you are doing is important. That shall be your chance to talk to them about money matters, and to teach them to fend for themselves – no matter what happens to them – or to you. You remember the Wacky Wheel? Have your kid sell that to his or her playmates for, say, Php10-20 each. Or the wooden scooter, for Php100-150 each, depending on the price of ball bearings.
Chores
The kids learn to fend for themselves, they learn to be responsible, they get self respect from a job well done.
When general cleaning, give them cloths to wipe the tables and chairs with. Teach them to sweep the floors, wash the dishes, fry hotdogs (this will help them appreciate the use, dangers, and learn to control the fire of the gas range), and keep the house in spit shine.
Cooking pastries, finger foods, and local viands will help them, with your guidance, know more about the nutritional value of real food cooked at home, compared to the taste and price of fastfood that by now, they've grown accustomed to. This could be a springboard for frontyard business ventures, which will benefit them long after you are gone.
Mending inseams, and learning crochet, cross-stitching will teach them patience and finesse. They can even become interested to sew dresses for their dolls. Php50 for a t-shirt or shorts at the local bazaar. Easiest money they ever made – because they enjoyed themselves.
Detailing/Welding
The secondary school children, and the college ones could take summer jobs, or learn vocational ones, even before their lessons are taught in school. In detailing, help them notice that the local carwash will not clean the car as meticulously as you or they will. So when they enter a business, they will have a competition headstart, because they believe in quality detailed work.
Welding is a great hobby, which can be used to start their own steel gate-fabricating business, or with enough artistry, they will start iron sculpting. Sculpture would be best for inhabitants of Pila, Laguna, or other such artistic hubs. Enroll your kids in art workshops – graphic arts, performing arts, and the like.
Furniture (design) and art go hand in hand.
Play with Other Kids
What's the fun in having all the nice toys when you don't have anybody to share them with? Not to turn the kids into braggarts, but individuals who know the spiritual value of sharing, and the tremendous joy it brings. Even without toys, you, your kids, and their friends can go jogging, biking, hiking, playing basketball or the summer pastime specialized for mommies and girls, of course – zumba.
Overall Hygiene and Personal Grooming
How can a person respect himself if he doesn't look good? Good grooming starts in childhood. If a child pinches boogers into flickable balls in public, most likely that will continue well into adulthood. Show them how to iron their clothes, and let them know how the flat iron works, so they won't fear it. Teach them classic ways to maintain their hair, with buns and gels, to always have hankies (or wet wipes) and bamboo fans handy when going out for when they ride public transportation. Erect posture, and the power poses for confidence, and to always always respect themselves. Reading books go hand-in-hand with this section.
Read books
Read books to your children, or if they're old enough, have them read on their own and have a round-table discussion on the summary, and the parts that spoke most to them. There is such a thing as "deep reading" or how a person is able to glean from the books various lessons that shape their morals profoundly. Reading is for the soul. What you read to your children and what you let them read will fill their spirit, and so the classics are advised. Shel Silverstein, Narnia, Tom Sawyer, and for the very intellectual, Florante at Laura, Noli me Tangere, and El Filibusterismo.
Volunteer
Wait for the Rakhin refugees to break land, or better yet, go to the church nearest you, find the ones whose cheekbones cling to the skin, ask them if they are hungry, and feed them. You can organize feeding programs on your own (What does it take to feed somebody anyway? If you have food and utensils, you're good to go. Don't think too much into it.), or join a reputable organization where you have a friend. This way, when you take your kids, they wake up to the realities of life, and it empowers them, and tells them that they can always do something good, in whatever situation.
Play a Peter Pan game
Let your kids know that all the abovementioned that they've learned are for one and one end purpose alone – to be able to play, and play with sheer joy the air in betweeen their ears pop at the mere thought of it.
Bring out the enchanted cardboard boxes of old and tell them to use all the imagination they've got. It could be a merchant ship sailing out to new territories and they're hijacked by pirates with water stink bombs, water guns – bamboozlers who know nothing of door-to-door selling and making an honest living, much less oral hygiene and personal grooming.
You were left marooned with the crew on an island with nothing but your scrapbook and a plunger – which you had to fight for to keep, in fact. And since it was evident that you were the only one with a weapon strong enough to gross out the feral inhabitants of the island (and because the Captain chose to become a pirate), you were promoted as the leader of the pack. You were renamed by the aboriginal member of the crew to "Mario Barraders" or in English, "King Stick-it-to-'em."
You turn the plunger into a short spear (the scrapbook is to remind you of the beauty within – equally important as the plunger), and hunt for wild boar, but seeing none up and about, and not really knowing what would happen if the boar snatches that spear from you, you content yourself for the meantime with wild fruits from your neighbor's backyard, and the aratilis berries from the vacant yard overrun by dinosaurs (bayawak), dragons (dragonflies) and man-eating vegetation (prickly weeds and shrubs).
A wild boar turns up, attempts to flee, but being the King (FPJ?), you chase it good, bring it down, and the scrapbook opens by itself, the seashells, sequins, and other glittery stuff shining a bright ray of light on your face, reminding you that you are a beautiful person, prevent you from becoming a complete animal, and just stick your spear to the ground as the boar slobbers you.
As it turns out, the boar was really your sister bewitched by the pirates' all-smelling (foul-smelling; and not all-seeing) witch – sent to the island from your farm home to deplete your supply of fruits and berries, and finish off where the pirates started.
In the end, the boar, I mean, your sister helps you to harvest more berries since she brought with her (always) a spoon, that you were able to tie to the end of your plunger-spear, you are rescued by the Navy Seals before noon. Baby Sister recently had her birthday, and mum gave her a celphone – so she wouldn't get bored. Fancy that.
Photo: From www.flickr.com/photos/iamagenious, some rights reserved
By Anna Manila as originally posted at the Philippine Online Chronicles