A child will always remember their yaya
Children will always remember with fondness their caregiver as much as they remember the love and warmth of their parents. One of my daughters told me they still remember their yaya (nanny) . Their yaya also remembers them especially during holidays. They still visit us at home and even bring gifts to my now-adult children. I am glad their yayas are financially independent. One even has her own restaurant with some dishes learnt from her more than 10 years with us. Though the restaurant is not that fancy, it gives her an income that is more than a maid's salary. I recall also the yaya of my beloved Luijoe. When she left our household, she would call every year to greet my little boy. Then in July 13, 2000, she called once again only to her the devastating news that our Luijoe was gone. She wept.
There is no denial that there is a love that exists between the yaya and their ward. It is also one reason, I never had domestic helper issues because I recognize that bond. They stayed long enough to watch them grow or they made sure that they left a kapalit in case they had to leave.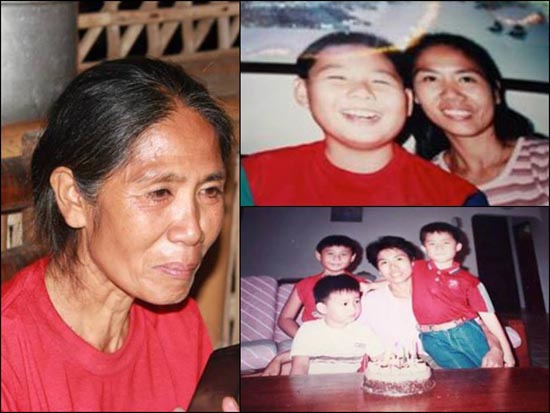 Ilo Ilo the Movie inspired by the real Auntie Terry
It is no wonder that Singaporean director Anthony Chen's ILO ILO (which won the Caméra d'Or at this year's Cannes Film Festival ) based his story from the domestic helper of his childhood days whom he and his two younger brothers called Auntie Terry. She worked with the Chen family for eight years from 1989 until the Asian financial crisis. The movie "Ilo Ilo," "explores the lives of Singapore's workaholic, ambitious middle classes and the domestic help on which they depend".
Set in Singapore, ILO ILO chronicles the relationship between a family of three and their newly arrived Filipino maid, Teresa, who has come like many other Filipino women in search of a better life.

The entire family needs to adapt to the presence of this stranger, which further threatens their already strained relationship. Still, Teresa and Jiale, the young and troublesome boy she cares for, soon form a bond. Their unique connection continues to develop and soon she becomes an unspoken part of the family.

But this is 1997 and the Asian Financial Crisis is starting to be felt in all the region…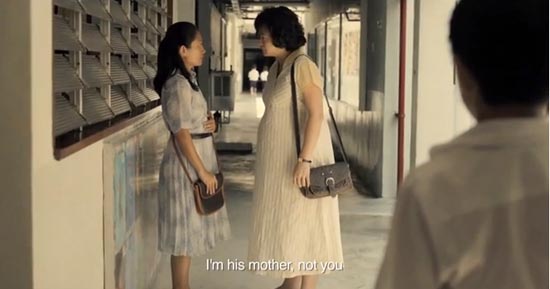 There is a poignant scene where the mother puts Auntie Terry in her place. "I am his mother, not you". Of course, the child will always feel close to their nanny. It is natural mothers feel that tinge of jealousy when their ward gets close to the nanny. I did too but I would rather that my yayas love my children like a mother would do than be indifferent. I brush those pangs of jealousy and make sure that I have my own mommy time with my children.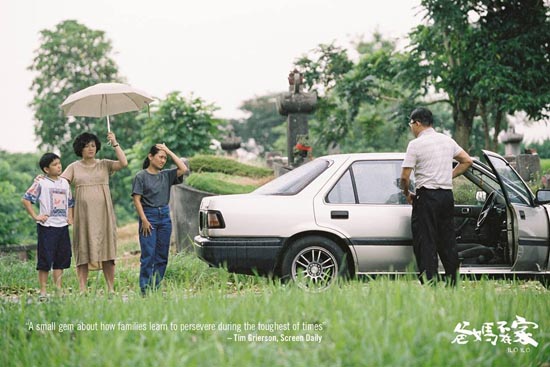 I found it touching that Anthony Chen still remembers their Auntie Terry. He soon searched for the real Auntie Terry known as Teresita Sojonia. "The successful search for Auntie Terry" did not take long and soon a radio reporter went to visit her.
After 16 years of separation, Anthony and his youngest brother Christopher visited the village of San Miguel in Iloilo Province on July 23 to be reunited with their Auntie Terry.

Auntie Terry raised them well too
It was an emotional meeting for Anthony and Christopher as they hugged their Auntie Terry. Who wouldn't be touched by this scene? As I read the account of their reunion, in the Ilo Ilo Facebook page, I could not help but tear.
Netizens who read the account were just as emotional and touched by the brothers' visit. Lovee Gomez thanked them " for loving Auntie Terry as a family member. May God bless you with more success in life because of your loving hearts!" .
The plight of the OFWs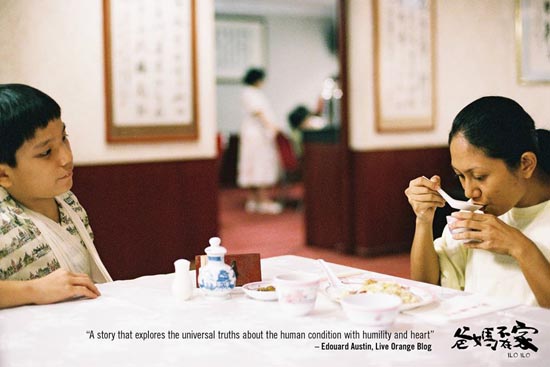 Charles J Tan felt sad that " they gave their years to raise our children but end up giving up a future of their own. this does not make sense. there has to be a better way to make it sustainable for domestic helpers who come from the Philippines and Indonesia. " Even Luke Matthew teared " realizing the sad fate of our OFW working hard to provide a bright future to their family at the expense of losing their own".
Estilofil Abagatnan says it so well . She opines that "there are so many auntie Terry in our country, work so hard in a foreign land, no family and bundles of friends, only faith. Faith that their hard work will bring comfort and success for the family back home,its their inspiration, that's their priority, and they forget their own self. But there are few who succeed in the end of the day. Mostly are those whose family value everything, and set the same goal to help each other. Teresita Sajonia sowed seeds of love to her family and the Chen. So sad that her harvest from her own land was not enough to support her for 16 yrs. but her love to the Chen family give her value that better than gold. as she was remembered and never forgotten.
Blessed are those who give love in return."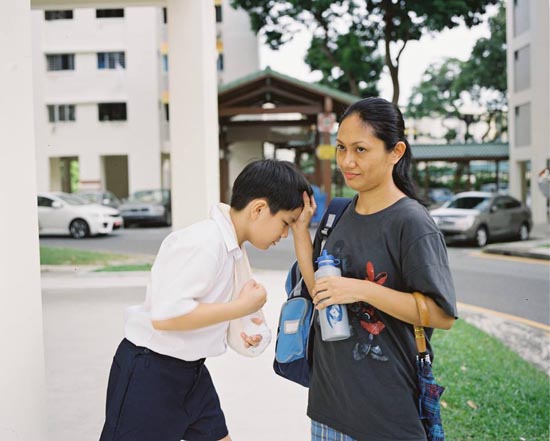 There is a story behind the movie which brings us to carefully study the plight of Overseas Filipino Workers (OFWs) when they return home to the Philippines. There is a story of love and devotion. Distance may have separated them but the love of their caregiver will always remain in their heart. Hopefully, the movie will open the eyes of the OFWs to save enough for their retirement and for the government to provide initiatives for the OFWs to invest their hard-earned money.
The movie has such a lovely and touching theme. I can hardly wait for the movie to be shown in the Philippines. Meantime, watch the Ilo Ilo trailer
Here is the complete story from Facebook page of Ilo Ilo the movie, Lianhe Zaobao , the Chinese-language newspaper of Singapore, covered the story and here is the translation.
Singaporean director Anthony Chen's ILO ILO, which won the Caméra d'Or at this year's Cannes Film Festival, is inspired by the domestic helper from his childhood whom he and his two younger brothers called Auntie Terry. After the film won the Caméra d'Or, Ilonggas (Iloilo locals) began a search for the real Auntie Terry, and it did not take long for them to find her. After 16 years of separation, Anthony and his youngest brother Christopher recently visited the village of San Miguel in Iloilo Province to be reunited with her.

Sometimes, even after years of separation, there are those who are destined to meet again. On Sunday 23rd July, in a small hut in the village of San Miguel in Iloilo Province, Anthony and Christopher were reunited with the real Auntie Terry after a 16-year separation. Words were unnecessary as they embraced. It was an emotional moment for all who were present.

The woman whom the Chen boys called ""Auntie Terry" is Teresita D. Sajonia. She's only 56, but looks a lot older. Her clothes are ragged, her hair greying and her face is full wrinkles. What happened to her in the last 16 years? Why was she living in poverty, in a run-down hut filled with the foul odour of animal excrement? Why was she afraid to talk, when she used to speak fluent English? Anthony was looking for answers to those questions when Auntie Terry was found, because the Auntie Terry from his memory was a cultured, young, and beautiful lady who loved to dress up and listen to cassette tapes of ""Evita" and ""Miss Saigon".

What happened to Auntie Terry may very well be a very common example of domestic helpers from the Philippines or Indonesia – They work hard to send their money home, and neglect to look after their own future. Teresita's older brother has a house nearby, with electricity and television, but her own house is probably the most dilapidated in the village. One might as well call it a chicken shack.

Her house is roughly the size of a regular HDB room, but built with wooden planks and bamboo, with no proper walls. There is no door; the floor is muddy, and the gaps between the bamboo are filled with spider webs. The kitchen shares the same space as the living room, and there stands only a wooden table and a bench. There is no fridge, cabinet or gas. Her bedroom is raised on a small platform above the floor, and the bed is also built with wood and bamboo. There is no mattress, only a ragged pillow, some blankets and a mosquito net. The space between the house and the floor is used to raise chickens, which explains the foul odour permeating the house.

The entire house is lit with only a small light bulb. The TV has been broken for three years but she cannot afford a new one, and an old radio is the only electronic appliance in the house. The ""toilet" is a short distance away, and she must walk through an unsheltered, muddy path to reach. There is no modern flushing system or electricity. The drinking water she consumes every day is not filtered pipe water, but well water from the ground.

16 years ago, at age 40, Teresita decided to return home due to health issues. Initially she stayed with her sister in the city. But the house became too crowded and Teresita decided to return to the village. During the ten years she worked in Singapore, she sent home majority of her salary, and only had 80,000 pesos (roughly SGD2300) set aside for herself. After building a cabin and buying some livestock, she has little money left. She wakes up at six in the morning every day to work. But as she has little food to eat and her rice bucket is often empty, she has no extra money to use to take care of her crops. ""Sometimes I only have two meals a day, only bread," she says.

She takes her chickens to the market to sell, but she's really bartering her chickens for fish and this is the only way she gets to eat fish. She has no refrigerator so fish cannot be kept for too long. She refers to two old rattan baskets hanging on the ceiling as her fridge. The baskets are actually used to store the only food she has, otherwise the chickens and ducks will eat them. The land she lives on was left to her by her parents, but the land given to her elder brother is much better. But she says she has never regretted helping her family with the money she earned by being a maid.

Living in such conditions, instead of making a life in the city reflects Teresita's helplessness and lack of confidence. She had stopped speaking English for a long time, and thus was very shy and reluctant to speak to visitors in English. She tells us she is in poor health, and she's not sure what she can do in the city. She planned to be a nurse-midwife before she went to Singapore, but did not end up taking the exam. Even after she returned home, she could not fulfill her dream as the nephews whose studies she sponsored offered her no financial help. Living in poverty, she has not seen a doctor in 16 years, and turned to traditional herbal treatments whenever she fell sick. On this trip, the Chen brothers gave her some money, as well as vitamin supplements, to help with her health, if only for a small part.

Teresita and her partner Mr. Jhunie have suffered from myopia and long-sightedness for many years, but they couldn't afford glasses. When the Chens brought them to The SM Store – the biggest shopping centre in Iloilo city – she wished for a pair of glasses. That was also the first time they have visited the shopping centre. Other than glasses, the Chens also bought them some clothes, t-shirts, jeans and shoes. When introducing her partner Mr. Jhunie, Teresita told us he was her neighbour and she got to know him after she returned from Singapore. Mr. Jhunie's wife left him a long time ago, but he could never afford to get a divorce.

Teresita did not start working for the Chens through an agency. She was working for a family nearby for two years. Her work permit was expiring soon and she heard that the Chens were looking for a domestic helper to take care of the three boys (Anthony's mother had just delivered the youngest son but planned to return to work after a month.) Accompanied by a friend, Teresita knocked on the door of the Chens for an interview. After hearing favourable comments from their neighbours, the Chens hired her. "It was really fate that brought her to our family," says Anthony.

After working for the Chens for eight years, Teresita returned to Iloilo, and the Chens have not hired a domestic helper ever since. After she returned to her village, Teresita missed the three boys very much. She didn't marry and has no children. Up till today, she still carries photos of the three boys with her, as if they were her own children. She wrote to the Chens once, but the family moved to a different address and they lost contact.

Anthony is the eldest in the family. The second, Justin, could not take time from work for the visit. The youngest, Christopher, was closest with Teresita. "We were sharing a bunk bed, and every night she would pat me on my back until I fell sleep," he recalls.

Christopher recently graduated from the University of British Columbia and will be returning to Vancouver for work in August. When he knew that Aunty Terry had been found, he insisted on coming with Anthony to visit her. After this visit, he is very concerned about her living conditions. When she gets older, it will be even harder. "There are many domestic helpers working in Singapore. We thought when they return home, they'll be able to afford a big house, or run a small business. But the truth is that's not always the case," says Anthony.

Mr. Charles L. Lim, head of Selrahco Management, was inspired to find the real Auntie Terry after hearing about ILO ILO. With his help, including getting sponsorship from an airline company, both Aunty Terry and Mr. Jhunie will be attending the Singapore premiere of ILO ILO. This will be the first time she is visiting a foreign country after 16 years, and to watch a movie in a cinema.
Photos from the Ilo Ilo facebook page.