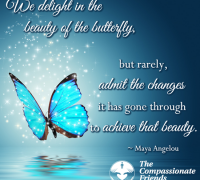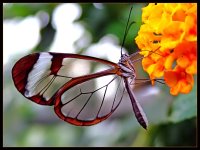 Don't you think this is a lovely butterfly? Whenever a butterfly flutters about in the garden, I smile with the thought that Luijoe is in another life with greater beauty and freedom. But I believe the butterfly's life cycle – metamorphosis – represents my new life after the death of my precious son.
THE EGG: As a little girl, my whole world felt safe under the loving arms of my parents – much like the butterfly egg attached to a leaf somewhere.
THE CATERPILLAR: The caterpillar is my life before the death of Luijoe. My husband and I are contented that God gave us two girls and a boy. A perfect family. I go through the day as a full time mother attending to my chores. Nothing can break this happy bubble, I thought. And then Luijoe is gone. I change!
THE COCOON: After his death, I shut myself off from friends and even family because I felt they could never understand my grief. It is what protected me from the horrible pain. I withdrew from life because of all the painful memories. Numbing the pain, I curled up in my cocoon.
THE BUTTERFLY: The pain lessened and I began to heal as a flicker of light and a little color emerged. Breaking free from my cocoon , I reached out to touch life again. As I discovered the brilliant colors around me, I become more like a butterfly sipping some of the nectar from life.
"We are healed to help others.
We are blessed to be a blessing.
We are saved to serve,
not to sit around and
wait for heaven"
from Purpose Driven Life
I transformed my grief to a positive resolution by starting The Compassionate Friends Philippines , the largest self-help organization for bereaved parents, siblings and grandparents in the world.
In our Compassionate Friend's circles, the butterfly represent the lives of our children who have died. Their spirit lives on and our memories live on, often in fleeting moments . And that we may be able to build a new life after the death of our beloved children.
I see many butterflies in my life now: blogging, renewal of friendships lost through time, new friendships because I went out of my comfort zone and a new me, a new normal.
Life is good.