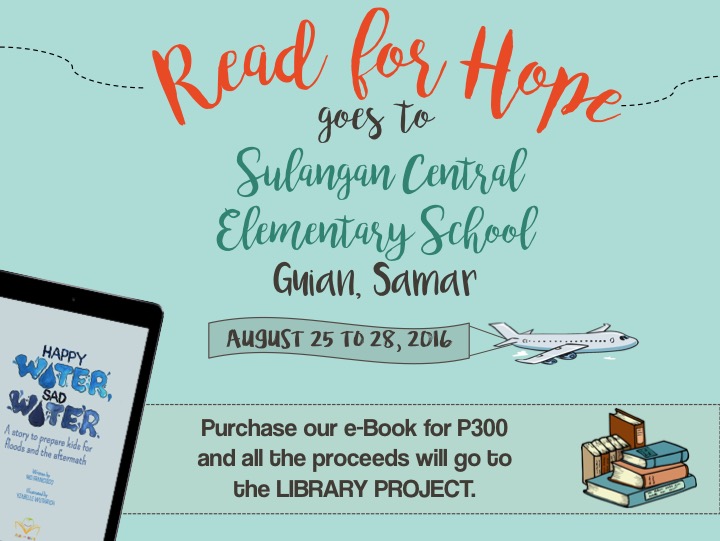 How do we explain natural disasters to our children, and how do we fulfill our role to protect and nurture them? In two natural disasters, I was not home to comfort my children. I remember the strong earthquake in 1990 that struck Northern Luzon and also affected Metro Manila. My children were below four years old then. As the earth shook beneath me, I could only think of my two children left behind at home with their caregivers in Pasig. Were they traumatized?
The two girls didn't seem terrified but in the next few days, one daughter scribbled what seemed like an earthquake scenario. I took it as a sign that she wanted to express her experience. Speaking to her calmly, I explained that earthquakes cannot be predicted but I will do all my best to keep everyone safe. To give assurance, I initiated earthquake drills at home and showed them the earthquake kit by the door.
Can you imagine the children affected by floods such as the Yolanda (Haiyan) disaster? There are many ways to help them deal with tragedy such as art therapy, play, or reading a book.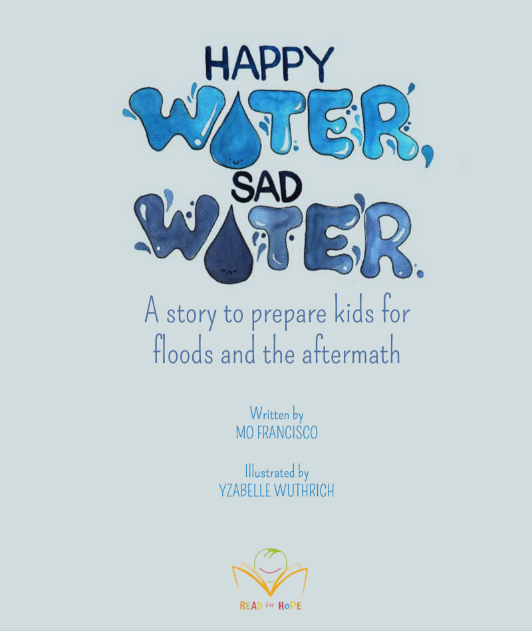 And there is Read for Hope. Read for Hope started as an outreach activity in response to the Yolanda tragedy in Tacloban, Leyte in 2014. The team, composed of young professionals from Metro Manila, gave aid in the form of a mobile library and post-trauma relief to the students of Cabuynan Elementary School located in Tanauan, Leyte. In 2015, the team extended its activities in Guiuan, Samar with a Resiliency and Leadership Seminar for High School Students and Basic Computer Literacy Program for teachers.
During their first trip to Tacloban last May 2014, they talked and played with the kids recovering from the trauma of Yolanda . The children used to love taking a bath in the middle of a hot day and they enjoyed playing in the rain and they loved to swim at the beaches nearby. They could do it all day every day like normal kids do. But when the Read of Hope were there, the children were scared. Scared of the slightest downpour. Terrified by thunder and lightning. Traumatized to even go near the beach. This experience inspired them to write a book.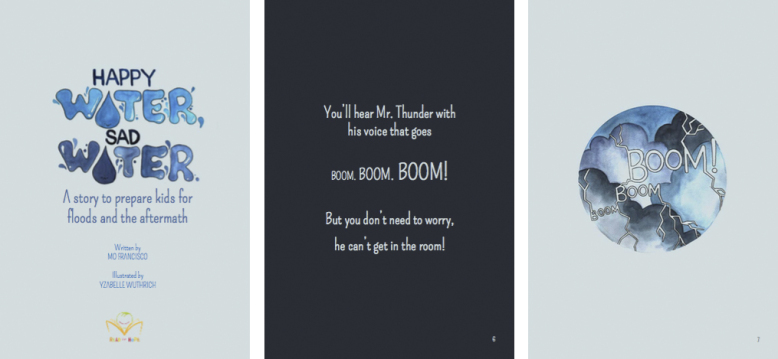 It  came up with this story book, entitled Happy Water, Sad Water: A Story To Prepare Kids for Floods and The Aftermath. The group got inspired to help them overcome this fear. Inspired to share their story so we can all learn from their experience.  It aims to raise awareness for the environmental effects of global warming and climate change among children today and at the same time raise funds for the group's upcoming efforts.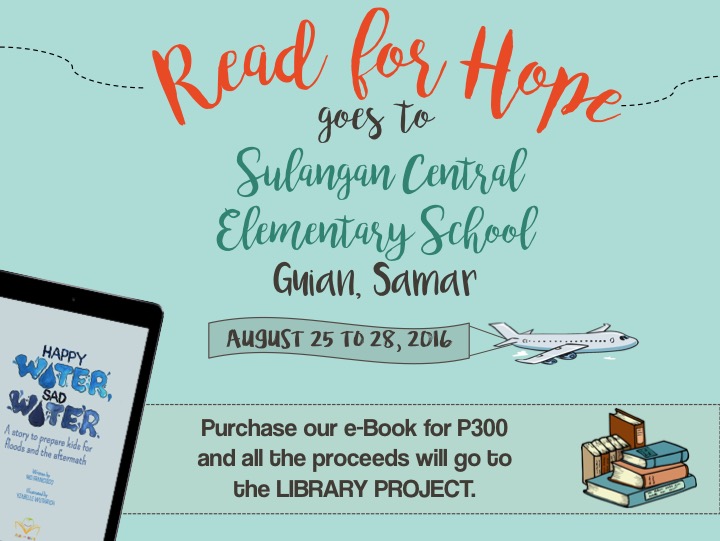 The e-storybook aims to raise funds for the reconstruction of the library in Sulangan Central School, Guian, Eastern Samar on August 25-28, 2o16. (Learn more about their past efforts here.)
The e-storybook is priced at P300, but any amount of donation will do. Read more on how you can help.