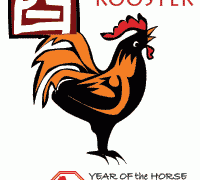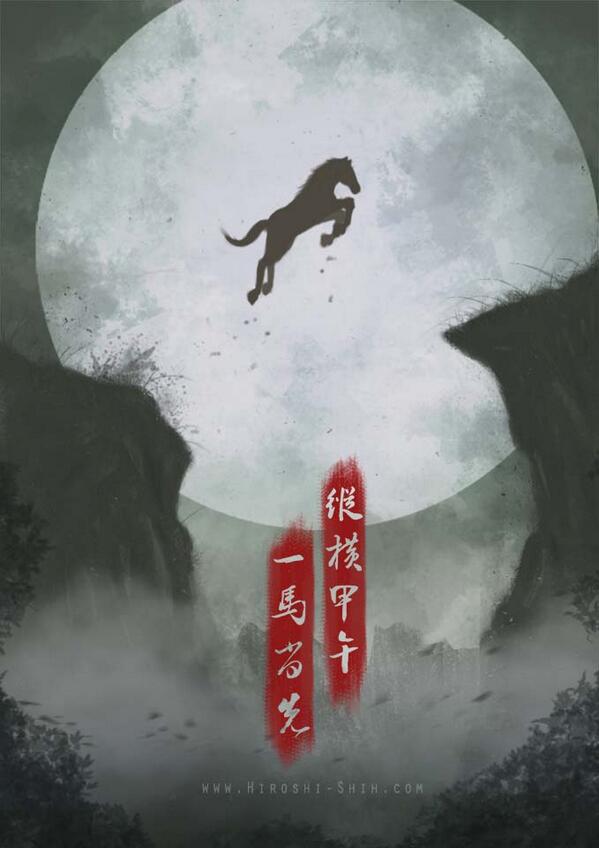 Photo via @HiroshiShih
Gong Xi Fa Cai! Gong Hey Fat Choy!
I enjoy surfing through the various Feng Sui sites on what lies ahead for the Rooster, the year I was born based on the Chinese Lunar year. I know that it is just a guide but it is fun nonetheless to read about my Chinese Animal sign. Who isn't curious about what's in store for 2014 ? I am aware the feng shui tips are based on general predictions for my Chinese zodiac sign so I just need to be discerning.
The Feng Shui master lists down a lot of details like career, wealth, love ad even social life. What I found interesting is the career path:
Rooster (1921, 1933, 1945, 1957, 1969, 1981, 1993, 2005)—This is a creative year for Roosters. They will have better luck. Financially, it is beneficial for them to make investments. They can consider starting a new business or purchase properties.
The Roosters amazing organisational skills will help them out a huge amount in the year of the Horse and they will find that they enter the year fully prepared for whatever lays ahead. A great way to get ahead this year would be to write a wish list of what they wish to achieve this year and check back on the list regularly and add to what they would like out of this year. Career for the Rooster will go very well during the year of the Horse as they will be fully prepared for any changes or adaptations required for the year ahead; this will get them a lot further than they think. The Horse year is a fast paced one and may take the Rooster by surprise as they like to prepare for everything beforehand but the Rooster would do well to act on impulse at times and snap up opportunities that are given to them as this will work well in their favour.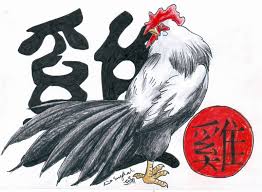 Photo via Deviantart.net
Another Chinese Zodiac site says that " plenty of new opportunities will come in the way of the Chinese Rooster people in 2014. These people will excel in planning and business development in this year. Period between April and August will be a period of good luck for many roosters. These are possible and will have big gain due to positive stars – Heavenly Star #6, Golden Deity and Zheng Guan (Authority)."
Early this year, my friend and I decided to embark on a new chapter in our lives: Speaking and social business consulting. I wrote about it on January 6. It's amazing how friends are supportive of this new phase of our lives. Who would have thought I'd get back to business consulting? Opportunities are already on our plate. It is just a matter of formalizing some of these and moving forward to start on the consulting project. It will surely be a fast paced one for me.
As I explored other site, I found out that Roosters should not expect too much too soon. "Things will turn out better quickly when the rooster, at work, employs diplomacy and plays politics for a while. It is a good year with the family. Lots of loving and caring." Another site says, "it is important that Roosters be on guard against conceit and impulsiveness. They need to be patient, maintain their level-headedness and work hard so their problems will be solved."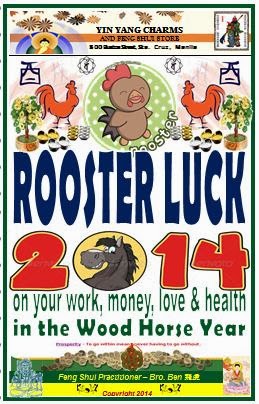 Photo via fengshuiben.blogspot.com.
Playing politics is something that does not come easy to me but let's see. Even with out this tip, I should start employing diplomacy in my work. Patience is not a problem for me though. The good year with the family is promising because I am planning to visit my daughter in Europe together with my husband and another daughter.
There are more interesting signs to watch out but overall, "Roosters will continue to experience excellent luck this year, too. Plenty of good luck energy, success and prosperity are all predicted to come your way in 2014. Being mindful of the need to balance the strong/yang energy with the gentle and nourishing yin energy is the key to your absolute success this year, be it in business, relationships or in exploring totally new vistas. Beautiful luck is expected in your romantic life, too!"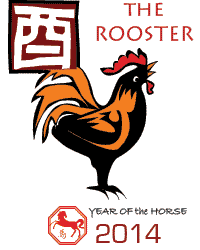 Photo via gotohoroscope.com

There is definitely much more to every human being that just the Zodiac signs one was born into. Exploring feng shui tips might help improve one's energy and make you more aware of the potential the Wood Horse 2014 year will bring for you and me. Don't forget – we have the power to create our own fortunes and futures.
Gong Xi Fa Cai. Gong Hey Fat Choy!
Take a look at the Chinese New Year 2014: 'Wooden horse' celebrated in online art