our choices of food determine a lot of things from politics to economy – wendell berry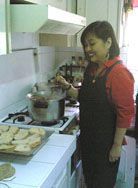 I think most of you know that I have a Food Recipe Blog ( with over 6400 subscribers. I like to keep in touch with my readers so I invite them to add me in my facebook and the Facebook Fan Page for the Pinoy Recipes which has around 3,185 fans.
Everything was fine and dandy until I posted a link Join the Manolo Quezon For Senator a group for people who would like to see Manuel L Quezon III elected as senator on 2010. Of course I know, it is a food fan page but I forgot other facebook members can join. I took for granted that the members were also my readers. It didn't help that the profile photo of the Facebook Fan page was Leche Flan.
Naturally, I got a few violent reactions