I would say to those who mourn…look upon each day that comes as a challenge, as a test of courage. The pain will come in waves, some days worse than others, for no apparent reason. Accept the pain. Do not suppress it. Never attempt to hide grief.–Daphne du Maurier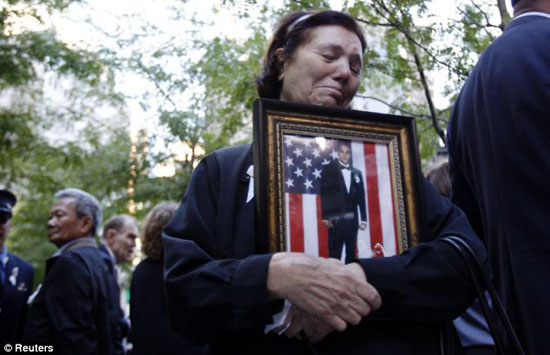 Anna Sereno holds a portrait of her son Arthuro Angelo Sereno via dailymail.co.uk
It's been 10 years since the 9-11 tragedy. Does 10 years take away the pain that the families and loved ones who lost someone in the 9-11 tragedy? Eleanor Roosevelt reminds us that "You gain strength, courage and confidence by every experience in which you really stop to look fear in the face. You are able to say to yourself, "I have lived through this horror. I can take the next thing that comes along." You must do the thing you think you cannot do."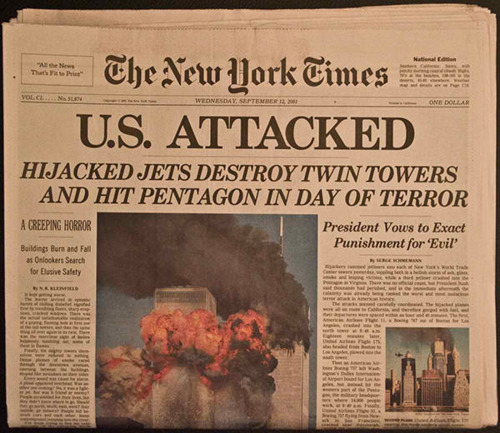 Photo courtesy of jofercreams
I will never know how survivors and families feel right now but let's take a peek on how 3 families dealt with their loss.
Abigail Carter, a widow used to ask herself "Would we ever be "happy people" again? I didn't see how."
Ten years later, she is baffled "that in many ways our lives are better now than when Arron was alive". I have often mentioned that with a death of a loved one, there is hope for a new life and a new normal without our loved one. Abigail adds that "There is a heavy debt of guilt whenever I realize that our new life wouldn't exist had Arron not died. Through our pain, we discovered our strengths, learned to appreciate life and have empathy for others. We were awakened into life by death."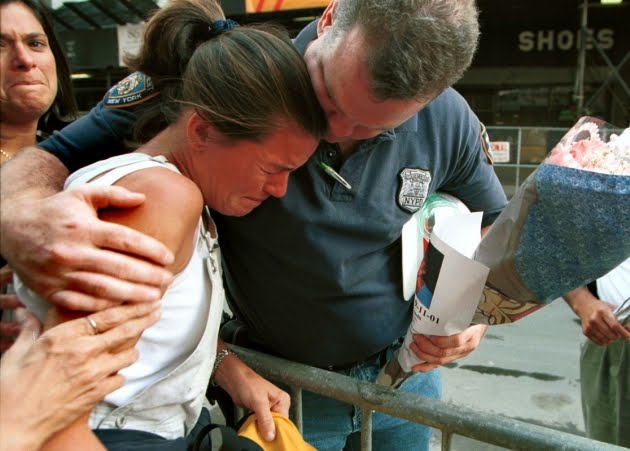 A police officer hugs a woman who gave him flowers and a missing-person poster at the edge of the World Trade Center worksite. In the aftermath of the attacks, the city of New York was not an anonymous metropolis of 8.4 million strangers, but an extended family united in grief. Photo courtesy of sabby
Like Abigail I experienced the loss of a loved one and still long to be with my son, willing him to exist in some new form. I know now that my son may not be here physically but he lives forever in my heart and in my mind. With the death of Abigail's husband, it gave her courage. She is author of "The Alchemy of Loss: A Young Widow's Transformation."
I lost my fear of death – something I've come to see as the unexpected gift of grief. I've unmasked an entirely new universe of possibility. I was able to move across the country alone with two kids, write a book and teach. I stopped worrying what people thought and began thinking magically, realizing that the only person standing in the way of, say, writing a book, was myself. I learned to be brave enough to trust my intuition, get help when we needed it, find allies and live with no expectations – a flexibility that invited what I can only express as mindful evolution. I muddled through "dad" experiences, like starting the lawn mower and teaching our daughter to drive. The kids learned compassion and forgiveness and to live with an unnamable absence.
Alissa Torres, pregnant with their first child at the time of Eddie Torres death wrote "a 210-page graphic memoir, or as she calls it, "an adult, literary comic book," about her marriage and first year as a widow and single mother. American Widow (Villard, $22) is illustrated by Sungyoon Choi." "It embodies my grief. I can open it and see this grief and remember it and remember Eddie. But I can also close it and live my life in the present tense seven years later and have a happy home for my son."
Writing this comic book is a creative form of expressing grief.
Losing a child is a devastating loss to all parents because a child never dies before their parents. Robert and Brooke Jackman lost their youngest daughter in this 9-11 tragedy but they transformed their grief into hope.
Ten years later, the Brooke Jackman Foundation, which they founded to promote literacy for at-risk children, has donated nearly 100,000 books and 10,000 backpacks filled with school supplies to kids in the greater New York region. And on Saturday, the foundation will hold its second annual read-a-thon to commemorate 9/11, as well as its own anniversary, at the Winter Garden in the World Financial Center in Lower Manhattan.
They started this event to honor their daughter Brooke and all those who lost their lives on 9/11 by showing that tragedy and loss can be turned into hope.
Barbara Kingsolver on grief says that "you don't think you'll live past it and you don't really. The person you were is gone. But the half of you that's still alive wakes up one day and takes over again. "
Most of us who lose our loved ones search for meaning or rationalization about the tragedy. It is incomprehensible for our child to die before us. Doing creative projects or reaching out is one way of turning the grief to hope. It is the gift of grief. Abigail wrote a book, Alissa wrote an adult, literary comic book while Robert and Brooke Jackman started a foundation to promote the quiet power of literacy, which transforms lives and makes our world a better, safer, more peaceful place.
The only cure for grief is action. -G.H. Lewes
"Grief and recovery and resilience are very individual experiences and there is no template," says Dr. Robin Stern, a co-author of "Project Rebirth." "Grief is not a pathology. We all love and we all lose."
Dealing with the loss of a loved one in a tragedy is not like the Kübler-Ross model which is more popularly known as the "Five Stages of Grief." It is important to understand that grief is not a linear process or straightforward path. Grief is more like a roller coaster ride. Even 10 years after 9-11, twinges of sadness come to these families but it does not mean they have not moved on.
Love never dies and if one tears, it is a sign that love lives on.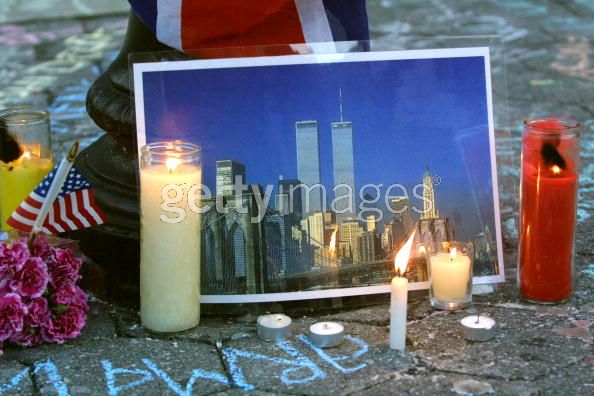 Photo by getty images
Life is eternal, and love is immortal,
and death is only a horizon;
and a horizon is nothing save the limit of our sight.
~Rossiter Worthington Raymond
Here is a video of 9/11 resilience