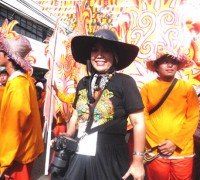 Cebu, my hometown how I missed my birthplace, the city where I grew up till I left for Manila at the age of 17 years old to study at the University of the Philippines in Diliman.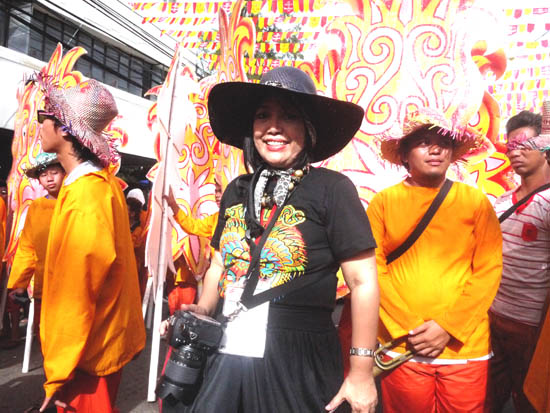 I spent seven days in Cebu with my two girls to celebrate the Sinulog 2012 festival. If I remember right, this has been the longest I have ever stayed in Cebu since my wedding in May 1985. It was also the last time I watched the Sinulog with my dad who was then the over-all organize.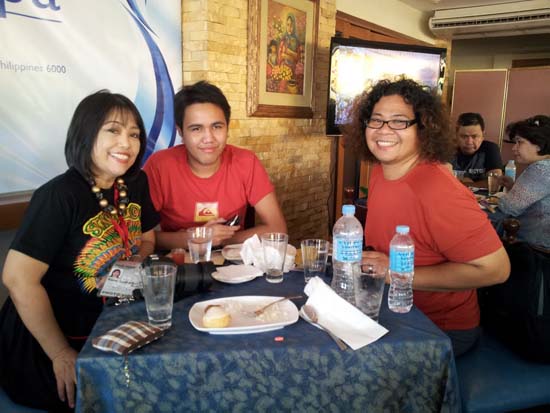 Bitter-sweet memories filled me as I visited every spot of the city. Each old spot held a memory so dear to me. Visiting Cebu for the past years meant burying two siblings, a father and even my precious child. Starting 2009, I made it a point to visit Cebu just because I wanted to reunite with friends. The thing is I managed to stay only for two to three days, never long enough to get used to new places. Everything looks different. The streets, the signages and the buildings. I get to recognize a street whenever a "deja vu" feeling overcomes me. I fire up my google maps just to discover the street name or my exact location.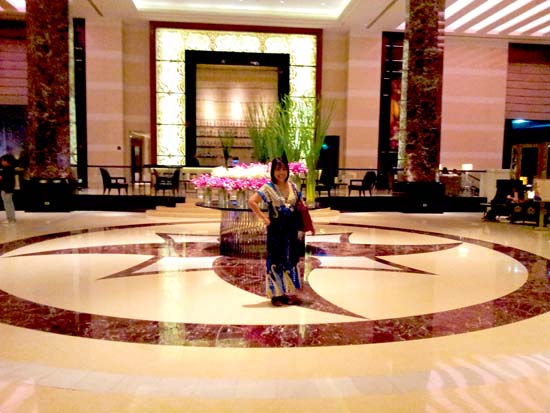 Home for this trip was Radisson Blu. Our ancestral home was sold years ago when we could no longer keep up with the maintenance. My daughter wanted to explore Cebu so I brought her to the Sto. Nino Church, the Magellan Cross, my dad's old office at the vacant Gotiaco building , the La Nueva Supermarket, Colon street . It was at this point when I wanted to find out a Ngo Hiong House. I tweeted. To my delight @maxlimpag suggested a Ngohiong near University of San Carlos – Main Campus. Someone else suggested Doming's Ngohiong inside Fairlane Village in Guadalupe.
Max Limpag, a well known writer and blogger based in Cebu also suggested I take a short heritage walk in Paria-an to demonstrate the viewing of information through QR code scanning of selected tourism spots in Cebu. Smart and MyCebu.ph placed special markers on tourism and heritage sites in selected areas. More markers coming soon. These markers contain a snippet of information about the site and a QR code that, when scanned, will open an article about the landmark.
Just recently, Max informed me that an automated system displays the markers on an interactive map. The system is automated and all QR-related articles in the MyCebu.ph contain embedded geographic information so that they can be automatically displayed on the map.
I was excited to try it. In all my years in Cebu, I have never been to the Pari-an district or stayed long enough to know it was Pari-an. I first came across Pari-an from a book about my Veloso lineage during my twenties. My mom belonged to the large Veloso clan while my dad was a migrant from the Quezon province in the early 50's.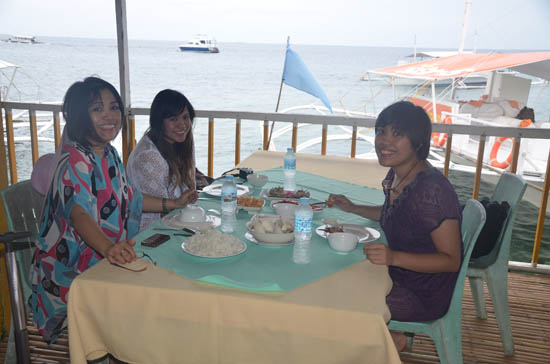 My girls are often proud to say they are half-Cebuanos. As a teen, I used to think Manileños were "mayabang". After living in Manila for 38 years, I have come to the conclusion that indeed Manileños tend to be "mayabang" because the national language is based on Tagalog. Oh I see it often in twitter…"Let's speak Tagalog" forgetting that most of us Pinoys speak Bisaya.
(I digress)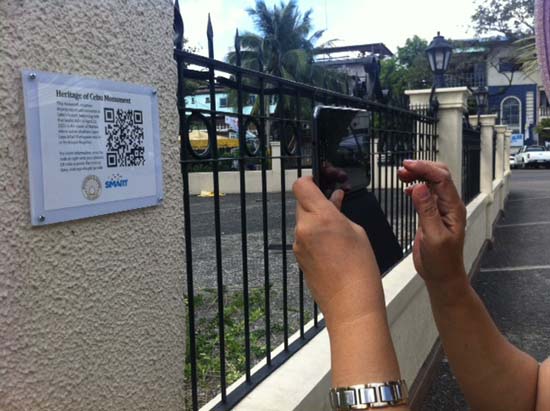 I met up with Max at the Cebu Heritage monument at Barangay Parian, which was where the wealthy and influential Chinese mestizos lived during the Spanish period. As I scanned the QR Code with my Samsung Galaxy note, a web address leads to an article about the Parian monument.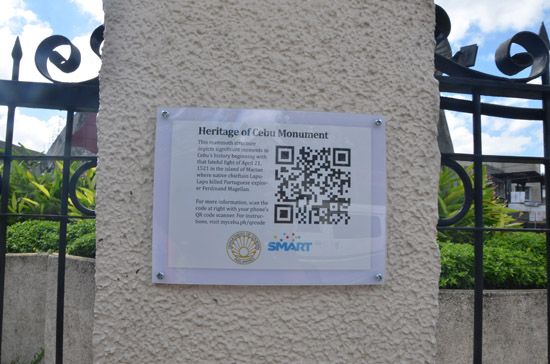 An excerpt of the site describes the origins:
Conceptualized by multi-awarded sculptor Eduardo Castrillo, the mammoth structure depicts significant moments in Cebu's history beginning with that fateful fight of April 21, 1521 in the island of Mactan where native chieftain Lapu-Lapu killed Portuguese explorer Ferdinand Magellan.

Devotion to the Señor Sto. Niño is one Cebuano trait depicted in the Heritage of Cebu Monument in Parian.
The monument also portrays as well the conversion of Rajah Humabon and his followers to Christianity, local revolution against Spanish rule, Cebuano veneration of Sto. Nino, and beatification of first Filipino saint Pedro Calungsod.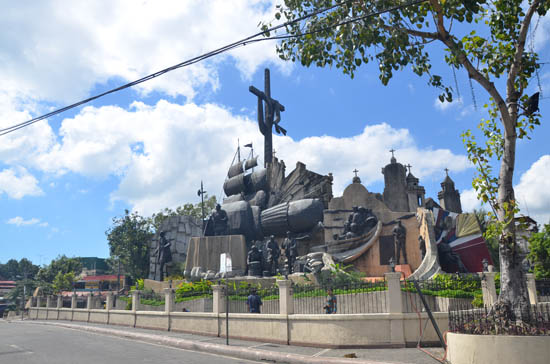 A few meters away from the Parian Monument is the old Parian Church , San Juan Bautista Parish Church, once Cebu's most opulent church. Sadly, the church was destroyed for some reason. "It was torn down in the late 1870s during a conflict between the Pari-an community leader and a Spanish priest."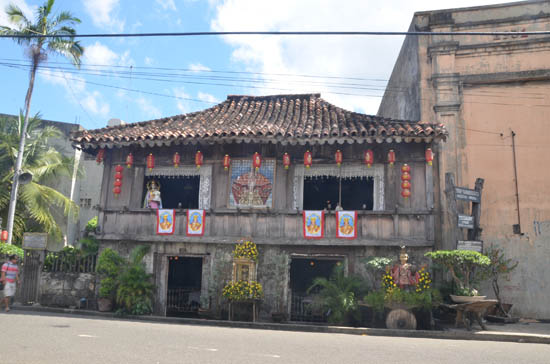 Our next stop was the Yap-Sandiego Ancestral Home that "holds the distinction of being one of the oldest houses in the Philippines and possibly the oldest Chinese home outside of China."
The house is lovely and quaint. Scanning the QR code brings you to the website, Yap-Sandiego ancestral home: Soul of old Cebu. "The house's roof and walls are 95 percent original, according to Sandiego, making this edifice that he and his family continue to live in during weekends a little over 300 years old."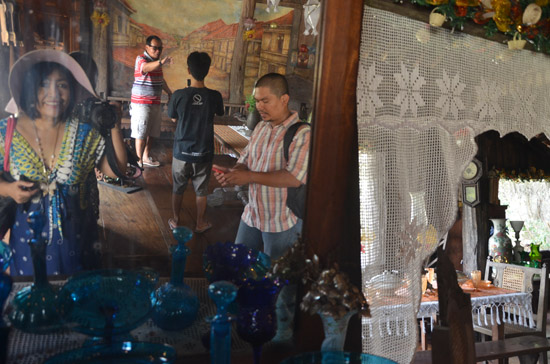 Max told me about this mirror that "now adorns the second floor wall of the Sandiego ancestral home was used on several occasions by Negros native Pantaleon Villegas, better known as Leon Kilat, who led the revolution against the Spaniards in Cebu in 1898."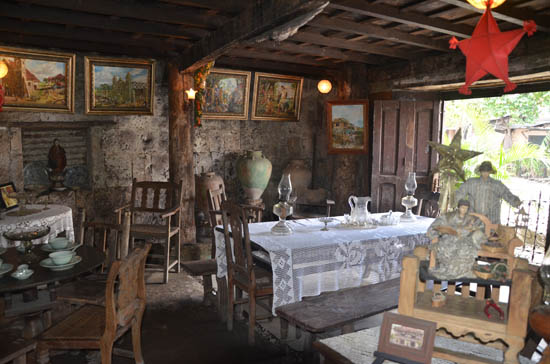 Some of the things inside the home are not as old as the house. The current house owner, Val Sandiego "acquired ownership of the house in early 2000, did an expensive restoration work on the structure in 2003 and has since opened it and his antique collection to the public."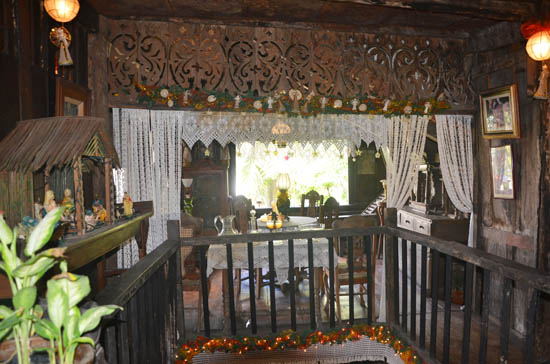 I noticed that the owner seemed to put a lot of art work of their faces in most of the rooms.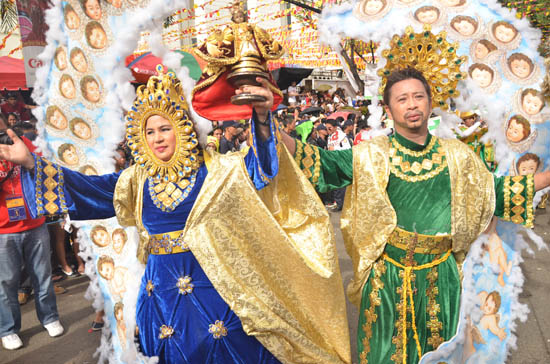 I believe they are also the same Sandiego family that participated in Sinulog 2012 parade.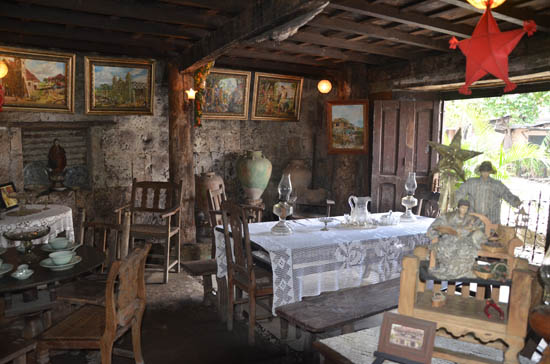 The house owner explains that ""in 1614, the church of Parian was built. Then after around 60 years later, the house was put up," said Sandiego, who is a descendant of original owners Don Juan Yap and his wife Doña Maria Florido. The couple's eldest daughter married Don Mariano Sandiego of Obando, Bulacan–who was then the cabeza de barangay (barangay chief during the Spanish colonial period) of Parian where the structure is located."
And I never knew this house existed. Where were my History teachers?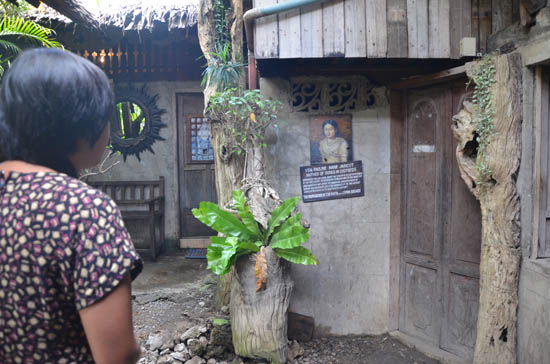 The next stop was the Cebu Jesuit House just a few meters away. I later found out that a high school classmate used to live here in the early sixties.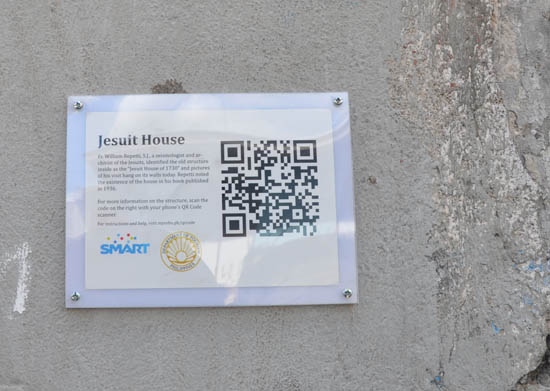 Scanning the QR code leads you to 280 year old Jesuit House in Cebu.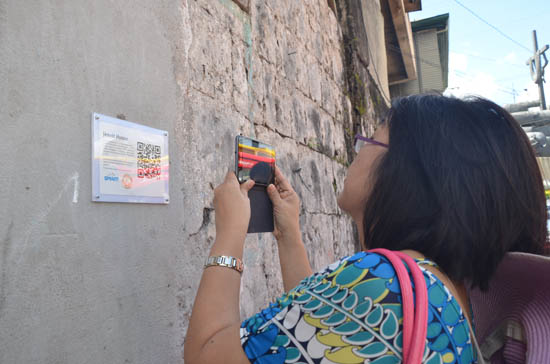 Jaime Sy now owns the house with their Ho Tong Hardware within the compound. They bought it from the Alvarez family (owner of Montebello Villa Hotel) who had it since the late 19th century. Mr Sy ( to the left) is the architect in charge of the restoration. They had no idea at first that this was once owned by the Jesuits until one day, the owner read a library book in Ateneo.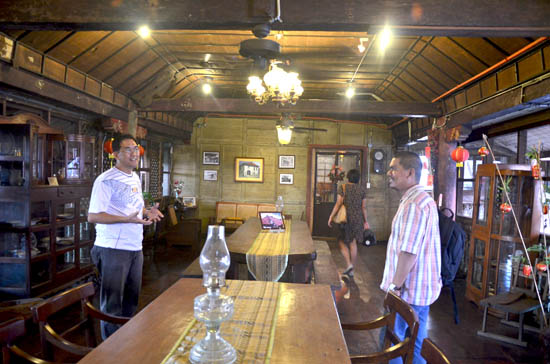 Fr. William Repetti, S.J., a seismologist and archivist of the Jesuits, identified this old structure as the ""Jesuit House of 1730″ and pictures of his visit hang on its walls today. Repetti noted the existence of the house in his book published in 1936.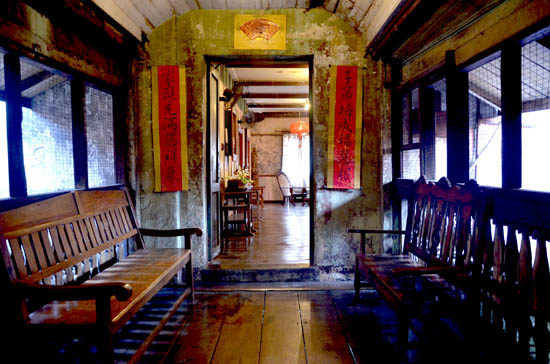 There is relief plaque bearing the date ""Año 1730" on the inside wall above the main house's entrance door.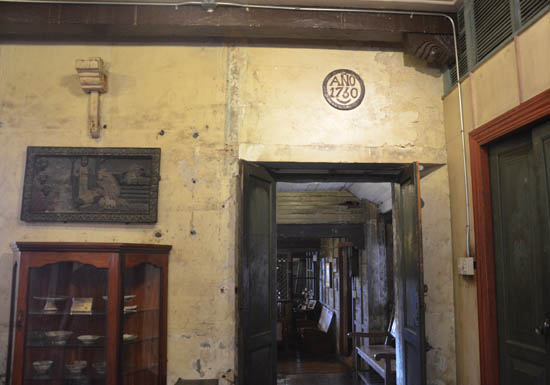 Sy believes the Jesuit house is even older than the Yap-Sandiego ancestral home because its second level, like the ground floor, is still made of coral stones.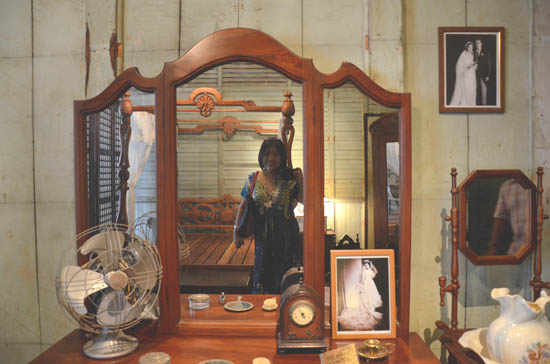 A little bit of trivia from Mr. Sy. See that bed behind me? That is a Giatay bed. The word giatay (people who are condemned to eternal punishment) was derived from that bed which was originally crafted by a Chinese that sounded like "Gi Athai" . The word has since been associated with this bed and being sick.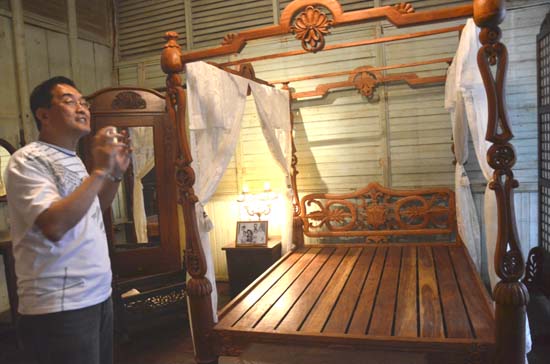 Jaime Sy said he intends to preserve the Jesuit House, eventually transferring the bodega to another location.
Below the Jesuit House is the Sugbu gallery which is a must for those interested in Cebu history.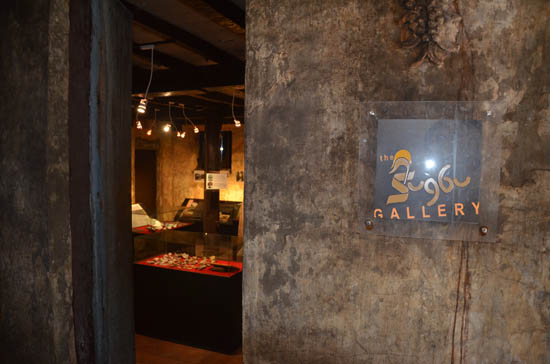 I am really glad Max took me to this short heritage tour along with my daughter. Now I know I can never forget Cebu. It is where my heart belongs. My two daughters even want to settle down in Cebu. In fact, one of my daughters booked another trip on April so she can travel with a friend.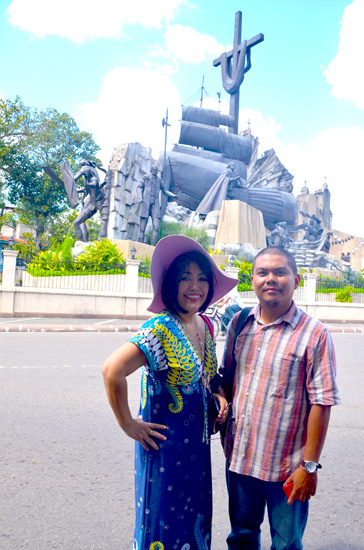 There is still so much to discover about my roots. A tour guide can be quite helpful but sometimes the information get lost somewhere as one maybe too preoccupied with the sights and sounds. Scanning the QR codes is one way to retain that information. Kudos to Max Limpag for initiating this project. Max stressed that the project isn't purely historical or heritage. ""Tourists can also get tips on how to get the most of their stay right at the tourist spot they are visiting."
Thank you once again Max.
After I left the short heritage tour, my daughter and I hied off to the IT park. At first I was unable to recall what this place used to be. Then something rang inside my head "Lahug airport". Oh I remember those days, my dad would bring me here just to romp around. I can't recall now what we watched. Was it kite flying? I just remembered the wide space and just being with my siblings.
Now it is all buildings. Sad.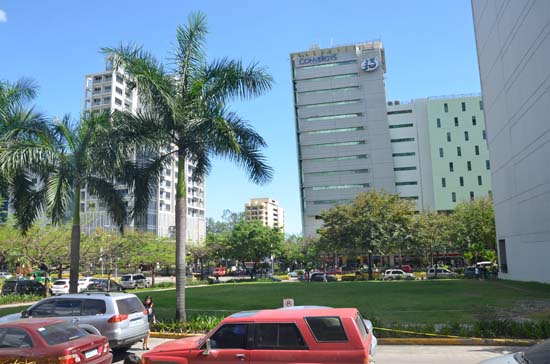 Next time, I visit Cebu, there will be more markers. There will be more things to discover about myself and the city that I grew up.
I am going home once again.