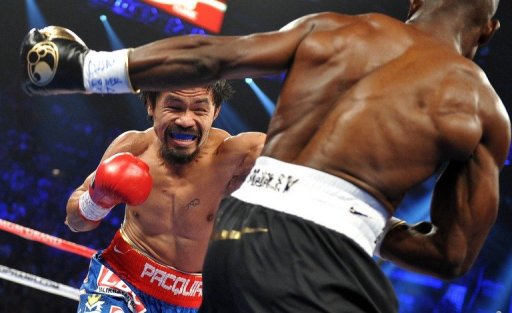 Timothy Bradley defeated Emmanuel ""Manny" Pacquiao via split decision to take Pacquiao's World Boxing Organization welterweight title at the MGM Grand Arena in Las Vegas earlier today.
In a stunning upset, the judges scored 113-115, 115-113, 113-115 in favor of Bradley, who remains undefeated.
Updated: Pacquiao loses to Bradley via split decision
A postfight analysis showed that Pacquiao landed 253 punches out of 751 thrown (34 percent). Bradley landed 159 punches out of 839 thrown (19 percent).
Pacquiao connected with 190 power punches, whereas Bradley landed 108.
Bradley himself seemed unsure of his victory.
"I have to go back to the tape and see if I won the fight," Bradley said after the announcement.
Pacquiao's last loss was in 2005 to Erik Morales.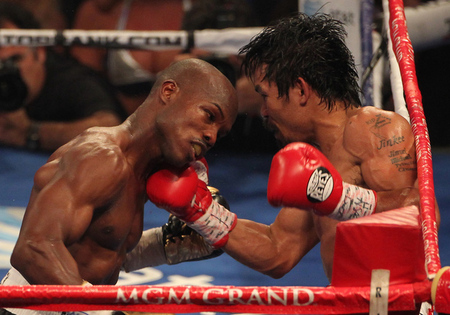 Fight commentary
Bradley started aggressive and took the first round, putting Pacquiao off balance. Pacquiao soon found his range with multiple jabs and started landing his left by the second round, punctuating it with a flurry by the end of the fourth to get Bradley on the ropes. By the fifth round, Pacquiao started pulling away, his punches hitting with more weight and precision compared to Bradley's. The Filipino champion managed to brush off Bradley's shots while Bradley struggled to take the Pacman's heavy hits. Pacquiao was able to finish strong each round.
Bradley wasn't afraid to exchange blows but he got the worse of the exchanges as Pacquiao's power overwhelmed him. Seven rounds in, Pacquiao has managed to come out on top on each flurry. Bradley put Pacquiao on the ropes again in the eighth, landing an uppercut.
In the ninth round, Bradley was still waging through with jabs but they were not as snappy as they were was in the beginning. His short uppercuts did find their way to Pacquiao's body. Manny landed a hard left again in the last exchange, staggering Bradley.
In the tenth, Bradley mixed it up with rights to the body then a straight left, switching stances momentarily. Pacquiao slowed down momentarily, and Bradley landed a right at the end of another exchange as the round finished.
The eleventh round was highlighted by a one-two counter inside by Bradley, who was still jabbing, bringing the fight to Pacquiao. Pacquiao still landed power shots with his left. Commentators noted that Bradley needed a miracle KO punch to win entering the final round.
In the final round, Bradley began with a combination of three jabs and landed a hard hook to Pacquiao's body, trying to keep his distance in the last. Bradley appeared content with getting out of the match on his feet, dictating the distance.
via Pacquiao loses to Bradley via split decision
Source of photo: Manny Pacquiao (left) goes on the attack against Timothy Bradley during their fight in Las Vegas on Saturday night (AFP/File, Joe Klamar)

A YEAR AGO on MAY 8, 2011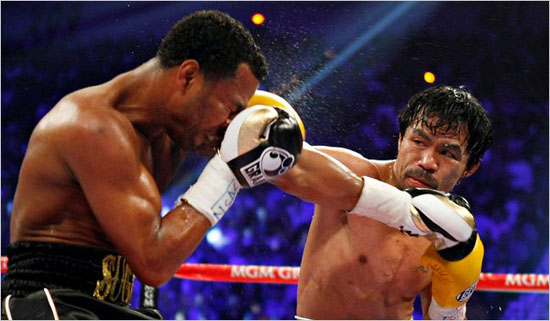 Source: New York Times
Today being Mother's day, my husband decided to watch the live fight at home using livestreaming. He didn't want me to be home alone on Mother's day especially since the kids are away from home. Sad to say, our internet connection was so bad that the fight kept missing important scenes like when Mosley got knocked down. He didn't miss much since the fight was boring anyway.
Even New York Times said so:
As Pacquiao and Shane Mosley tapped gloves, made small talk and generally engaged in a glorified sparring session, the crowd, once rowdy, once standing, once into it, simply booed.

When it ended, Pacquiao (53-3-2), the winner by unanimous decision, hung his head in victory. He did not look happy. Neither did the crowd.
A trending topic in Twitter was Jinkee Pacquiao, wife of Manny. She certainly bloomed. Thanks to Belo ?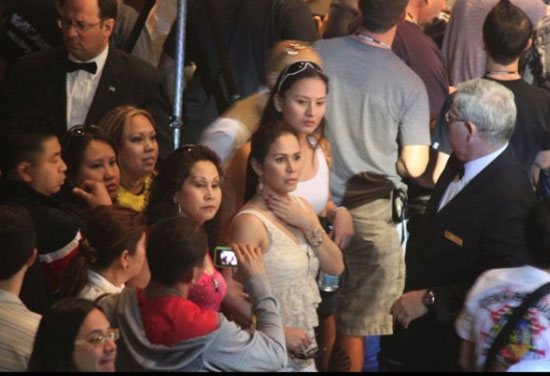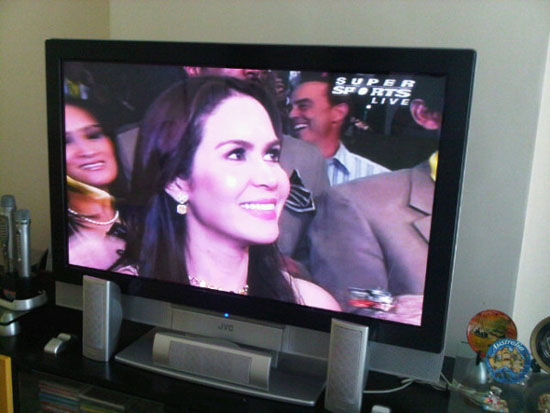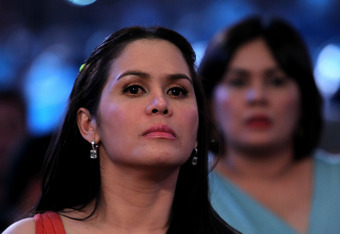 I think it is her estimated 7 million pesos earrings that is causing the trending in Twitter.

I can't blame her for keeping herself beautiful. It's good for take care of oneself, especially as mother to her four children and wife to Manny. Mommy Dionisia, his mother must be proud of her son's victory and that his son did not sustain injuries.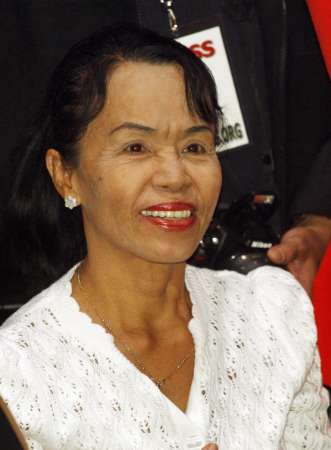 So that's how we spent our lunch today. It was certainly sweet of my husband to stay home just to be with me.
So how did others react to Pacman's win?