""As far as they are concerned, I can go to heaven but I have to go to jail first." – Carlos Celdran

More photos of the La Solidaridad walk at Rizal Park.
I make it a point to invite my husband to events I attend especially if it falls on a weekend. So one lazy afternoon, I emailed my husband about Carlos Celdran's LA SOLIDARIDAD WALK – A Cosplay, Iphone/Android, Vintage photo Stroll, LUNETA! scheduled for Sunday at 4:00 PM. To my utter surprise, he emailed back immediately: "Yes, let's all go. Let's show solidarity with Carlos Celdran and the cause of free speech and expression."
It made me smile that he wanted to dress up as a priest. It's nothing new. Butch once played a friar role when he used to be with the UP Repertory. Of course, we wanted to support Carlos Celdran and others for the freedom of speech and expression. In fact, this should cover political prisoners as well. Free all political prisoners is also my battle cry.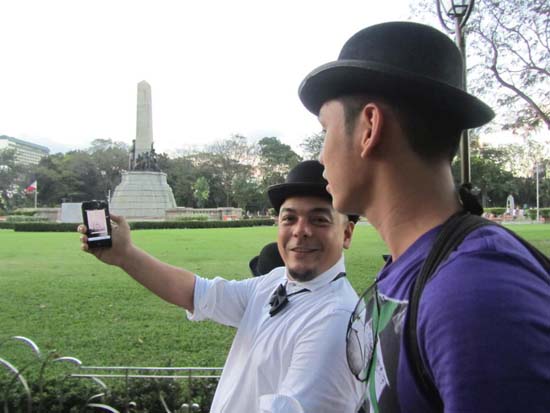 I can shout out and say "what an awesome Solidaridad walking tour of Luneta!". Am I glad , Butch and I went? Carlos spoke of the need for parks, freedom of speech, and Jose Rizal. I was amazed to see the almost 200 people who came to today's free tour.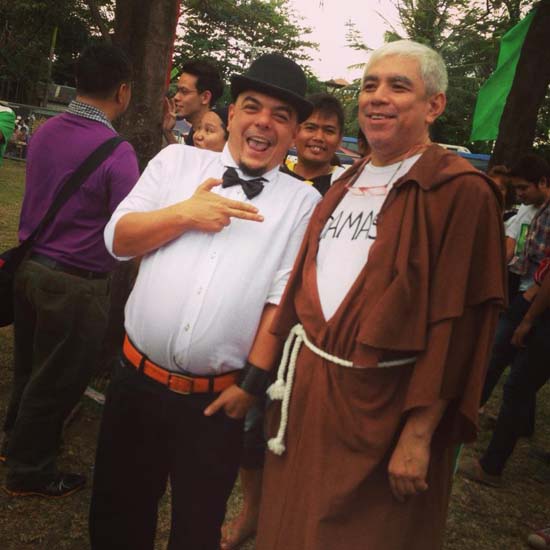 I was there to support Carlos not by fighting but by celebrating Jose Rizal's FIGHT for Freedom.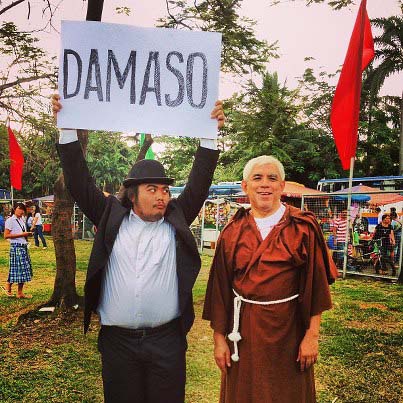 My husband dressed up like a friar while I wore a modern Maria Clara outfit. Butch had a lot of photo requests together with this guy who dressed up as "Jose Rizal cum Carlos Celdran" raising a "Damaso" signage.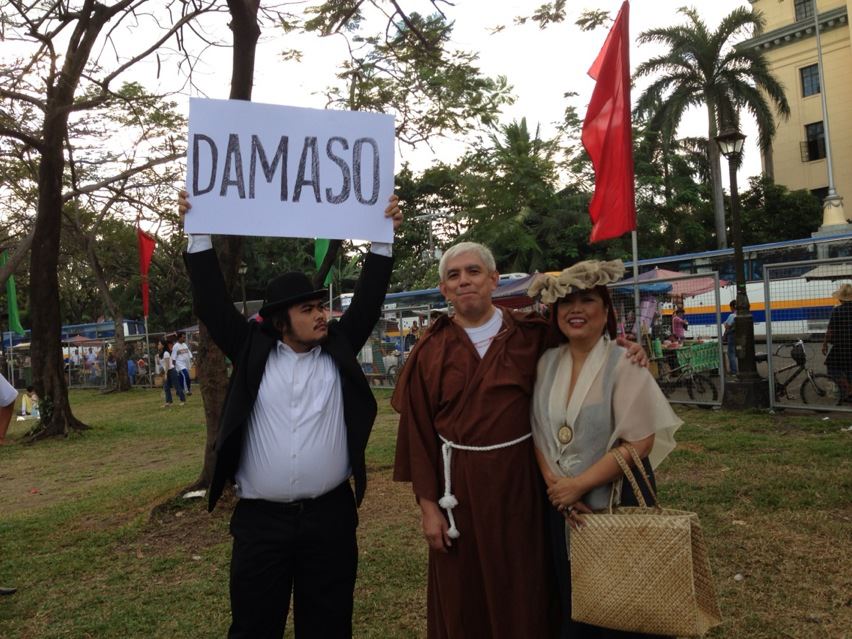 The meeting place at the Agrifina Circle (I found out it is a word coined from the Department of Agriculture and Finance) right in front of the steps of the National Museum of the Filipino People was a challenge at first. The guard at the National Museum did not even know about it.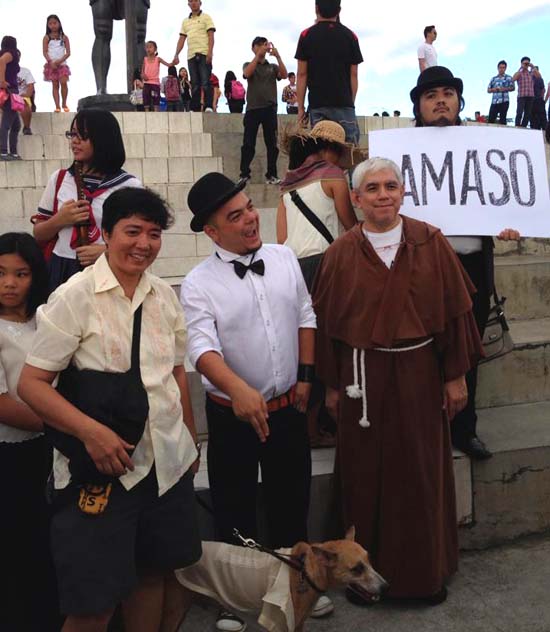 I was a bit disappointed that many did not dress up in costume or their favorite Rizalian era character. Good thing Carlos brought in some "bowler" hats which added color to the walk. It has been years since I got to visit Rizal Park. My husband (then my ex-boyfriend) and I walked Luneta Park in the late seventies. It was interesting to see the changes .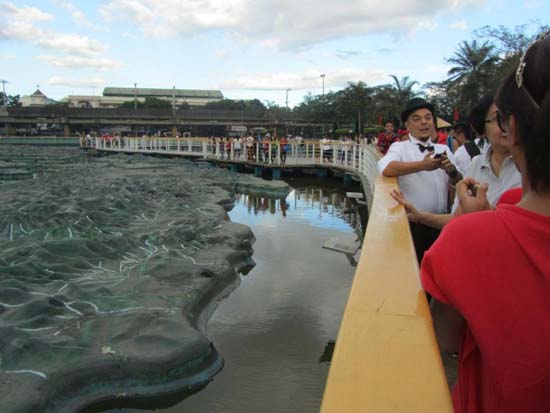 Using my iphone, I looked at old photos of Luneta online while capturing this beautiful day on instagram, twitter and facebook so the world can see the awesome new renovations of our national park.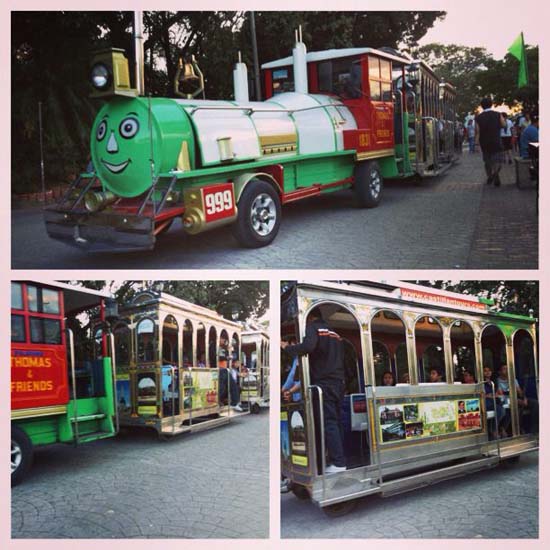 There were so many families that day. Kids can run around the grass or ride around the free tranvia. Being at the park is so much better than being at the mall . Carlos told us that there are CCTV cameras all around. Even the public toilet is much cleaner. WE need more parks for our children. The sad thing is there are limited spaces for parks. People should also learn to clean up after their mess.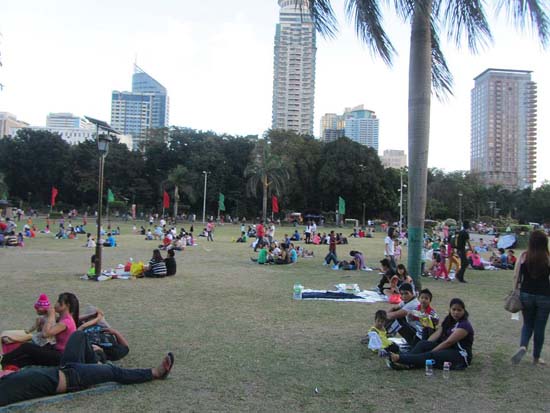 We also checked out the new dancing fountain, the larger than life Philippine Map, the newly renovated gardens, and photographed ourselves in a ""DAMASO" Rizal Derby Hat inside our Damaso Photobooth at Art Park! A guard asked my husband "Father, do they have a permit for their video camera?". I just had to laugh. My husband must have played such a convincing priestly role.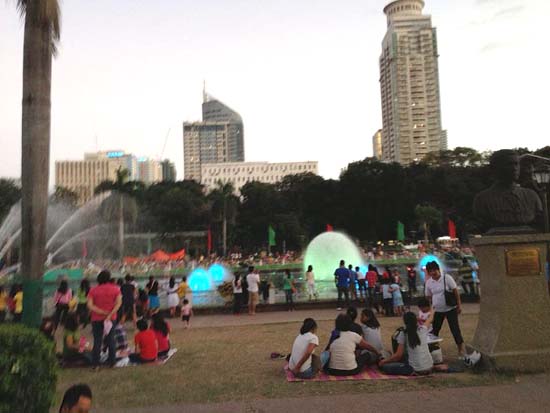 Carlos capped the walk with a visit to the site where Jose Rizal was shot back in 1896. It was there where we all shouted "Freedom".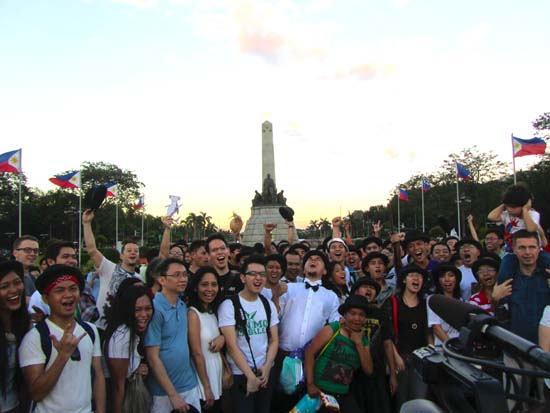 What a wonderful feeling it is to be part of this solidarity walk, to cry for "freedom". Butch and I sat down in one of the food kiosks and recalled the good old days when we strolled in Luneta Park.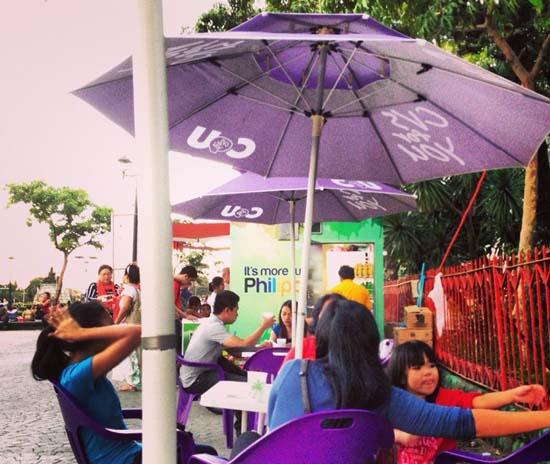 It was martial law then with absolutely no freedom of speech. We must never forget those days. Today, freedom of speech is once again tested under the guise of "offending religious feelings" when the protest was really about the Church interfering in politics.
Raul Pangalangan articulates it in his Inquirer column:
How can Carlos Celdran be irreligious when his intent was merely to be impolitic? In other words, what we have here is not religious speech. It is political to the core. His intent was to protest the clergy's opposition to the then reproductive health bill. His explicit message was that the Church should keep its hands off secular politics and respect the constitutional wall of separation. His symbolism, the bowler hat and funereal suit, came from Jose Rizal, and Damaso is from Rizal's ""Noli Me Tangere" that all students are required by law to read.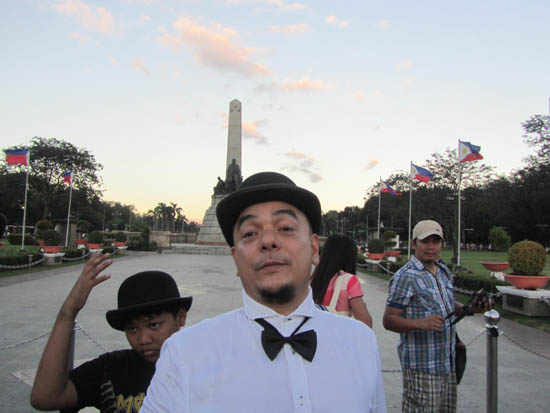 Raul Pangalagan adds that "when it comes to freedom of speech, irreverence is irrelevant. Nice speech doesn't need constitutional protection. Only offensive speech does. Chairman Mao said: ""A revolution is not a dinner party … it cannot be so refined, so leisurely and gentle, so temperate, kind, courteous, restrained and magnanimous." Given the deep injustices that the Damaso caper protested, including dark episodes in the Catholic Church's own history, Celdran's rant was far too genteel and civilized, and only exposes the gap between the worship that is performed in the temples and the transformative faith that we must live out in our lives."
What a fitting place it is to be here at Rizal Park as we paused to reflect our fight for freedom of speech.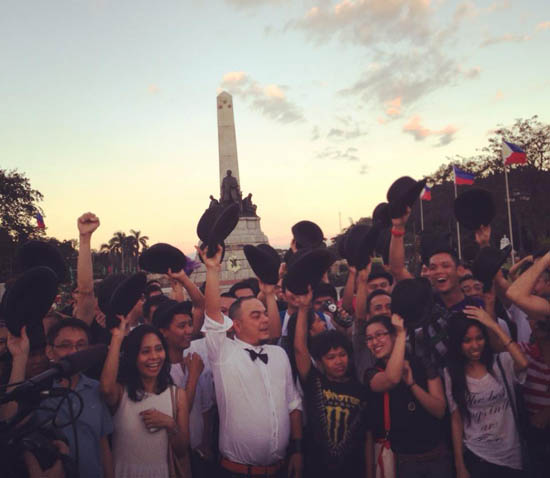 More photos of the La Solidaridad walk at Rizal Park.