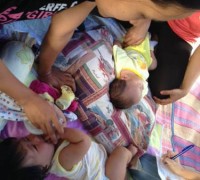 I have a lot of dreams for my children.  It is my hope that our country will change for the better. I have hopes that our future politicians will do their jobs and "walk the talk". As a mother, all I want is a better future for my children. Most mothers want this.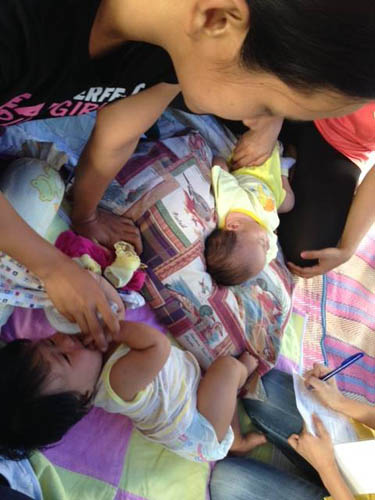 I know some of you may think that our country is hopeless and even as a mother, we can feel helpless at times. It can be disheartening. I am not helpless. We are not really helpless. I can solve most of my problems. I have the power to solve the problems that is mine to solve. In my own little way, I contribute to the society through my children and using social media tools to advocate social change for social good.
I believe that hard times can motivate us to bring out our best. That choice is ours. We don't need to have stress or hard times to change ourselves but if it happens, we can learn to channel it into achieving what's good in our life.
While some issues are outside our control, I want to know what Filipino women want and for our government to know these issues and act on it.
International Women's Day 2015 Theme is MAKE IT HAPPEN. All around the world, International Women's Day represents an opportunity to celebrate the achievements of women while calling for greater equality. Make It Happen is a wonderful theme to encourage effective action for advancing and recognising women.
Various organisations identify their own International Women's Day theme, specific to their local context and interests . The Philippines very own Gabriela Philippines initiated the hashtag campaign #PinaysWantNow. What do #PinaysWantNow?
A break, a warm shower, or a hug? An end to violence, poverty and injustice? Let the world know what you want, what women want, what Filipinas want. A day before March 8, International Women's day, Gabriela started tweeting and sharing infographics like this one below:
Some of the tweets talked about gender equality, a HAPPY HOME with no economic crisis, end to rape and other sexual abuses , end of poverty, a safer country for our kids, safety and security in public spaces and public transport. Others called for the resignation of President Aquino and truth and accountability. Gabriela calls for " System Change, not just piecemeal reforms, revolving door politics."
Inday E. Varona wrote a comprehensive list on what #PinaysWantNow
A world where "babae ka" (you're a woman) is no longer used as an admonition;
A world where men and women imbibe the best of their "learned" traits and help each other do away with unjust, discriminatory habits;
A world where their children's lives are no longer interrupted by war;
A world where their partners no longer have to leave to fight for a better world;

A world where one's sexual orientation is no longer "news" and civil status no longer matters;
A world where language is no barrier to the poor taking part in democratic discourse and decision-making;
A world where men and boys take pride in the ability to weep;
A world where women do not have to be imitation men to succeed.

An end to domestic violence;
An end to the mindset that says some people deserve "rape" — or worse;
An end to prejudice against age or gender in the workplace;
An end to the belief that motherhood is a barrier against productivity.
How do we make all our calls for change to happen? How will we make it happen? The #PinaysWantNow won't end on Women's Day. Not many of us can go to the streets like the strong and courageous Gabriela women. If we can, why not? But for most of us who can't leave our homes , social media is a tool to advocate social change for social good. Not everyone is born to be an organizer or want to participate in all activities in a community. It is important to start a community even if it is online and maintain a core group to set a single, focused goal to provide direction, motivation and operational guidance.
Using social media as a tool for advocacy works because of "low (or no) hard costs for set-up; potentially wide reach; quick/instantaneous sharing of messages; new opportunities to listen, engage, and monitor your progress." Let's continue to push the messages of #PinaysWantNow today and tomorrow until we have achieved the changes we want.
Here are more tweets that answer what #PinaysWantNow.
originally posted on BlogWatch.