I cannot imagine myself just staying at home doing household chores without any formal education or worse getting married at such a young age. Education is the most powerful weapon which we can use to change the world. The right to education is "denied to 61 million children of primary school age around the world." It was heartbreaking to read the news that fourteen-year-old Malala Yousafzai, was shot by the Taliban for supporting girls' education.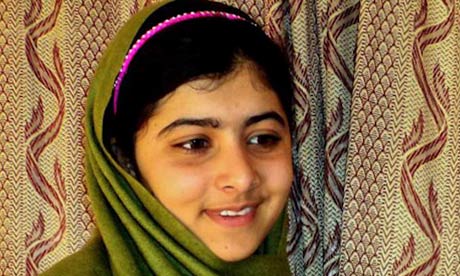 Can you imagine your children not receiving any sort of formal education? Malala is the voice for thousands of girls in and out of Pakistan who clamor for education. All of us can help make her dream come true by calling on her government to roll out funding to encourage all Pakistani families to send their girls to school. Malala is indeed an inspiration not only for Pakistan's young generation, but also for people across the world. Malala Yousufzai "de­feated her assailant who sought to silence her voice, which has been a source of inspiration not only for Pakistan's young generation, but also for people across the world."
Should her voice be forever silenced? Malala dedicated her childhood to championing education for girls like her in Pakistan. As she lies in a hospital bed, a tragic victim of Taliban gunmen, we can help make her dream come true.
We can all do something. On November 10th , let us celebrate 'Malala Day,' the day when the whole world honors the sacrifice of Malala Yousafzai.
Fortunately, Malala is starting on the "road to recovery and Malala Day, one month after Malala was left for dead by Taliban assassins, is an opportunity for people everywhere to come together to support the cause that Malala so valiantly represents: a girl's right to education."
Let's turn our shock at the Taliban's attack on a young girl into a viral wave of international pressure that forces Pakistan to address girls' education.
Helping Malala can come in simple ways . Just let your voice be heard in support of Malala. Here is how you can help:
1. Sign the petition to call on Pakistan to agree to a plan to deliver education to all its children: http://educationenvoy.org/
2. Spread the word. Inform your audience of the #IamMalala campaign and invite them to sign the petition.
3. Spend November 10th in solidarity for Malala Day. Former UK Prime Minister Gordon Brown – the UN Special Envoy for Global Education – and his wife Sarah will deliver this petition to the Pakistani president on this day.
Honoring Malala day on November 10 will also be helping millions around the world who are denied the basic freedom to learn every day. "Girls, boys, the marginalized, rural children, child laborers — the hopes of these 61 million are represented by the struggle and voice of Malala. November 10th is our opportunity to continue to speak out in support of Malala's vision of every child in school, learning and reaching their full potential."
Photo via Guardian.co.uk
Disclosure: I wrote this post as part of the causes of the Global Team of 200, a highly specialized group of members of Mom Bloggers for Social Good that concentrates on issues involving women and girls, children, world hunger and maternal health.