January 5– News update Pangandaman kin face child abuse, injury raps over golf 'brawl' and Pangandamans file countersuit over golf brawl.
DAR Chief Nasser Pangandaman Appeal to Bloggers
Appeal to bloggers

Since Bambee's blog, the story about the incident in the golf club spread through the Internet.

Bloggers condemned and some even put up a signature campaign for the Pangandamans' resignation.

Pangandaman said his family is hurting because of the bad picture being painted on his name and family.

He appealed to bloggers to stop accusing them on the Web. The secretary even warned bloggers against karma.

""I appeal to the bloggers to stop this. They also have their families, they have parents and siblings. Our family is already hurting. I hope this doesn't happen to you (bloggers)," the secretary said.
And here is my appeal to you:
Yes, DAR Chief Pangandaman, I hear you and I am just waiting for an Official Statement from your son Mayor Nasser Pangandaman, Jr. I only have unverified statements that did not come from your camp. Should Mayor Pangandaman not speak for himself? In the quest for fairness, I would also like to share the Mayor's Official Statement to my readers.
I know your family is hurting just like the de la paz family. I hope that you allow justice to take its full course once the Prosecutor sees the charges on January 5. It is not surprising that some of us are calling for a signature campaign for a Pangandaman resignation. It is difficult for me to comprehend the fact that a 14 year old boy was beaten up not ONCE but twice.
Even if you say that Delfin de la Paz provoked you, the facts (based on incident report) are and which has to be proven in the Court of Law that :
1. a 14 year old had a bloodied ear and bruises on his face. (Possible violation of RA 7610 or the Special Protection of Children Against Abuse, Exploitation and Discrimination Act)
2. You and your sons are public servants that should uphold the law. (Possible violation of Republic Act No. 6713 or the Code of Conduct and Ethical Standards for Public Officials and Employees)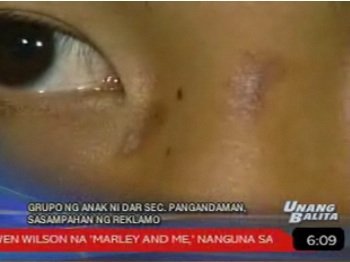 Photo screen cap taken from this GMA news video
A friend and senator Pia Cayetano in a comment in my blog entry says it all:
Whatever the story is, whatever versions there are, there is no justification for beating up people.. and a child! There is no excuse for such brutality.

No one has the right, not even a public official to take matters into his own hands. In fact, a public official should be the first to maintain peace and order.

Public office is a public trust. And the public officials involved here should make themselves available for investigation.
Read More »DAR Chief Nasser Pangandaman Appeal to Bloggers & My Appeal