Where do I begin to tell my Nuffnang story? Perhaps it started with that small dinner. I was among the first bloggers to be consulted about the Nuffnang Philippines launch sometime 2008. It was a private affair. What struck me the most is Eric Ramierz, one of the owners sat down with us to listen to our thoughts and suggestions.
There were blog advertising networks back then but I wasn't too happy with the experience: late payments and selective ads. Without batting an eyelash, I agreed to sign up. I found it challenging as a blogger to grow along with Nuffnang.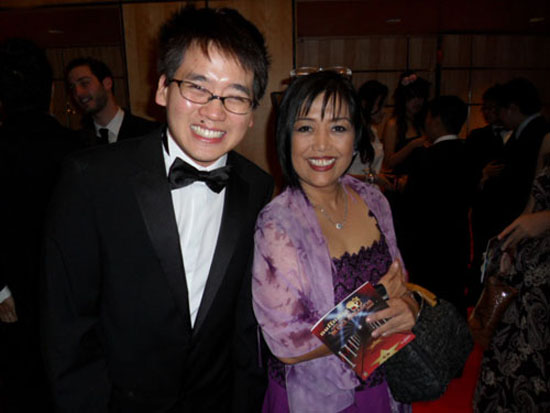 with Nuffnang co-founder Tim
I activated my Nuffnang Blogger account on August 24, 2008. It's been three years now and I have seen its growth, their trials and tribulations. From a staff of two girls, I see now a country manager, a blogger coordinator and many more job descriptions that only speak of Nuffnang's evolution.
it took me a while to shift to "Gliterrati" where one is exclusive to Nuffnang ads. I saw the income difference immediately when I stopped all other blog ad networks.
What I like most about Nuffnang is they continue to be open to suggestions even if it is not in their policy or stand to lose a significant advertiser. Like, I was totally against milk ads because I am a breastfeeding advocate. Good thing they didn't pursue the marketing spin of milk companies. After all, we are the bloggers who know about the influence of our community.
It feels like talking to my "parents" about future plans.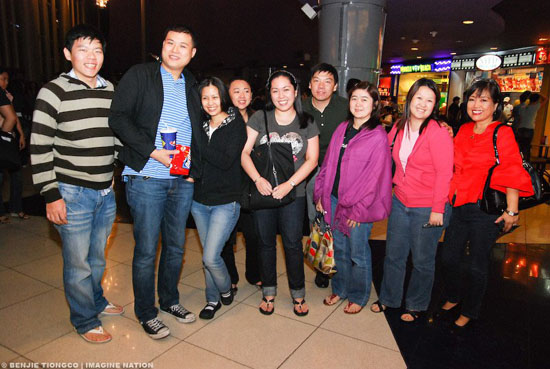 "Social Network" Premiere for Bloggers in 2010. Photo by Benjie Tiongco
Most importantly, Nuffnang raised the bar on the value of bloggers. More and more companies are advertising in our blogs. You can see how digital media has been revolutionizing the media sector.
It is not all ads in Nuffnang. We have lots of fun and we meet new friends here and abroad. There are the movie dates, the picnics and the Nuffnang Asia Pacific Blog Awards. It was fun meeting other bloggers within the Asia Pacific region.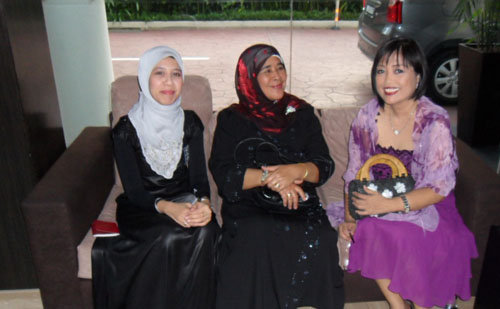 Meeting a few Malaysian bloggers in 2009
I don't know where the story ends. More and more we are seeing consumers accessing multiple media platforms simultaneously, especially accessing the internet whilst watching television which many consumers are doing several times per week.
I forsee a bright future for Nuffnang and their bloggers as emerging trends happen.
Come 16th of December 2011, 500 bloggers from around the Asia-Pacific region will flock to Kuala Lumpur, Malaysia for the Nuffnang Asia-Pacific Blog Awards 2011 in Putrajaya Marriott. The Awards aims to not only honour the region's best bloggers, but also to bring together blogger communities from across Asia-Pacific. The Nuffnang Asia-Pacific Blog Awards is brought to you by Volkswagen Malaysia and Putrajaya Marriott.
Win exclusive invites. Nuffnang.com is giving you the chance to win an invite to the Blog Awards, simply by participating in the blogging contest as outlined below! The contest starts 25 October 2011 and ends 11.59 pm, 19 November 2011.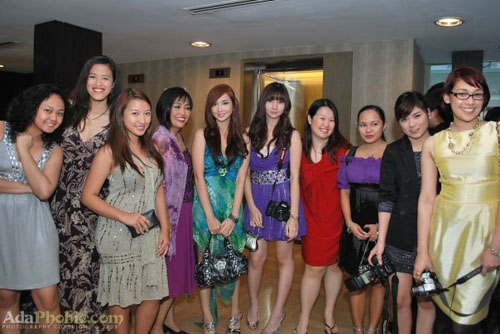 Photo via Ada Lajara. Glamorous Filipina bloggers gather at the Link Hotel before proceeding to the Pan Pacific Hotel for The Nuffnang Asia Pacific Blog Awards Ceremony

With Alodia Gosiengfiao, Ashley Gosiengfiao, Jehzeel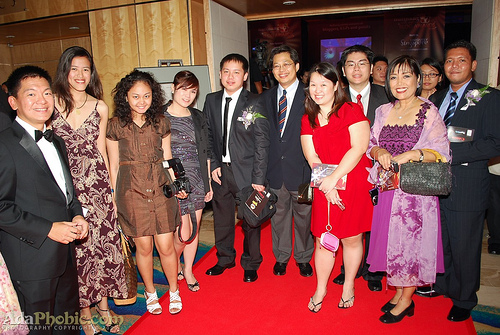 Photo Credits to Ada Lajara . Philippine Nuffnang President Eric Ramirez with Filipino Bloggers at the Pan Pacific Hotel