Our wedding was many years ago. The celebration continues to this day. ~Gene Perret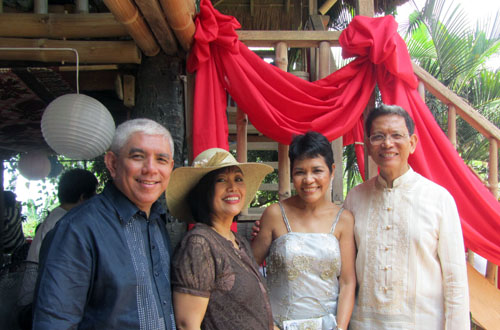 Our friends, the beautiful couple Alma and Mario Miclat share the same wedding date- May 5 with Butch and I. The difference is the Miclats just celebrated their 40th wedding anniversary while we just had our Silver anniversary last year. Just looking at their photos, one can see that they still look young and very much in love. We have another thing in common. We both lost our beloved child eleven years ago. It is because of this unspeakable loss of our child that we found each other and co-founded the grief advocacy group, The Compassionate Friends in 2005 together with Cathy Babao.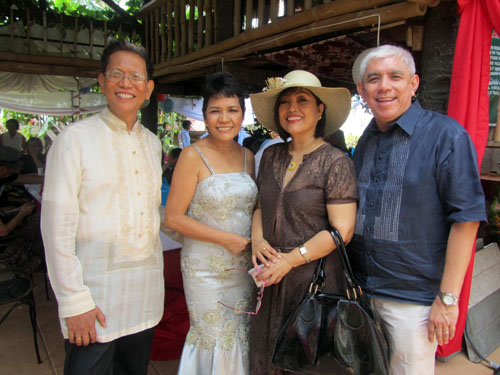 I could not miss their celebration even if it took place in Sinag-Tala Farm Resort by the slopes of Mt Natib, Bataan. There is much to celebrate. The Miclats have gone through a lot- the Martial law, staying in "exile" in China and of course the loss of their daughter, Maningning.
The celebration was beautiful but what touched me the most was their renewal of vows by the scenic slopes of the mountain. I teared as I listened to Alma recite her vows. I am so sentimental but I found out my husband was just as touched.
With her permission, I am sharing it to you here: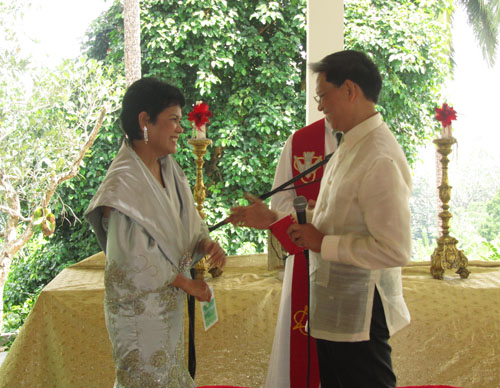 Dearest Tatay,
Sa iyo, aking pinakamamahal na ama ng aking mga anak, kabiyak ng aking buhay, tibok ng puso ko, laman ng aking isipan, ang aking nakaraan, kasalukuyan at kinabukasan, maraming salamat!

Maraming salamat sa 40 taon ng iyong wagas na pagmamahal, pagsuyo, pag-aalaga, pagtatangi at pag-aaruga. Thank you for bringing out the best in me and recognizing and enhancing my identity as a woman, as a person, and as a human being. Thank you for loving me for what I am, for bearing with me, imperfect me. Thank you for being a most wonderful and loving husband, an OC critic who challenges my intellect, an exciting lover, and a true friend, my best friend, through thick and thin. Thank you for making me laugh even at the most trying times. Thank you for being a most loving, understanding and sensitive father to our children. And thank you for showing me how to love our people and our country.
In return, I promise to continue to love you; to even love you more, kahit ngayong maputi na ang buhok mo, kahit na hindi lamang ang buhok mo ang malagas kundi pati ngipin mo, kahit tubuan kang muli ng Goombu Roombo, at kahit uugod ugod ka na at di mo na matandaan ang pangalan ko.
I vow to care for you and to keep you in the many, many years to come. Aalagaan kita at sasamahan hanggang sa dulo ng walang hanggan.
I will continue to fight for you and even if there's only one – me – left to do so, I will, with lots of conviction. Because I know you inside out and because in the last 40 years, I've seen your nakedness before God, the purity of your heart, and the truth and integrity that define you.
So in sickness and in health, for richer or poorer, for better or for worse, I will love you not only in this world, but also in the other world where there's no more sickness, no more pain, no more evil, no more poverty, and no more exploitation of man by man. AMEN.
With much love, Nanay.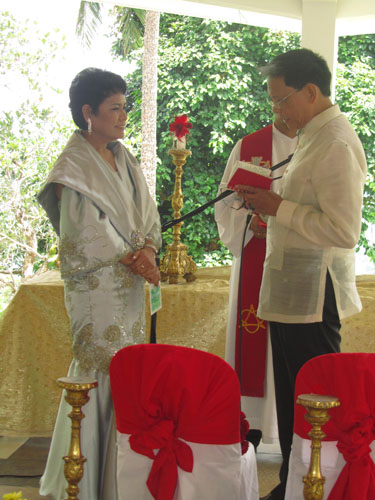 Mario followed with the following vow:
Alma, you are my soulmate.
We have made love under a Tipolo tree a thousand years ago.
In this lifetime, I did not find you in Marikina, Rizal where I was born in 1949.
Nor did I meet you in Tubod, Lanao where I had my earliest memories as a two-year old boy.
Gathering katuray flowers, wild tomatoes and kamote tops for lunch
in the NARRA resettlement of Masbate where Daddy was President Magsaysay's supervisor-cum-legal tender guarantor and Mamma was nurse, midwife and medicine woman, there was no trace of you.
When our family proceeded to Olongapo, Zambales in 1955 and Daddy became the first ever Filipino manager of the American Navy Exchange while Mamma the first Filipina nurse in the US Naval Hospital, a little soul named Susan announced that she was my mate.
The soul world became confused. One named Girlie countered that it was her.
Mine looked at a Delia, an Eva, a Lilia. But they were not.
In 1965, UP in Diliman for me was a merry mix-up of souls in thoughts, beliefs, ideas, philosophies, ideologies and idiosyncracies. The caballero trees lining its avenues bloomed and shed their leaves in the cool months of February. I started looking for you.
I wonder why many names suddenly pop up my head this very moment – Olive, Nerrisa, Beth, Louie, Tere, Glo. (BoyM wants me to add Marita. So I add Helda and Samson's Delilah. Some were fantasies, some felt real).
In the hot CPP-NPA country of Tarlac and in the cool breeze of Cordillera, cane, narra and pine, rice stalks, cypress and fern, narra, agojo and molave competed for my attention.
Suddenly you were there, listening to my lecture under a spreading acacia tree in Diliman. And my sight was nailed on you, as we say in Tagalog.
From then on, no weeping willows,
sky-rocketing maples, evergreens,
chestnuts, apple or tangerine trees
in Beijing, Liuyang, Talian or Tsingtao
could separate us.
I call you Nanay, for being the best mother of our children,
Maningning and Banaue and more;
and now mother-in-law to Dominic.
Nanay, together with you and our children,
we have built our home in Antipolo,
where we nurture the love we started a thousand years ago.
So it is the Tipolo, Ang Tipolo.
In this chapel of the Sinag Tala,
amidst a jungle of a thousand and one trees,
I promise to keep on loving you,
for another thousand, and tens of thousands of years.
Wan shou wu jiang, wo tebie ai ni!
Like a fairy tale, we continue to live happily ever after!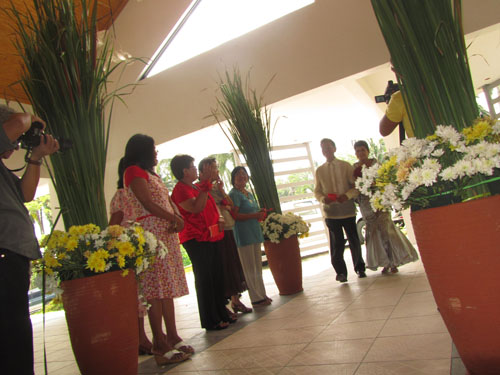 I just couldn't help the tears of joy. I am so happy for them.
Butch and I plan to celebrate every five years which will soon come in 2015 for our 30th wedding anniversary. We hope to renew our wedding vows by then. I am almost sure that I will tear as I deliver it…