I once wrote about the Health Benefits of Cat Ownership but the thing is I don't own a pet kitty. My two daughters each own a pet cat. Kylee is almost 10 years old on January 2009. Lady is 7 years old. That's in cat years. I am often lonely at home when the kids are at school and hubby is at work. I want the two kitties to adore me the way they do their respective masters. But nada.
I resolved to get my own Siamese cat. Why a Siamese cat?
Well, the Siamese are talkers! I see it in Lauren's Siamese cat, Kylee. He makes a number of sounds and some of the sounds begin to sound very much like human words. The more we talk to our Siamese cat the more it understands our language. So yes, the Siamese is the cat for me.
I searched high and low at pet shops until I decided to check online forums like adpost.com. The ad caught my attention because of the owner. Look at her requirements…
– owner loves cats kaya they are well taken cared of for sure
– I need to talk to the future owners of my kittens, before each transaction.They must be caring…. I won't sell my kittens to you if you will cage them lang.
I find it touching that Danielle, the cat owner is particular about the future owner of her kittens. I showed her cat entries in my blog to prove that I am truly a cat lover. Danielle seemed happy enough. Today, I finally brought home Missy, a female Siamese (formerly named as Autum by Danielle). She is so adorable.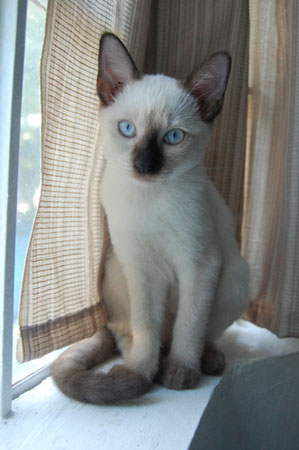 Missy loves to pose for the camera. I took this photo at Danielle's home when I was still trying to figure out which of the remaining two kittens fit my personality. The other Siamese scampered away from me as I tried to be friendly. No, not her. Definitely, Missy is the cat for me since she calmly posed for the camera. What a cutie.