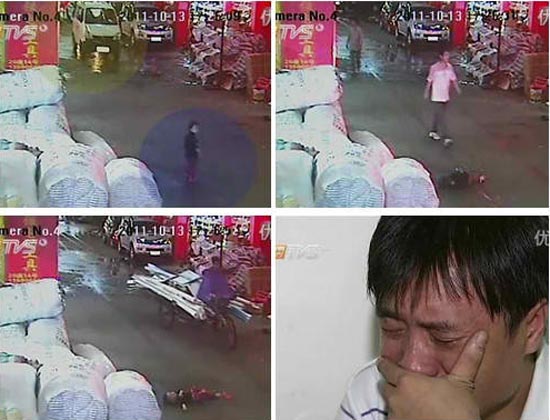 Watching Yue Yuem , the injured child on the street is too painful..and all those people seemed just heartless to me. The greatest tragedy aside from the first van hitting the child is how 18 bystanders just walked past by.
The synopsis:
Synopsis: October 13th afternoon around 5:30, a car accident occurred at the Guangfo Hardware Market in Huangqi of Foshan. A van hit a 2-year-old little girl and then fled. No passersby reached out to help and then another car ran over her. Over the span of 7 minutes, a total of 17 people passing by failed to extend a hand or call the police, up until the 19th person, a garbage scavenger ayi [older woman], who lifted her up after discovering her but the little girl in her arms was like a noodle, immediately collapsing back onto the ground. The trash scavenger ayi called for help, and the little girl's mother, who was in the vicinity, immediately rushed over and rushed her to the hospital.The news report video above has been viewed nearly 700k times on popular Chinese video-sharing website Youku since it was uploaded 17 hours ago and currently has over 6200 comments spanning 210 pages. This story is also spreading on China's popular microblogging service Sina Weibo in addition to receiving a lot of views and comments on China's major internet news portals and communities.
In addition to showing the little girl, Yue Yuem being run over twice and many of the bystanders who didn't stop to help her, it also shows that Yue Yue is currently in the hospital in critical condition. Police have already found the second driver but have yet to find the first driver as they were unable to read the first van's license plate and are calling upon witnesses for help. Yue Yue's parents are also shown.
This is the video.
WARNING: shocking
The girl passed away in the hospital due to serious injury.
The question is why did these people not stop? A comment in this site may explain :
It isn't ignoring, it's not daring. If one were to encounter a Nanjing judge, one would be screwed.

[Note: "Nanjing judge" refers to the infamous 2006 case of a man named Peng Yu who helped a woman to the hospital after she had fallen only to have the old woman accuse him of knocking her down. The Nanjing judge in that case ultimately ruled that common sense dictated that only the person who hit her would take her to the hospital, setting a precedent that continues only further discourages and reinforces many Chinese people's wariness to help others in similar situations.]
And another commenter added "It can only be said that the garbage scavenger doesn't read news on the internet."
No wonder, this garbage scavenger helped out. Still…couldn't these bystanders just yell out and even run away so not to be accused of hitting the kid. What about the bicycle rider? He could have yelled for help ?
China as a country is not to be blamed. It is the people that were there. Take the case of a girl in New York who was attacked in full view "of a New York City subway clerk, then dragged down the steps onto a deserted platform where she was raped and raped again, the assailant not stopping even when a subway train pulled into the station."
The victim added that the ticket clerk left his booth. "He could have just gotten over the intercom and said, 'Hey! Stop what you're doing! I've called the cops!' Anything like that would have helped," she said. ""He didn't have to get out of the booth. I don't expect him to be a police officer. But he could have definitely said something over the intercom, or perhaps having a quicker system of notifying the police would have been effective, too.""
Have you been in this situation when you saw an accident? My husband and I once saw an accident along EDSA but since we were speeding past it, we were unable to just stop at the scene. We stopped at the next traffic stop to report about it. I guess reporting an accident can be quite a hassle because one will then be called to be a witness.
I cannot begin to imagine the hearts of the 18 people who passed by. It is beyond my understanding. Where is their compassion? Should laws be a bit more compassionate to those that bring the injured to the hospital?
Apply the Good Samaritan Law which are intended to reduce bystanders' hesitation to assist, for fear of being sued or prosecuted for unintentional injury or wrongful death.
My heart now goes out to the bereaved parents. Questions like "If only….someone reported it right away".
Photo credit : micgadget.com