A rape victim describes it…as " something that happens to other people. We read about it in the newspaper, see reports of it on the TV, but once read or seen we move onto the next item of news. We dismiss it, forget about it. Yes, at the time of reading it or seeing it we may think "oh how awful" or "poor thing" but because it isn't happening to us we can't even begin to understand how it must affect someone's else's life, so it is easier to just dismiss it as just another tragic event. It happens."
It happened to an extended family member.
ACV (let's call her ACV), the wife of my nephew (the son of my paternal first cousin) is beautiful. Being sweethearts for three years, they decided to get married last year. Now with a two month old baby, they moved to a new place in San Pablo on January 1 this year. The year must be so promising as they chose January 1 as the move-in date. The transfer made sense since it is closer to their work. On their second day, A went outside their subdivision to buy cellphone load . It was only 8:00 PM. My nephew got worried when his wife did not return home. He could not leave their two-month old baby so called my uncle and aunt to help look for his wife. They arrived at 1:00 AM and started their search.
At 7:00 AM, my cousin (the uncle of my nephew) found A's naked body in a vacant lot just 10 steps away from their home. I cannot begin to imagine the horror on my relatives' faces.
Reading the news in the Inquirer website is even surreal. Rape is something I only watch on TV or read in the news.

"CAMP PACIANO RIZAL, Laguna, Philippines' woman was found dead in a vacant lot in San Pablo City, Laguna, the police said Wednesday.
In a phone interview, De Castro said …. was last seen Monday evening when she left their apartment in Green Valley Subdivision in Barangay San Francisco to buy load credits for her cell phone.
At around 7 a.m. on Tuesday, a relative found the victim's body dumped in a vacant lot inside the subdivision.
De Castro said … body bore bruises in the chest and head which may have been inflicted using a blunt object.
He said the victim was also found naked, leading police to suspect she was raped…
Police were conducting an investigation to find a suspect in the killing."
I visited ACV yesterday. Speechless. Devastated. Horrified. No words.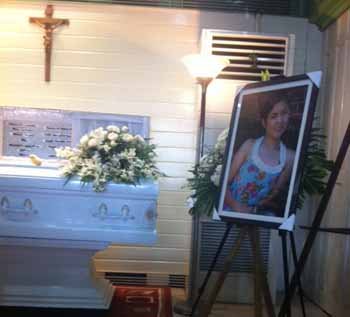 Her chest bones were broken and her death was caused by the internal injuries. The criminals meant to kill her. I think two criminals were involved here.
In Philippine society, rape is a heinous crime but only punishable by reclusion perpetua, and not life imprisonment. Reclusion perpetua is prison for 20 to 40 years. There are still no suspects but A's father told me they will certainly pursue a case.
Will ACV ever get justice? Will she be another statistic of unresolved crimes?
I will see what I can do to help. This blog post is a start.