Boxing is not for killing each other you know – Manny Pacquiao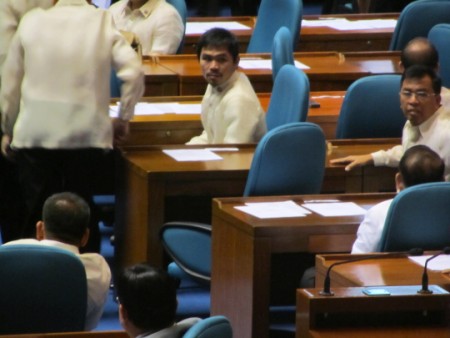 Manny Pacquiao beats Margarito via Unanimous Decision is what I heard while doing my groceries. My favorite supermarket probably wanted to make sure their customers could still get entertained while shopping . I smiled because I knew he would win the match.
I heard this will be his last fight because he would rather focus on politics. I took that photo of Rep Pacquiao on the first day of the State of the Nation address last July 30, 2010. He seemed really excited. I have a gut feeling he will make it as a congressman. He seems sincere to me.

As a neophyte congressman, he has done a lot. While everyone is congratulating him for his 8th Championship title, I am more impressed with his 3 month progress report at the House of Representatives.
Consider this: "Pacquiao has been in office for only three months but he has already authored/co-authored at least 21 bills and resolutions while learning the ropes as a member of the House of Representatives. He is a member for the majority in 11 committees and is a vice chairperson of the Committees on Millennium Development Goals and Youth and Sports Development.
He immediately took up various issues in Congress, such as: human rights, health, education, national security and concerns of youth, women and other marginalized sectors. He proposed the establishment of breast care centers in every region of the country, the establishment of a provincial public hospital in Sarangani, the prohibition of text or SMS spamming. He also took supported the struggles of overseas Filipino workers (OFWs), especially the victims of human trafficking.
In his first privilege speech before the plenary, he expressed his ardent desire to help the poor and to help realize the developmental aspirations of the people of Sarangani."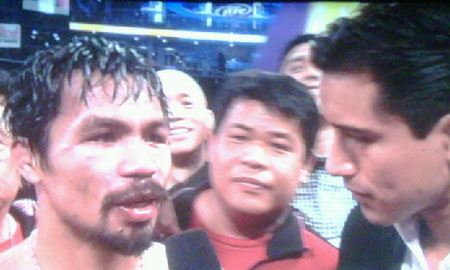 When he told the referee that "Boxing is not for killing each other you know", he showed compassion. That is a champion in my books. Humility in his victory. Roach said on the final stanzas, "Pacquiao didn't knock him out because he's compassionate. At the end of the 11th, I said, 'Manny go knock him out'."
It is probably the same compassion that Pacquiao committed to help his poor countrymen by promising to support or initiate the building of public hospitals and other infrastructures that are meant to serve the poor people's needs, among many other projects. He has also supported the bill upgrading the public school teachers' salaries.
His genuine concern over his new role as a congressman was a concern of Roach because of Pacquiao's focus: "He told me in the first week we were together that he misses his [political] job. I'd never heard anything like that from him."
There is nothing to fear. I believe Pacquiao will attain his goals and hopefully the people around him are sincere in helping him.
I say "Congratulations Rep. Manny Pacquiao and to all proud Pinoys all over the world!"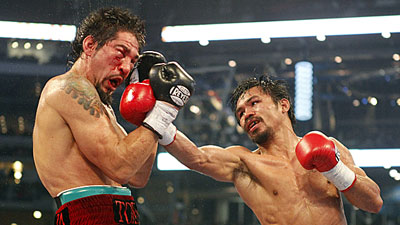 (via La Times)