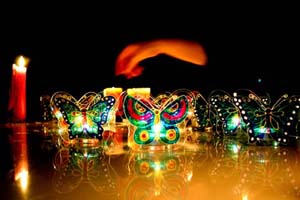 A candle signifies life and light and so the burning of a candle brings light and life to the memory and to the hearts of the bereaved. It is not that a candle has any magical or mystical powers as it is not the candle itself that heals. The lighting of a small candle in the darkness somehow helps you to draw aside from the blaring distractions. It brings an err of calm and helps you focus on what is important at that time. Something very special happens when a large group lights candles. A feeling of unity and oneness occurs.
While candles burn in one time zone, they will be lit in the next as thousands of families around the world participate in a vigil tomorrow, on December 9 to honor their children and siblings. The annual Compassionate Friends Worldwide Candle Lighting starts at 7 p.m.
New Zealand goes first.
A light will shine around the world — a glow that will start in New Zealand will travel around the globe. The Philippines follow soon after Australia. It is the candlelight of the Compassionate Friends, a worldwide support group for those who have lost a child. It is held for one hour at 7 p.m. local time and unites the global bereavement community in remembrance of all children who have died, regardless of age, religion, or ethnic origin.
""Candles stay lit for one hour in each time zone, creating a virtual wave of light around the world. Like a ring, this circle of light surrounding the globe represents that there is no beginning and no end for the love we carry for our loved ones – especially for our children. It exists for eternity."
Last year, other candle light services were held in more than a dozen countries including Austria,the Bahamas, Bahrain, Canada, Cayman Islands, England, Germany, Guam, Mexico, Poland, Switzerland, and Thailand including more than 360 services held in the United States, with services in all 50 states plus Washington, D.C. and Puerto Rico. This is believed to be the world's largest mass candle lighting.
The wave of light across the world is in memory of children who died but have not been forgotten.
If you're based in the Philippines, we invite you to join us in this touching event, the 11th Worldwide Candle Lighting tomorrow, Sunday, December 9.
Where: Ateneo de Manila University
Quad 1, Loyola Schools
in between Kotska, Gonzaga, Berchman, College Cafeteria
View Map of Ateneo de Manila Campus
View Map of Quadrangle 1 inside Ateneo Loyola Schools
Date: Sunday , December 9, 2007
Time: 5:00 to 8:00 PM
There are other candle light services around the world. Check list of participating US states and other countries. Anyone who is unable to attend a service is invited to light a candle alone or with friends and family wherever they may be at 7:00 PM.