One of the highlights of the Techno Negosyo Expo (which by the way ends today, September 15) is the recognition of the 10 most Inspiring Filipino Techno Entrepreneurs. See, I went to the Techno Negoso yesterday to keep myself abreast with the recent technologies or e-commerce solutions. My husband thinks I can be the next technopreneur (in his dreams. hehe). Yet, I wanted to see the brillant minds behind the Philippines Information and Communications Technology if I can be inspired to go beyond my small and medium business frameset into the realm of high technology.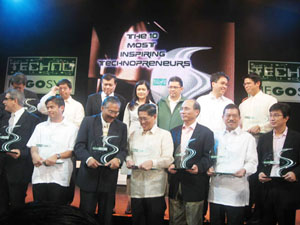 Awarding of the 10 Most Inspiring Technopreneurs in the Philippines:
1. Diosdado Banatao (Computer Chips- Mostron and S3)
2. Nonoy & Ben Colayco (Online Gaming- Level Up)
3.Joey Gurango (Software Development- Webworks OS)
4. Danilo Manayaga (Biotechnology- Servac Philippines)
5.Dennis Mendiola (Wireless Technology- Chikka Asia)
6. Manny Pangilinan (Telecommunications- First Pacific, PLDT,)
7. Dr. William Torres (RP Internet Pioneer- Mozcom)
8. Peter Valdes (software development- Vinta Systems )
9. Orlando Vea (Mobile Communications/New Media – SMART founder, MediaQuest)
10. Jaime Augusto Zobel de Ayala II (Diversified IT investing-iAyala)
Enlarge photos here, here , here and here
For me the most brillant of the lot is Diosdado Banatao, better known by his nickname, Dado. Why? It was Dado's genius that gave the world the first Ethernet controller chip that enabled computers to link up and communicate with one another (our internet cable for one) and the first chip set that significantly reduced the complexity of the personal computer. In short, Dado's innovations made computers cheaper ,faster and more people-friendly.
Why am I impressed?
Read More »Most Inspiring Techno Entrepreneurs in the Philippines