One of the highlights of the Techno Negosyo Expo (which by the way ends today, September 15) is the recognition of the 10 most Inspiring Filipino Techno Entrepreneurs. See, I went to the Techno Negoso yesterday to keep myself abreast with the recent technologies or e-commerce solutions. My husband thinks I can be the next technopreneur (in his dreams. hehe). Yet, I wanted to see the brillant minds behind the Philippines Information and Communications Technology if I can be inspired to go beyond my small and medium business frameset into the realm of high technology.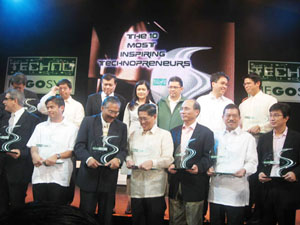 Awarding of the 10 Most Inspiring Technopreneurs in the Philippines:
1. Diosdado Banatao (Computer Chips- Mostron and S3)
2. Nonoy & Ben Colayco (Online Gaming- Level Up)
3.Joey Gurango (Software Development- Webworks OS)
4. Danilo Manayaga (Biotechnology- Servac Philippines)
5.Dennis Mendiola (Wireless Technology- Chikka Asia)
6. Manny Pangilinan (Telecommunications- First Pacific, PLDT,)
7. Dr. William Torres (RP Internet Pioneer- Mozcom)
8. Peter Valdes (software development- Vinta Systems )
9. Orlando Vea (Mobile Communications/New Media – SMART founder, MediaQuest)
10. Jaime Augusto Zobel de Ayala II (Diversified IT investing-iAyala)
Enlarge photos here, here , here and here
For me the most brillant of the lot is Diosdado Banatao, better known by his nickname, Dado. Why? It was Dado's genius that gave the world the first Ethernet controller chip that enabled computers to link up and communicate with one another (our internet cable for one) and the first chip set that significantly reduced the complexity of the personal computer. In short, Dado's innovations made computers cheaper ,faster and more people-friendly.
Why am I impressed?
1. He was honored with the prestigious Ernst and Young "Master Entrepreneur of the Year" award in the US.
2. Forbes Magazine has often included him on its "Midas List"
3. With $5000,000 pooled from friends , he started Mostron which came up with the first system logic chipset for the XT and the AT personal computers. (I remember my 486 AT ), which lowered the cost of buiding the PC while making it a powerful machine.
4. In 1996, his second startup "Chips and Technologies" was bought by Intel for a reported $430 million.
He was born to a rice farmer and housekeeper and grew up in Barrio Malabbac in the farming town of Iguig. Thanks to good grades in math and science he was sent to college at the Mapua Institute of Technology where graduated cum laude with an electrical engineering degree.

His advice on how the Philippines can be a major player in technology:
"If we want to make a global impact, let's focus on Web services, ideas and products beyond personal computing. The Web consists of a body of applications on top on the Net infrastructure. Nobody yet owns this technology space today so it has a wide open potential for us to take advantage of. Within web services, we can develop mobile services in particular. We will all become infinitely more productive because of the Web."

And how to develop the next Dado Banatao:
You must always update and refresh your knowledge by making it respond to current needs, which depends on the industry you are working in. It doesn't matter where you start- here or in Silicon Valley- as long as you are solving a "global pain" or want. We have to get more students into engineering and sciences because they're the ones who will come up with products. These students must be well-versed in basic concepts — the deeper the better. Don't go broad, but rather give them deep knowledge"
I don't think my mind is capable of churning new high-tech ideas so I will stick to developing web services. The youth could be our emerging Filipino Technopreneurs in the future. It's great to see the huge crowd consisting of students. They hold the promise of high technology, for improving peoples' lives and exploring opportunities for wealth creation.
Photos of the Opening day of Techno Negosyo
Source on Dado Banatao: Negosyo Magazine, 3rd quarter 2006