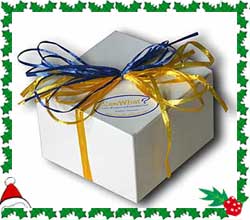 As a young child, my wonderful dad aka Santa Claus often asked me and my siblings to list down the things we wanted for Christmas. Beside the "must-have" item in my [tag]wish list[/tag] is a star which means, "You have to buy this dad". My wish list comprised of at least 10 items in it . Dad bought 3 items from that list. There is something about opening many little gifts that brings sparkle to a child's innocent eyes. It's magical. Years later as a mom, I did the same thing to my precocious children and asked for their "[tag]Christmas Wish List[/tag]". I said my budget is nothing more than 5,000 pesos in total. In the course of the year, I dish out presents that surpass 5,000 pesos anyway. Christmas is not the only occasion they receive gifts. If a daughter earns good grades, she gets a special gift. If they have birthdays, I also shower them with their desired gift. Christmas is just another excuse to receive gifts and I am not about to spend a lot. Or so I thought. L and M gave me their wish list. It wasn't a list. Look at what I got:
1. L's wish list
– Distortion pedal
– Plane ticket out of the Philippines
2. M's wish list
– MOTORAZR V3x in Pumpkin Color: the 2nd of 5 Motorola Kikay Phones
– all of the above.
See, it's not even a list "list". I have a limited selection. They are expensive except for L's distortion pedal which fits the budget range. It's M's first time to ask for a new cellphone. Her Nokia 6600 was stolen a year ago and it's my policy that if you lose something, you don't get a replacement until a year after. A few days later, L tells me she wants the guitar effects pedal which is over 5000 pesos. And as we all know, a ticket to the USA cost 50,000 pesos. I perused over the list and thought out loud Uh, no ticket this year. Perhaps the guitar effects pedal for L and a new flip top phone for M which doesn't have to be Motorola. I don't like the brand Motorola.
Then I ask my husband's wish list. He goes:
"A new home"