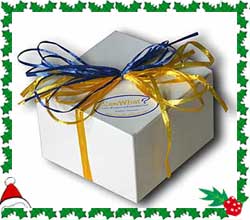 As a young child, my wonderful dad aka Santa Claus often asked me and my siblings to list down the things we wanted for Christmas. Beside the "must-have" item in my [tag]wish list[/tag] is a star which means, "You have to buy this dad". My wish list comprised of at least 10 items in it . Dad bought 3 items from that list. There is something about opening many little gifts that brings sparkle to a child's innocent eyes. It's magical. Years later as a mom, I did the same thing to my precocious children and asked for their "[tag]Christmas Wish List[/tag]". I said my budget is nothing more than 5,000 pesos in total. In the course of the year, I dish out presents that surpass 5,000 pesos anyway. Christmas is not the only occasion they receive gifts. If a daughter earns good grades, she gets a special gift. If they have birthdays, I also shower them with their desired gift. Christmas is just another excuse to receive gifts and I am not about to spend a lot. Or so I thought. L and M gave me their wish list. It wasn't a list. Look at what I got:
1. L's wish list
– Distortion pedal
– Plane ticket out of the Philippines
2. M's wish list
– MOTORAZR V3x in Pumpkin Color: the 2nd of 5 Motorola Kikay Phones
– all of the above.
See, it's not even a list "list". I have a limited selection. They are expensive except for L's distortion pedal which fits the budget range. It's M's first time to ask for a new cellphone. Her Nokia 6600 was stolen a year ago and it's my policy that if you lose something, you don't get a replacement until a year after. A few days later, L tells me she wants the guitar effects pedal which is over 5000 pesos. And as we all know, a ticket to the USA cost 50,000 pesos. I perused over the list and thought out loud Uh, no ticket this year. Perhaps the guitar effects pedal for L and a new flip top phone for M which doesn't have to be Motorola. I don't like the brand Motorola.
Then I ask my husband's wish list. He goes:
"A new home"
Haay. Hopefully my husband's wish will come true in the coming days as soon as our seller comes out of her hiding place. As for the kid's wish list, I had to go over my imposed limit of 5,000 pesos. I have been so used to budget tightening for the past 4 years. It's about time to let go a little. It's my way of thanking God for the financial blessings endowed on me this year. It's a way of thanking my children for being thrifty and thoughtful.
During the holidays, gift giving is a part of the tradition. But is it healthy giving? I know it's healthy giving for me. It is giving that feels good and does not leave us feeling victimized. I've often seen this in some relatives that "we should give them this and that gift because they helped us". I believe that's giving with strings attached.
It is giving that holds the giver and the receiver in high esteem. It is giving based on a desire to do it rather from a sense of guilt, pity, shame or obligation. Whether it is giving of our time, efforts , energy, comforting, money or ourselves, it is giving that we can afford. I can afford to give a little more because it is gift of love. Giving is part of the chain of giving and receiving. I have learned to give what feels right, what feels good, what feels clean and what I can afford.