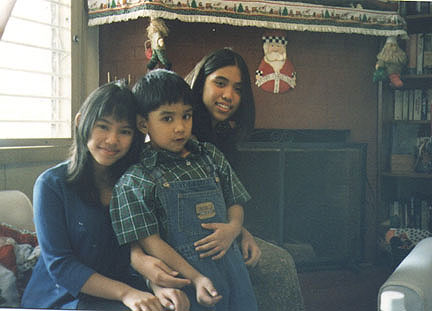 (Luijoe's last Christmas in 1999, Baguio City)
Christmas is a special time of year. Although shiny decorations and twinkling lights are the window dressing for this exciting festivity, it is the warmth and love of family and friends that make the holiday season so memorable. However, it can be a painful time for those experiencing the recent loss of a loved one. It must be hard for the newly bereaved family members who lost Anne Sherina only last Monday, December 18, 2006. Anne Sherina died of "pulmonary affliction due to Dengue Shock Syndrome". Grief in Christmas is doubly daunting for this family.
So when ABS-CBN "Salamat Doc" called me up to guest live for tomorrow's Christmas Eve 6:00 AM episode, I didn't hesitate. Though my busy schedule was full, I made room for this show. I know there are a lot of newly bereaved and seasoned grievers who are still coping with the difficulties of the holidays. My heart sometimes still echoes with emptiness as I roll out the gingerbread dough or hang the Christmas Angel cookies near Luijoe's Memorial shrine. I think that hurt will always be with me, but now I know it only as a momentary ache – not like the first year when grief drowned over me in huge waves, each new wave hurling me deeper and deeper into despair.
My husband and I have walked that difficult road every Christmas.
The staff took a VTR of how I coped with Christmas through the years. I showed Luijoe's memorial table, his memory box, toys, books and all the angel decors of our family den. I thought that my husband would buckle down in tears because he has never opened Luijoe's photo album in years. The staff told us to sift through Luijoe's photos. This VTR is indeed therapy for my husband. Knowing we are helping others gives us the courage to share our story, on how we coped and survived. We want to show that love isn't something that ends with death.