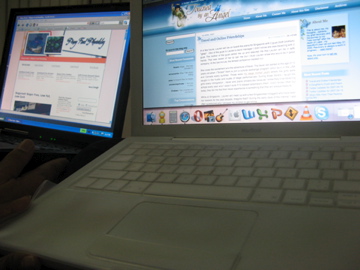 The couple that blogs together stays together. I'm just kidding of course. Aside from reading books, Butch and I surf the internet together, share sites of interest or we go blog-hopping before we call it a night. I think it's really sweet that my ex-technophobe husband took an interest in my hobby turned business venture. Who would have thought he'd be blogging today? A few years ago, he snickered at the internet saying it was a waste of time. I'm beginning to think that people who scoff at it are just intimidated or clueless of technology. It took a lot of love and patience to teach him to turn on the computer, firing the browser, surfing the net and posting an entry. And today, we enjoy a common interest- blogging or reading blogs before we sleep. I know… how boring.
Oftentimes, it's the little things that matter in a relationship. Let me count our simplest pleasures.
1. Sending email or chatting via Google talk at any time of day. I always close my email or chat with "your loving wife", or "love and kisses" or "your sexy wife" "love you". In turn he affirms my email with "Dear Loving Wife.." or ends our chat "see you , dear or I love you". We never tire of saying sweet nothings to each other.
2. Gazing lovingly at each other. Someone told me that my daughter is so obvious with her crush because she kept staring at him. Guess where she got that quirkiness? From her dad! To this day, my husband gazes at me lovingly (on random moments) as if it's the first time he met me. As if I am the most attractive woman in the world.
3. Buying me Flowers when there is no occassion. Butch rarely buys me flowers but there are those days when he buys a bouquet just because.
4. Saying affirmations to each other. There are those gloomy days that just get in the way of positive thinking . One way to empower the good in ourselves is through affirmations: the positive statements we make to each other : "I love you", "You are good enough", "Our life is good", "I'm glad I have you". Positive thinking doesn't mean we think unrealistically or revert to denial. It's just we don't dwell on the negative parts of our experience.