Presenting the 2008 Philippine Blog Awards.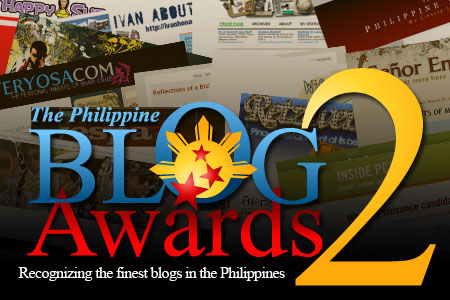 The awarding is open to all Filipino bloggers who have full ownership of their blogs. This implies that blogs belonging to blog networks or corporate blogs cannot be included because of ownership rights. The awards therefore pay homage to "grassroots bloggers" who have built up their blogs from their own efforts.
While we're all waiting for nominations to begin, help us spread the word about the upcoming 2008 Philippine Blog Awards!
We're also looking for volunteers for the upcoming Awards Night. And if you're interested to sponsor, drop us a line and we'll be in touch.
So stay tuned and watch out for more details and the announcement when nominations begin. In the meantime, think of blogs you can nominate.
(Yours truly along with Abe, Gail, Jayvee, Marc, Jomar, Juned, Jun are in the organizing committee which automatically disqualifies our blogs from the awards.)