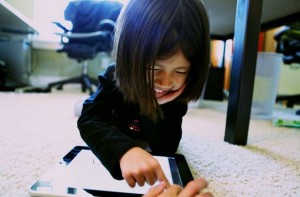 Back in the old days, you can keep kids settled down by giving them toys to play with, pen and paper to draw, storybooks to read, and box of crayons and coloring books to color. Those days are long gone.  Nowadays, if you want a restless child to sit back and relax, you would probably need an electronic device to come to the rescue.
Exposure to gadgets at young ages created a voracious appetite for all sorts of digital media and hi-tech gadgets. Even education has tapped into technology by integrating it in classroom learning. Many schools have realized that technology is essential in helping kids acquire necessary skills and knowledge to cope in a technological driven society.
Today's young generation have access to different electronic devices for their entertainment. There's TV, tablets, smartphones, video game consoles.  Tech-savvy kids have technology at the tips of their fingers.
Modern technology has changed the way of life of many people including the way kids entertain themselves and interact with others. Some say that electronic devices have created "anti-social" generation. People may have different notions about so-called "anti-social" behavior exhibited by today's young generation. If you want a concrete example, all you have to do is make an observation the next time to go to a restaurant.
In most restaurants, you are bound to see kids using their parents' smart phones or tablets.  You might also see other children playing with their game consoles or listening to music players. There are parents who find electronic devices helpful in keeping their kids entertained over long periods of time. Some say that many kids today spend more time on gadgets and less time talking to other people.  Sad but true.
Bianca, a mother of a seven year old girl was a little sad when she realized how kids bond with each other nowadays.  During a recent family reunion, she saw her daughter and her cousins sitting beside each other. It would have been a nice scene if only they were interacting with one another. Sadly, instead of talking, they were holding their respective iPads and playing different games. They would occasionally ask each other about game moves but conversations were kept to a minimum.
If you're worried about your child's insatiable appetite for online browsing, movie streaming, gaming, instant messaging, social media interacting, and so on, then perhaps, it's time to think of ways to circumvent excessive usage of electronic gadgets.
With summer vacation just around the corner, many kids will have a lot of free time at home.  When there's no homework and school projects looming in the background, kids can spend more time watching television, playing video games, messaging their friends, and posting on social media networks. Avoid letting electronic devices dominate your child's summer vacation.
Here are ways that might help curb your child's inclination for electronic devices.
Set a limit for electronic use. According to the American Academy of Pediatrics (AAP), kids today spend an average of seven hours a day on entertainment media. Studies have shown that too much use of electronic media can lead to health issues such as attention problems, behavior issues, learning difficulties, sleeping problems, eating disorders, and obesity.  It is recommended that you limit your child's usage of electronic devices to one to two hours a day. Teach your child about self-discipline in using gadgets.
Monitor children's media use. It is also important to monitor usage.  Prevent your child from exposure to violence and sexual content by supervising what he or she watches on television and DVDs. Talk to your child about Internet safety rules. In this modern age, it is vital that you protect your child from the risk of cyberbullying. An innocent kid can become a potential target of online predators. Cyber bullies and online predators can hide behind a blanket of anonymity.
Talk to your child about websites that are safe to visit and those that are potentially dangerous and off limits. Explore provisions for parental controls to help you monitor what your child is doing online. When it comes to gaming, make sure that the video games that your child is playing are age appropriate.
It is recommend that you set up your computer, television, and video consoles in a central area in your home such as the living room, where members of the household often pass for easier monitoring.
Establish "no technology zones".  Designate certain areas in your home where electronic devices are not allowed. For instance, you can make it a rule not to bring gadgets to the dining room so that the family can enjoy meal times.
Be a good example to your child.Set a good example to your child by limiting your use of electronic devices when the family is together.  For instance, refrain from texting or accepting calls during meals.
Promote real play time. Encourage your child to interact with other children through traditional games. When your kid has reached the allotted time limit for gadget use, give him or her other fun options to do.  Invite your child to go outside where he or she can play with other kids. Introduce your kid to games that you used to play when you were a child like piko (hopscotch), taguan (hide and seek), habulan (tag), patintero, agawan base, tumbang preso, and so on.
For indoor activities, teach your child to play board games. Make it more fun by playing board games with the whole family. You can also enjoy putting together a jigsaw puzzle.
Leave gadgets when spending time with the family. Leave gadgets behind when you out with the family.  The absence of gadgets can help encourage family conversations especially when dining or going out.  Use gadget-free time to talk about things that are happening at work or in school. It will give you an opportunity to strengthen family ties.
Photo: "Alessi's turn on the iPad" by Marcus Kwan, c/o Flickr. Some Rights Reserved.
—————————–
Rachel Yapchiongco, also known as Rach to her friends, is a Psychology and Marketing Management graduate of De La Salle University.  Rachel is a chocolate lover, full-time mom to a charming young boy and married to an entrepreneur who has a passion for cooking. She shares parenting experiences and slices of everyday life on her personal blog calledHeart of Rachel.
by Ma. Rachel R. Yapchiongco , originally posted at the Philippine Online Chronicles , How to curb your child's electronic device appetite