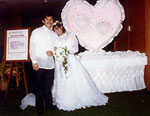 Last week, Cathy invited us to join the Tuesday [tag]bible study[/tag], A Biblical Portrait of Marriage by noted Christian author and speaker Bruce Wilkinson. It drew my interest. The study covers six part series on diverse topics such as sex to spirituality, from in-laws to God's laws where Dr. Wilkinson addresses couples at every level of maturity and happiness. It was only the second session then and we could still make it. I quickly messaged my dear husband in Google Talk but he gave me a lukewarm response "how far!! I'm lazy . I can only leave at 7:00 PM". I was determined to convince him that night.
In my sweetest and loving mode, I cuddled close to him.
"Remember our pre-cana seminar where we studied relevant bible passages? It's just like like that. Only now it is better because these passages are not theoretical. "
He muttered "Yes I remember."
"Can we go please? Let's not wait for our marriage to be in bad shape"
Perhaps it was my sweetness that convinced him to give me the "nod of approval".
Last tuesday was a bad day for us. Just as were leaving for the bible study, my husband suddenly changed his mind , "I don't want to go". I kept quiet and showed a look of disappointment. Seeing my long face, he quickly added "Okay I will go . I am doing this for you" I smiled and appeased his anxieties, "okay , let's go now and if you decide it's not your kind of thing, we don't have to go next Tuesday".
That night's topic covered Head: The Role of the Husband". How timely. Listening to Pastor Larry brought me back to the days just before Butch and I got married. How lovestruck we were and raring to make our marriage work. One of the requirements of the [tag]Catholic Church[/tag] was to undergo a pre-marriage seminar. We looked for one that provided a comprehensive bible study and not one of those quicikie seminars just for the sake of passing the pre-marriage requirement. We knew about "headship" and the importance of the husband as the head of the marriage. When we finally got married, Butch took responsibilty for the spiritual lives of our family. We joined the Catholic's Couples for Christ and the kids participated in "Kids for Christ". I think those were one of the best years of our married life. We were surrounded by spiritually mature couples who gave us the support, love and comfort. God was the center of our lives.
Things began to change when we moved to this snobbish village in 1998. Couples for Christ movement was non-existent . The Couples for Christ head decided that our household group should split up so we could spread the word to other couples. For many months, we tried to convince our head that we needed our group back. It was not approved. So much for support for couples. I am disappointed of the Catholic church. It is so big that it cannot give personal attention to its flock. I don't feel the Holy Spirit when I attend mass unless the priest sermon is meaningful. I digress.
As we listened to the "headship" lecture, I understood my husband's hesitation to join the study. I believed he felt inadequate about our spiritual life . But he could also see that the couple attendees were probably like us seeking spiritual growth and strengethning marital vows. Like Cathy said,
The marriage vow of for "better or for worse, for richer or for poorer, in sickness and in health…." surely takes on a different spin when you have actually lived through it and survived it as a couple.
And guess what? My dear husband decided that we should continue the last 3 sessions. God truly worked in him and in our lives.