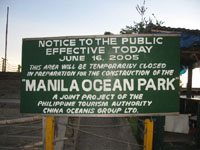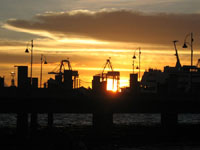 My husband's office is in Intramuros and we often date at the quaint old coffee shops like the Illustrado . As students in the late seventies, we went as far as Luneta Park just because we were broke. Old Manila and its splendor enraptures our heart . The atmosphere is just romantic for sentimental couples like us. During all the years we've been together, we never caught the [tag]sunset[/tag], overrated as it is, my daughter often says. So who cares? It's the company you keep. When I fetched Butch at work last week, we dropped by the boardwalk just to stroll. No we were not broke. We just wanted to walk and talk. Sadly, the boardwalk was closed or abandoned. Corny as it is, the sunset was breathtaking especially since I was walking hand in hand with the love of my life. I couldn't get a clear shot because the ship and the boardwalk covered the sun.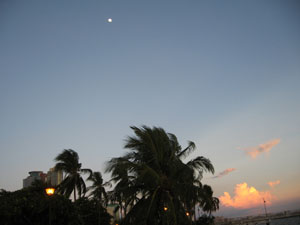 As we went back to the car, the moon faintly appeared above us. Butch points to our moon . Whenever he mentions the word "moon" I often recall those days we had to be apart because of my vacation breaks in Cebu. He'd often whisper to me "Don't worry. When you see the moon, just know I am looking at the moon too. It's like we're never apart". I often tear at the sound of those sweet and romantic words.
A few days earlier, my daughter and I shopped at the SM Mall of Asia again to shop for Levi's jeans and school supplies. Surprisingly, [tag]SM Mall of Asia[/tag] wasn't crowded. This was also an opportunity to explore the mall (View pics here). While, my daughter browsed books over at the Powerbooks, I crossed over to the Manila Bay section (view pics here). Lovers have now discovered a new dating place. Sweet.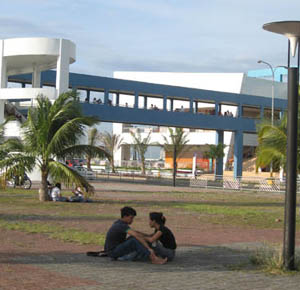 I came back to the main mall and my daughter wanted to unwind at the coffee shop. The view from the Entertainment area overlooked the sunset at Manila Bay. The colors across the sky revealed God's painting. At "The Coffee Bean", we sipped coffee and ate guiltess mango mousse as we watched the sunset unfold before us.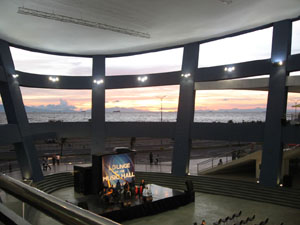 Unlike the boardwalk, the sunset view from SM Mall of Asia is unobstructed . The breeze blows your hair as you breathe in the salty air. Too bad, my husband hates the mall.