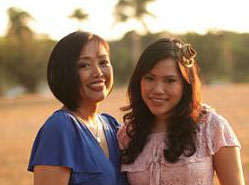 My beautiful girl turned 24 years old, three days ago and I didn't get to share it with you. I should have written about it but I was too preoccupied with my surgery the following day. Every time I go to the hospital, I always prepare a notebook that lists passwords and the location of important documents. You never know, right? I first discovered this round lump on my right shoulder when I was in Boracay. I was told it was lipoma but that it was deeply embedded on my muscle. Doctors said I can choose to wait for the operation but I didn't want to prolong the date for fear the lipoma would grow bigger and encroach on my nerves thus causing me pain.

For such a minor thing, it required general anesthesia. Disasters can always happen during the operating table so I was quite nervous. I don't want to die yet. There is so much to live for. But here I am, typing away. I am glad to be alive. Glad to be back in my groove.
There is so much work to be done and so much love to share.
Anyway, I digress.
Here is a belated message I wanted to share on Lauren's 24th birthday. I often told Lauren the toddler that she was God's greatest gift to me. One day, I was not pleased with her behavior and started to yell at her. She looked down about to burst in tears and softly said "Mom, am I not God's greatest gift to you?"
That hit me hard. Memories come flooding back to me as I look back over the years. It seems I want to hold on to her and at the same time watch her fly high and free.
Lauren has such a spirit and character all her own. I'm so proud of her dreams and the convictions she made to make those dreams come true. As each year passes, and …some of these may lead me away from her..she will always be my daughter and a precious friend. She is not only God's gift to me. She has been life's greatest gift to me (as with all my children, of course).
I am glad to still be here for her.