No, today is not the usual routine I normally have. It was a long, tiring, fun-filled yet rewarding day.
At 9:00 AM , I attended the recognition ceremony of the digitalfilipino.com Web Awards and claimed the trophy as winner for Blog – Personal Category . Marc Macalua teased that I got a "grand slam". Mixed feelings washed over me like do I really deserve this award? There are so many other blogs with great content that deserve this recognition. Don't get me wrong. I have an overwhelming sense of gratitude.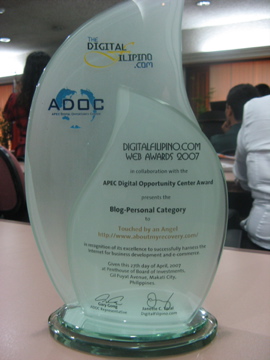 I have been blessed beyond measure. This award affirms that my son continues to live in me through my words, through my actions and through my blog entries. A month from now it will be my son's 7th death anniversary. I know now even if he is not here with me, his spirit lives in my heart. It's just that I hope other blogs get recognition too.
Blogger Friends who won the digitalfilipino.com web awards are Marc Macalua (Community Category) and Abe Olandres (for Tourism category). The rest of the winners can be found here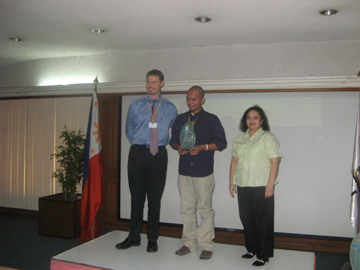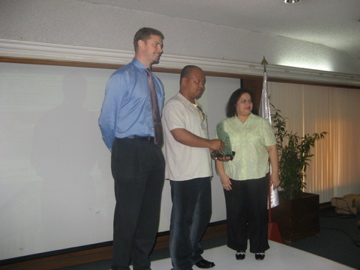 Marc Macalua and Abe Olandres
You can watch the youtube video coverage taken by Channel 9.
I was supposed to meet up with Lauren and a client in the afternoon but I was running out of time. I just had enough time to tie loose ends before leaving for dinner.
By 6:00 PM, Lauren and I met up with Jayvee , Lori and Anton for an intimate dinner with Amor Maclang at this rustic restaurant called Swiss Deli and Bistro owned by Felix Guggenheim.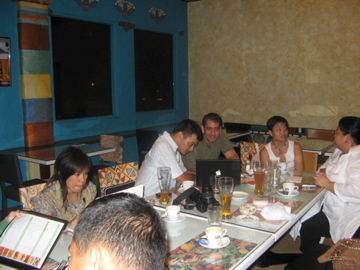 I will write more about the yummy food and desserts at my food blog but you can view the Swiss Deli photos here. Before I knew it we were talking for four hours straight. Where did all the hours go? Well, just sharing stories about our blog, the future of blogging , parenthood and most of all eating and feeling satiated over the sumptuous meal .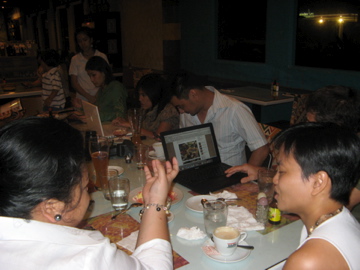 It was too late for me to drive over to another blogger meetup hosted by Annamanila as I had to pick up M at a party. I thought I could squeeze in all my activities in one day. Maybe next time.
Tonight, I just want to be thankful for the long day I just had. Thankful that I had time to bond with my daughter who can be too busy to hangout with me and my friends. I am thankful for the new friends. Even if I am tired right now, I am grateful for the wonderful day. Gratitude is a wonderful tool to use to feel good fast. Studies provide evidence that a positive, appreciative attitude enhances the body's healing system and general health. When you hold feelings of thankfulness for at least 15 to 20 seconds, beneficial physiological changes take place in your body.
That's what I need right now.